The percentage of individual investors describing their outlook for stocks as "neutral" is at a seven-month high. The latest AAII Sentiment Survey also shows a drop in optimism and an increase in pessimism.
Bullish sentiment, expectations that stock prices will rise over the next six months, pulled back by 4.8 percentage points to 35.1%. Optimism is back below its historical average of 38.5% for the 19th time in 23 weeks.
Neutral sentiment, expectations that stock prices will stay essentially unchanged over the next six months, rose 2.5 percentage points to 39.8%. Neutral sentiment was last higher on July 25, 2018 (41.6%). The increase keeps neutral sentiment above its historical average of 31.0% for the fourth time in six weeks.
Bearish sentiment, expectations that stock prices will fall over the next six months, rebounded by 2.3 percentage points to 25.1%. This is the first time pessimism is below its historical average of 30.5% on back-to-back weeks since August 15, 2018, through September 5, 2018.
At current levels, all three sentiment indicators are within their typical historical ranges, though neutral sentiment is very close to the top of its range.
While the rebound in stock prices is encouraging some individual investors, others have concerns about its sustainability. Many individual investors are monitoring trade negotiations. Also having an influence are Washington politics (including President Trump and Democratic control of the House of Representatives), corporate earnings, the Federal Reserve, valuations and concerns about the pace of economic growth.
This week's special question asked AAII members how they view the overall sentiment reflected by the market so far this year. Responses were very mixed. Just under a quarter of all respondents (24%) describe investors as being either cautious or uncertain. Many of these respondents point to the unknown outcomes of trade negotiations as well as the political backdrop in Washington. Nearly 13% of respondents view sentiment as either being optimistic or somewhat optimistic. Almost 10% say investors are too pessimistic. About 12% view sentiment as being too optimistic. Conversely, 4% think sentiment is too pessimistic.
Here is a sampling of the responses:
"I think investors are hopeful but unsure that the market will post gains in 2019."
"I see it as cautiously optimistic but believe the U.S. will iron out the trade issues with China and that the market will react favorably."
"My opinion is that sentiment still seems a bit dour when it comes to individual and institutional investors."
"The market is reflecting uncertainty about the future due to the political environment and slowing global growth."
"The rally since Christmas doesn't appear to consider the high price-earnings (P/E) ratios across most of the market."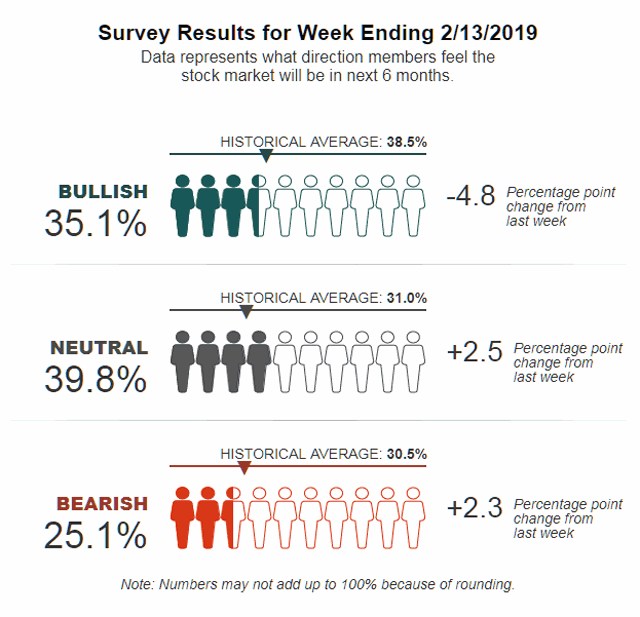 This week's AAII Sentiment Survey results:
Bullish: 35.1%, down 4.8 percentage points
Neutral: 39.8%, up 2.5 percentage points
Bearish: 25.1%, up 2.3 percentage points
Historical averages:
Bullish: 38.5%
Neutral: 31.0%
Bearish: 30.5%
The AAII Sentiment Survey has been conducted weekly since July 1987. The survey and its results are available online.
If you want to become an effective manager of your own assets and achieve your financial goals, consider a risk-free 30-day Trial AAII Membership.