Pessimism about the short-term direction of the stock market among individual investors pulled back after setting a six-week high last week. The latest AAII Sentiment Survey also shows higher levels of bullish and neutral sentiment.
Bullish sentiment, expectations that stock prices will rise over the next six months, rebounded by 4.9 percentage points to 37.3%. Optimism is below its historical average of 38.5% for the third consecutive week.
Neutral sentiment, expectations that stock prices will stay essentially unchanged over the next six months, rose 2.8 percentage points to 39.3%. During the last eight weeks, neutral sentiment has fluctuated within a range of 35.3% to 39.8%. Neutral sentiment is above its historical average of 31.0% for the ninth time in 11 weeks.
Bearish sentiment, expectations that stock prices will fall over the next six months, fell by 7.6 percentage points to 23.4%. Pessimism was last lower on February 27, 2019, (20.0%). Bearish sentiment is below its historical average of 30.5% for the sixth time in seven weeks.
Most of this week's results were recorded before the release of yesterday's meeting statement from the Federal Open Market Committee. The survey period runs from Thursday morning through Wednesday night.
At current levels, all three indicators are within their typical historical ranges. The boundary between typical and unusually high neutral sentiment readings is 40.0%.
This year's rebound in stock prices has encouraged some individual investors, though others have concerns about its sustainability. Many individual investors are monitoring trade negotiations, though the impact varies by investor. Also having an influence are Washington politics (including President Trump and Democratic control of the House of Representatives), corporate earnings, the Federal Reserve, valuations and concerns about the pace of economic growth.
This week's special question asked AAII members how trade issues are influencing their outlook for stocks given the more recent headlines concerning U.S.-China negotiations as well as Brexit. More than a quarter of all respondents (28%) say trade issues are having only a minimal impact on their outlook. Nearly 23% say trade issues are having a negative impact or are otherwise not good for the stock market. An additional 15% describe trade issues as a reason to be more cautious. Four percent think trade matters could cause stocks to be more volatile, while 3% think it could create buy opportunities. Another 3% think trade matters are priced into the market.
Here is a sampling of the responses:
"I've become more cautious as uncertainty continues."
"Not much; I think the trade issues will be resolved."
"They are a negative as they suggest lower trade, which should hurt global earnings."
"I am optimistic that a mutually beneficial deal will be achieved and that the market will respond favorably to it."
"I have remained fully invested and believe these issues will be resolved in time."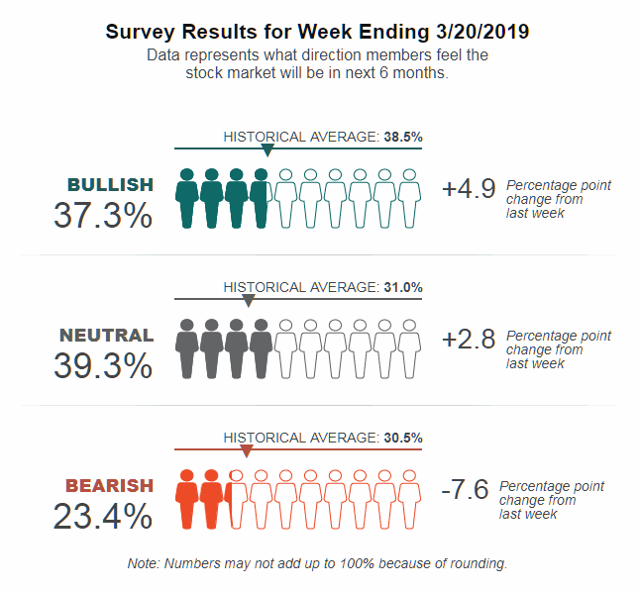 This week's AAII Sentiment Survey results:
Bullish: 37.3%, up 4.9 percentage points
Neutral: 39.3%, up 2.8 percentage points
Bearish: 23.4%, down 7.6 percentage points
Historical averages:
Bullish: 38.5%
Neutral: 31.0%
Bearish: 30.5%
The AAII Sentiment Survey has been conducted weekly since July 1987. The survey and its results are available online.
If you want to become an effective manager of your own assets and achieve your financial goals, consider a risk-free 30-day Trial AAII Membership.
Disclosure: I/we have no positions in any stocks mentioned, and no plans to initiate any positions within the next 72 hours.