Optimism among individual investors about the short-term direction of the stock market is at its highest level in seven months. The latest AAII Sentiment Survey also shows neutral sentiment at its lowest level in over four months.
Bullish sentiment, expectations that stock prices will rise over the next six months, rose 4.1 percentage points to 43.1%. Optimism was last higher on October 3, 2018 (45.7%). The historical average is 38.5%.
Neutral sentiment, expectations that stock prices will stay essentially unchanged over the next six months, fell by an additional 5.9 percentage points to 33.7%. Neutral sentiment was last lower on January 23, 2019 (30.0%). Even with the drop, neutral sentiment remains above its historical average of 31.0% for the 15th consecutive week and the 16th time in 18 weeks.
Bearish sentiment, expectations that stock prices will fall over the next six months, rose 1.8 percentage points to 23.2%. Pessimism is below its historical average of 30.5% for the eighth consecutive week and the 13th time in 14 weeks.
As noted last week, above-average readings for bullish sentiment continue to be infrequent. This is just the fourth time in since February 2018 that optimism is above its historical average on consecutive weeks.
At current levels, all three indicators are within their typical ranges.
This year's rebound in stock prices has encouraged some individual investors, though others have concerns about its sustainability. Many individual investors are monitoring trade negotiations, particularly between the U.S. and China. Also having an influence are monetary policy, Washington politics (including President Trump), geopolitics, valuations, corporate earnings and the pace of economic growth.
This week's special question asked AAII members what they thought about the Federal Open Market Committee's (FOMC) decision to leave interest rates unchanged. Nearly two-thirds of respondents (64%) agree with the FOMC's voting members or otherwise thought that not making a change was the right thing to do. Some of these respondents think rates should be held at current levels and/or that no change was warranted given the current data. Slightly more than 10% of respondents think the FOMC should have raised rates. Approximately 6% say their investing strategy is not influenced by monetary policy.
Here is a sampling of the responses:
"Good decision. With inflation nonexistent, there is no reason to raise the rate right now."
"I agree that the Fed should stay neutral for the foreseeable future."
"It sounds to me like they are not very sure of things."
"I don't buy investments based on what the Fed does with interest rates."
"I think they should have gone up a quarter of a point to keep inflation in check and to give people living on interest and bonds a little wiggle room."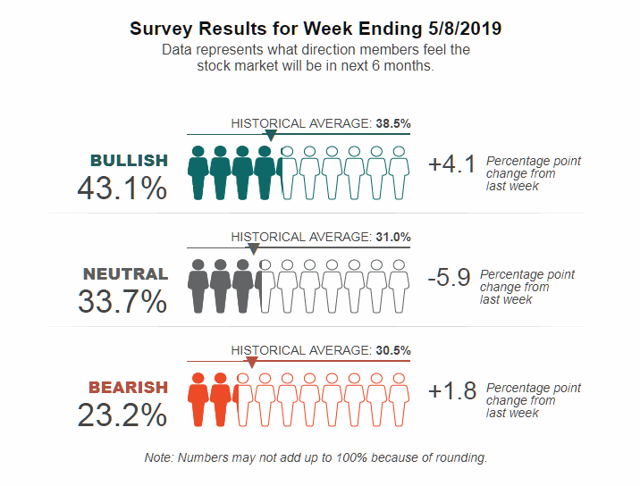 This week's AAII Sentiment Survey results:
Bullish: 43.1%, up 4.1 percentage points
Neutral: 33.7%, down 5.9 percentage points
Bearish: 23.2%, up 1.8 percentage points
Historical averages:
Bullish: 38.5%
Neutral: 31.0%
Bearish: 30.5%
The AAII Sentiment Survey has been conducted weekly since July 1987. The survey and its results are available online.
If you want to become an effective manager of your own assets and achieve your financial goals, consider a risk-free 30-day Trial AAII Membership.
Disclosure: I/we have no positions in any stocks mentioned, and no plans to initiate any positions within the next 72 hours.