The percentage of individual investors describing their short-term outlook for stocks as "neutral" rebounded strongly. The latest AAII Sentiment Survey also shows declines in both optimism and pessimism.
Bullish sentiment, expectations that stock prices will rise over the next six months, fell 5.1 percentage points to 24.7%. Optimism was last lower on December 12, 2018 (20.9%). This is the 14th time this year that optimism is below its historical average of 38.5%.
Neutral sentiment, expectations that stock prices will stay essentially unchanged over the next six months, rose 8.3 percentage points to 39.2%. The increase puts neutral sentiment back above its historical average of 31.0% for the 16th time in 17 weeks.
Bearish sentiment, expectations that stock prices will fall over the next six months, pulled back by 3.2 percentage points. Even with the decrease, pessimism is above its historical average of 30.5% on back-to-back weeks for the first time since January.
Since setting a 2019 high of 43.1% two weeks ago, bullish sentiment has fallen by a cumulative 18.4 percentage points. At its current level, optimism is at an unusually low level. Such readings have historically been followed by higher-than-median six- and 12-month returns in the S&P 500 index.
Many individual investors have been monitoring trade negotiations, particularly between the U.S. and China. We've also heard from AAII members who are concerned about a drop in stock prices occurring, though there are other members who have been encouraged by this year's upward run in stock prices. Also having an influence are monetary policy, Washington politics (including President Trump), geopolitics, valuations, corporate earnings and the pace of economic growth.
This week's special question asked AAII members how, given the recent U.S.-China headlines, trade issues are influencing their outlook for stocks. Responses varied, though most respondents view the trade impasse as a near-term negative for stocks.
Nearly a quarter of all respondents (24%) say they expect stock prices to fall if the impasse continues. Just under 17% of respondents describe themselves as being more cautious or are otherwise postponing buying more stocks until there is more clarity. About 9% anticipate more uncertainty, while a similar proportion of respondents think trade issues will contribute to further volatility in the stock market. Slightly more than 12% expect the stocks to rise once a deal is reached, though many of these respondents say the stocks could be under pressure until then. Approximately 14% say trade issues are not influencing how they invest.
Here is a sampling of the responses:
"Definitely affecting it. I will continue to be cautious with new acquisitions until the issue is resolved."
"The lack of a trade agreement and imposition of tariffs will likely result in a drop in the stock market."
"I believe they will work something out, although in the short term there could be some slowing in the economy."
"I am taking advantage of the volatility; buying the dips and selling the peaks."
"They make my outlook for stocks definitely bearish. Without the trade war, my outlook would be neutral to slightly bullish."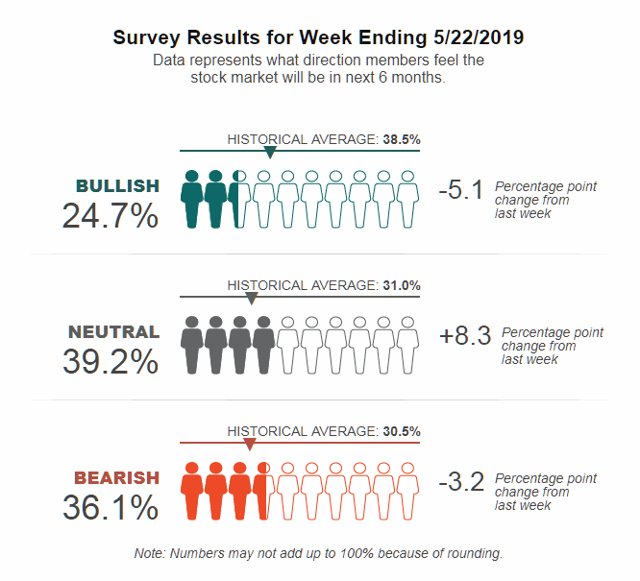 This week's AAII Sentiment Survey results:
Bullish: 24.7%, down 5.1 percentage points
Neutral: 39.2%, up 8.3 percentage points
Bearish: 36.1%, down 3.2 percentage points
Historical averages:
Bullish: 38.5%
Neutral: 31.0%
Bearish: 30.5%
The AAII Sentiment Survey has been conducted weekly since July 1987. The survey and its results are available online.
If you want to become an effective manager of your own assets and achieve your financial goals, consider a risk-free 30-day Trial AAII Membership.
Disclosure: I/we have no positions in any stocks mentioned, and no plans to initiate any positions within the next 72 hours.