Individual investors' expectations about the short-term direction of the stock market are nearly unchanged from a week ago. The latest AAII Sentiment Survey only shows fractional changes in optimism and pessimism.
Bullish sentiment, expectations that stock prices will rise over the next six months, edged up 0.1 percentage points to 29.6%. This is the 19th time this year that optimism is below its historical average of 38.5%.
Neutral sentiment, expectations that stock prices will stay essentially unchanged over the next six months, is unchanged at 38.4%. Neutral sentiment is above its historical average of 31.0% for the 21st time in 22 weeks.
Bearish sentiment, expectations that stock prices will fall over the next six months, declined by just 0.1 percentage points to 32.1%. Pessimism is above its historical average of 30.5% for the seventh consecutive week.
All three indicators are currently within their typical ranges.
Many individual investors have been monitoring trade negotiations, particularly between the U.S. and China. The rebound in stock prices may have relieved some concerns about a steeper decline in stock prices occurring, though others still anticipate a larger drop than occurred this spring. Also having an influence are monetary policy, Washington politics (including President Trump), geopolitics, valuations, corporate earnings and the pace of economic growth.
This week's special question asked AAII members if the Federal Open Market Committee (FOMC) should cut rates at its July meeting. Opinions were split. Slightly more than half of all respondents (53%) say no, the Fed should not lower rates. Conversely, nearly 40% of respondents say yes, rates should be cut. Those in the "no" camp cite sustained economic growth, the current lack of inflation, the need to save cutting rates for the next recession and not reacting to political pressure. Those in the "yes" camp cite the need to offset the trade war, fending off deflationary threats and keeping the economic expansion from weakening.
Here's a sampling of the responses:
"No. Hold that ace until it's needed."
"Yes, the economy is slowing with tariffs being part of the slowdown."
"No. The Fed should only cut rates if the economy is slowing, not because the president wants it."
"Yes, the world needs to fight deflation."
"No, not until there are real signs of an economic slowdown."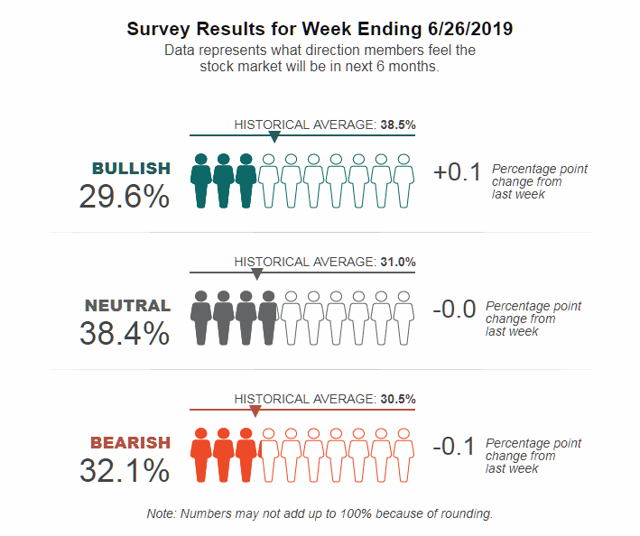 This week's AAII Sentiment Survey results:
Bullish: 29.6%, up 0.1 percentage points
Neutral: 38.4%, unchanged
Bearish: 32.1%, down 0.1 percentage points
Historical averages:
Bullish: 38.5%
Neutral: 31.0%
Bearish: 30.5%
The AAII Sentiment Survey has been conducted weekly since July 1987. The survey and its results are available online.
If you want to become an effective manager of your own assets and achieve your financial goals, consider a risk-free 30-day Trial AAII Membership.
Disclosure: I/we have no positions in any stocks mentioned, and no plans to initiate any positions within the next 72 hours.