Nearly half of individual investors now describe their short-term outlook for stocks as "bearish." The latest AAII Sentiment Survey also shows large drops in bullish and neutral sentiment.
Bullish sentiment, expectations that stock prices will rise over the next six months, plunged 16.8 percentage points to 21.7%. Optimism was last lower on December 12, 2018 (20.9%). Bullish sentiment is below its historical average of 38.5% for the 24th time this year.
Neutral sentiment, expectations that stock prices will stay essentially unchanged over the next six months, fell 7.4 percentage points to 30.1%. Neutral sentiment was last lower on January 23, 2019 (30.0%). The drop ends an 11-consecutive-week streak of readings above the historical average of 31.0%.
Bearish sentiment, expectations that stock prices will fall over the next six months, jumped 24.1 percentage points to 48.2%. Pessimism was last higher on December 26, 2018 (50.3%). Bearish sentiment is above its historical average of 30.5% for the 10th time in 13 weeks.
Bullish sentiment is at an unusually low level, while bearish sentiment is at an unusually high level. Historically, the S&P 500 index has experienced above-average and above-median returns during the six- and 12-month periods following unusually low readings.
The survey period runs from Thursday through Wednesday. Reminders to take the survey are sent out every Monday.
Many individual investors have been monitoring trade negotiations, particularly between the U.S. and China. Last Thursday's threat by President Donald Trump to impose new tariffs and the subsequent drop in stock prices likely had a significant impact on this week's readings. Additionally, a separate survey we recently conducted among AAII members found that 48% expect a recession to start within the next 12 to 24 months.
Also having an influence on sentiment are Washington politics, geopolitics, valuations, corporate earnings, monetary policy and interest rates.
This week's special question asked AAII members what they thought about the Federal Open Market Committee's (FOMC) decision to lower interest rates for the first time since 2008. More than 30% of responses say that the decision to lower rates was a bad idea. Additionally, 13% of respondents say that the decision was premature and will limit the Fed's options when a recession is in full force.
Approximately 23% say that the decision to lower rates is the correct response to ongoing trade wars and global economic slowdowns. Nearly 20% of respondents describe themselves as uncertain and say that they don't believe the decision will have a long-term impact. Finally, 14% of respondents state that the decision was politically motivated and not necessarily needed.
Here is a sampling of the responses:
"Feels like a bad decision. They should have maintained the rate so that there would be more room to adjust rates when needed."
"I think the Fed's response was just right. The market needs stability to succeed now, not wild gyrations. Let's wait for the effect from this reduction and consider a change next year."
"I think the decision is positive in terms of balancing against negative market factors like Chinese tariffs and currency devaluation from China."
"Strongly disagree. Powell gave into political influence. Interest rates are a fundamental tool of the Fed and the reduction was premature."
"Neutral. I am not convinced that it was necessary with unemployment being at record lows and the stock market at record highs."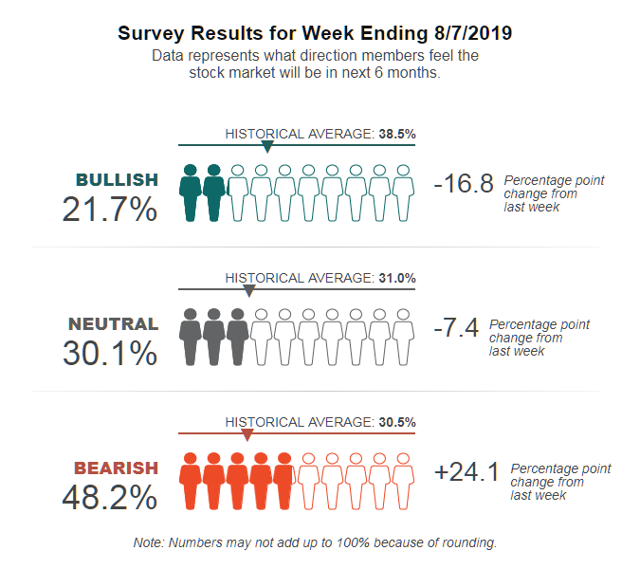 This week's AAII Sentiment Survey results:
Bullish: 21.7%, down 16.8 percentage points
Neutral: 30.1%, down 7.4 percentage points
Bearish: 48.2%, up 24.1 percentage points
Historical averages:
Bullish: 38.5%
Neutral: 31.0%
Bearish: 30.5%
The AAII Sentiment Survey has been conducted weekly since July 1987. The survey and its results are available online.
If you want to become an effective manager of your own assets and achieve your financial goals, consider a risk-free 30-day Trial AAII Membership.
Disclosure: I/we have no positions in any stocks mentioned, and no plans to initiate any positions within the next 72 hours.