Optimism about the short-term direction of the stock market among individual investors remains at an unusually low level despite rebounding for a second consecutive week. The latest AAII Sentiment Survey also shows slightly higher neutral sentiment and lower bearish sentiment.
Bullish sentiment, expectations that stock prices will rise over the next six months, rose 3.5 percentage points to 26.6%. Nonetheless, optimism is below its historical average of 38.0% for the 26th time this year.
Neutral sentiment, expectations that stock prices will stay essentially unchanged over the next six months, rose 1.7 percentage points to 33.6%. The increase keeps neutral sentiment back above its historical average of 31.5% for the 13th time in 14 weeks.
Bearish sentiment, expectations that stock prices will fall over the next six months, fell 5.1 percentage points to 39.7%. Pessimism is above its historical average of 30.5% for the 12th time in 15 weeks.
As noted above, bullish sentiment continues to be at an unusually low level (more than one standard deviation below average). Historically, the S&P 500 index has experienced above-average and above-median returns during the six- and 12-month periods following unusually low levels of optimism. Bearish sentiment is back within its typical range, though barely so.
Many individual investors have been monitoring trade negotiations, particularly between the U.S. and China. Additionally, many AAII members expect a recession to start within the next 12 to 24 months. Also having an influence on sentiment are Washington politics, geopolitics, valuations, corporate earnings, monetary policy and interest rates.
This week's special question asked AAII members how they perceive the performance of the stocks they own or follow relative to the year-to-date returns of the S&P 500 and the Nasdaq composite. The results were mixed. Almost 28% of respondents say they are underperforming the two indexes, though some say they weren't trailing by very much. Slightly more than 23% say the performance of their equity holdings is close to the performance of the two indexes. Approximately 20% of respondents say their portfolios are outperforming the two indexes.
Here is a sampling of the responses:
"My allocation floated along stable, but a few points behind the S&P 500 and/or Nasdaq."
"Overall, the equities in my portfolio have done as well as, or a little better than, the S&P 500."
"Less volatile, somewhat lower returns, but I'm not just invested in large caps and am also taking a more defensive approach."
"The stocks I own have increased in value but not as much as the S&P 500."
"No perception about it. They are performing above market averages ... thankfully."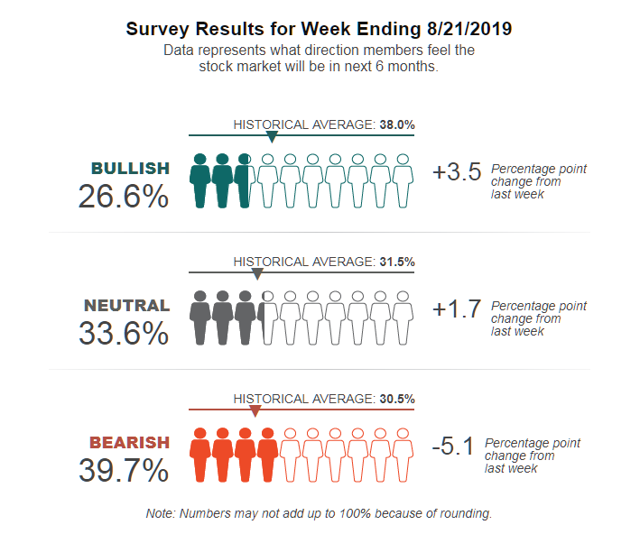 This week's AAII Sentiment Survey results:
Bullish: 26.6%, up 3.5 percentage points
Neutral: 33.6%, up 1.7 percentage points
Bearish: 39.7%, down 5.1 percentage points
Historical averages:
Bullish: 38.0%
Neutral: 31.5%
Bearish: 30.5%
The AAII Sentiment Survey has been conducted weekly since July 1987. The survey and its results are available online.
If you want to become an effective manager of your own assets and achieve your financial goals, consider a risk-free 30-day Trial AAII Membership.
Disclosure: I/we have no positions in any stocks mentioned, and no plans to initiate any positions within the next 72 hours.