Optimism among individual investors about the short-term direction of the stock market is at a 10-month low. The latest AAII Sentiment Survey also shows higher levels of neutral and bearish sentiment.
Bullish sentiment, expectations that stock prices will rise over the next six months, plunged 8.0 percentage points to 21.4%. Optimism was last lower on December 12, 2018 (20.9%). Bullish sentiment is below its historical average of 38.0% for the 32nd time this year and the 20th time in 21 weeks.
Neutral sentiment, expectations that stock prices will stay essentially unchanged over the next six months, rose 1.8 percentage points to 39.2%. Neutral sentiment was last at this level on May 22, 2019. This was the fifth consecutive weekly increase. The rise keeps neutral sentiment above its historical average of 31.5% for the 19th time in 20 weeks.
Bearish sentiment, expectations that stock prices will fall over the next six months, jumped by 6.2 percentage points to 39.4%. Pessimism remains above its historical average of 30.5% for the ninth time in 11 weeks.
Bullish sentiment is back at an unusually low level for the first time in five weeks. Historically, such readings have been followed by higher-than-average and higher-than-median six- and 12-month S&P 500 index returns. Both neutral and bearish sentiment are within but near the upper end of their respective typical ranges.
This week's drop in bullish sentiment follows the return of downside volatility to the stock market and weaker-than-expected economic reports.
Many individual investors have been monitoring trade negotiations, particularly between the U.S. and China. Also having an influence on sentiment are Washington politics, geopolitics, valuations, corporate earnings, monetary policy and interest rates.
This week's special question asked AAII members how they expect the U.S. economy will perform over the next six to 12 months. Approximately 46% of responses we received say they believe the U.S. economy will weaken over the next six to 12 months. Many respondents cite trade issues for the expected downturn, while others expect political turmoil to negatively impact the economy. On the other hand, 31% of respondents say that they expect the economy to perform moderately well, with expected growth to remain positive but not as high as in previous years. Additionally, 23% say that they believe the U.S. economy will remain flat over the next six to 12 months as the Federal Reserve continues to adjust monetary policy.
Here is a sampling of the responses:
"Poorly. As tariffs affect China, the world economy will suffer greatly. Our economy is part of the world and is already showing many signs of distress."
"It will trend downward due to all the trade disputes and reduced economic activities."
"Growth and inflation as measured by the government will both slow but no recession ... yet."
"I suspect the economy to continue to grow at a 2.0% to 2.5% pace. Solid, but not fast, and not even close to the best economic growth that we have had in the past."
"I believe the economy will hold steady as interest rates decline."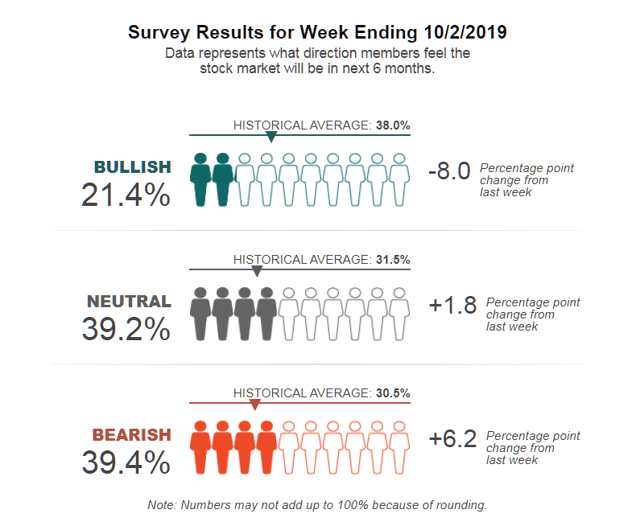 This week's AAII Sentiment Survey results:
Bullish: 21.4%, down 8.0 percentage points
Neutral: 39.2%, up 1.8 percentage points
Bearish: 39.4%, up 6.2 percentage points
Historical averages:
Bullish: 38.0%
Neutral: 31.5%
Bearish: 30.5%
The AAII Sentiment Survey has been conducted weekly since July 1987. The survey and its results are available online.
If you want to become an effective manager of your own assets and achieve your financial goals, consider a risk-free 30-day Trial AAII Membership.
Disclosure: I/we have no positions in any stocks mentioned, and no plans to initiate any positions within the next 72 hours.