Optimism among individual investors about the short-term direction of the stock market fell to its lowest level in three and a half years. The latest AAII Sentiment Survey also shows a jump in pessimism and lower neutral sentiment.
Bullish sentiment, expectations that stock prices will rise over the next six months, declined by 1.1 percentage points to 20.3%. Optimism was last lower on May 25, 2016 (17.8%). Bullish sentiment is below its historical average of 38.0% for the 33rd time this year and the 21st time in 22 weeks.
Neutral sentiment, expectations that stock prices will stay essentially unchanged over the next six months, pulled back by 3.5 percentage points to 35.7%. Even with the decrease, neutral sentiment is above its historical average of 31.5% for the 20th time in 21 weeks.
Bearish sentiment, expectations that stock prices will fall over the next six months, rose 4.5 percentage points to 44.0%. Pessimism was last higher on August 14, 2019 (44.8%). Bearish sentiment is above its historical average of 30.5% for the 10th time in 12 weeks.
Bullish sentiment is at an unusually low level for a second consecutive week. Pessimism is at an unusually high level for the first time in six weeks. Historically, such readings have been followed by higher-than-median six- and 12-month S&P 500 index returns. The link is stronger with unusually low optimism than it is with unusually high pessimism.
This week's special question asked AAII members what they thought about this year's initial public offerings (IPOs), including companies such as Lyft, Uber and WeWork (the latter of which recently postponed its plans to go public). The results were skewed negatively, with approximately 43% of respondents stating that IPOs in 2019 are premature and too risky at this stage given the current market outlook. Many respondents cite unprofitably, unclear business models and industry saturation. Additionally, 32% of respondents say that recent IPOs have been consistently overvalued and believe that investors will face serious losses. On the other hand, just 1% of participants believe that IPOs in 2019 have been solid but are expecting a fewer number of IPOs going forward. Finally, 23% say that they do not factor IPOs into their investment decisions, citing similar reasons including overvaluation and too high of a risk.
Here is a sampling of the responses:
"All of the IPOs seem way overvalued when they come to market. Eventually, they have to drop down to a somewhat reasonable valuation, if there is any."
"Another example of the madness of crowds, fueled by investment bank greed. Can anyone say dot-com boom?"
"I think Lyft and Uber will do just fine, I believe they have the resources to be successful with whatever they attempt to do."
"I prefer to invest in established companies and generally avoid IPOs. I believe in the saying: 'IPO stands for It's Probably Overpriced.'"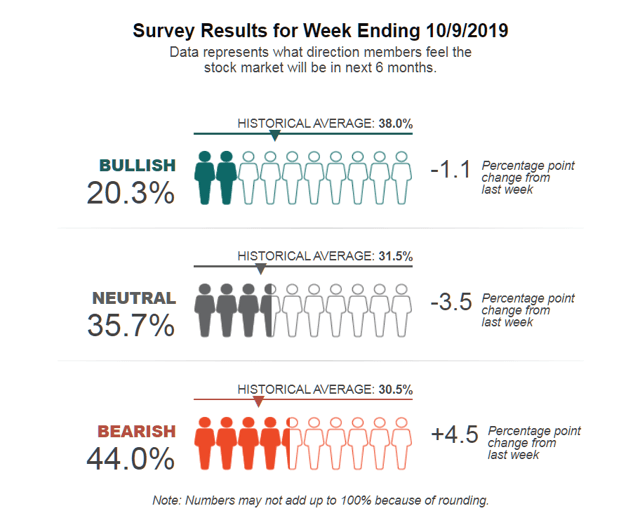 This week's AAII Sentiment Survey results
Bullish: 20.3%, down 1.1 percentage points
Neutral: 35.7%, down 3.5 percentage points
Bearish: 44.0%, up 4.5 percentage points
Historical averages:
Bullish: 38.0%
Neutral: 31.5%
Bearish: 30.5%
The AAII Sentiment Survey has been conducted weekly since July 1987. The survey and its results are available online.
If you want to become an effective manager of your own assets and achieve your financial goals, consider a risk-free 30-day Trial AAII Membership.
Disclosure: I/we have no positions in any stocks mentioned, and no plans to initiate any positions within the next 72 hours.