December AAII Asset Allocation Survey: 20-Month High For Equity Exposure
Please Note: Blog posts are not selected, edited or screened by Seeking Alpha editors.
Investor Education
Seeking Alpha Analyst Since 2010
Charles Rotblut, CFA is the editor of the AAII Journal, the flagship publication of The American Association of Individual Investors (AAII). Charles provides both insight about individual investor sentiment and market analysis. He is also the author of "Better Good than Lucky: How Savvy Investors Create Fortune with the Risk-Reward Ratio" (W&A Publishing/Trader's Press).
Summary
Stocks and Stock Funds: 67.6%, up 4.4 percentage points.
Bonds and Bond Funds: 17.0%, down 1.3 percentage points.
Cash: 15.4%, down 3.0 percentage points.
Individual investors' exposure to equities reached a 20-month high in December according to the latest AAII Asset Allocation Survey. Cash allocations, meanwhile, declined to a 10-month low.
Stock and stock fund allocations increased by 4.4 percentage points to 67.6%. Equity allocations were last higher in April 2019 (67.8%). The historical average is 61.0%.
Bond and bond fund allocations pulled back by 1.3 percentage points to 17.0%. Even with the decrease, bond and bond fund allocations are above their historical average of 16.0% for the 22nd consecutive month.
Cash allocations declined 3.0 percentage points to 15.4%. This decrease marks the eighth consecutive month that cash allocations have been below their historical average of 23.0%. Cash allocations were last lower in February 2020 (14.8%).
The major U.S. indexes ended the year at or near record highs. This upward run boosted the value of individual investors' equity holdings. Optimism among AAII members about the short-term direction of the stock market has also stayed above average. Bullish sentiment in our weekly sentiment survey averaged 46.0% last month.
December's special question asked AAII members how their current allocation compares to what they expected it to look like at the beginning of 2020.
More than two out of five respondents (43%) say that their current allocation saw miniscule changes and was about the same as expected overall. This compares to 4% of respondents who say that their allocation saw absolutely no changes and is exactly what they expected.
Of the remaining respondents, 15% say that they had more cash allocated than expected, while 18% say that they had more allocated to stocks and stock funds than expected and 4% say that they had more allocated to bonds than expected. Additionally, 15% of respondents fall into 'other' due to answers that don't fit under the previously mentioned categories.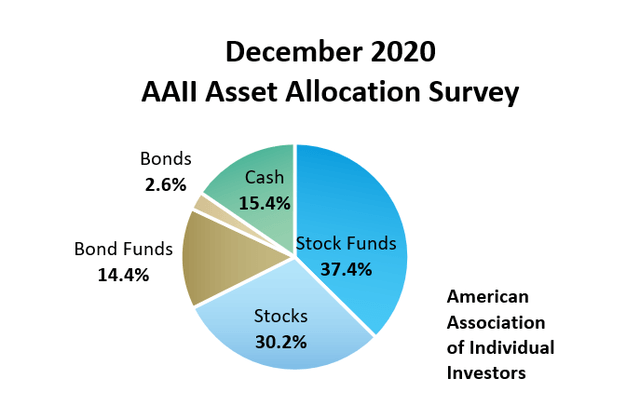 Here is a sampling of the responses:
"Allocation is about what I expected, although the market far surpassed my projections."
"A bit more cash and bonds which will maintain until after the Georgia elections. But slightly less in cash and bonds than your average allocation. My target is 70% stocks but is currently at 68%"
"Heavier on stocks and stock funds due to excellent market performance for the year, chasing yields and low interest rates on bonds. I have had several bonds called away. I will need to do some asset allocation adjustments, but into what?"
"I expected to have more invested, but as the pandemic surged after Thanksgiving, I moved enough money to live on for the next two years into cash. Unfortunately, I expect things will get worse before they get better; people thrust into unemployment and poverty cannot spend, and our economy is too dependent on consumer demand. When the market bottoms out, I don't want to have to sell. I anticipate reinvesting in the future, after the carnage is over."
"I now have a lot more in cash. Typically, I have 5% to 10% in cash, now I have 20%. I have had unexpectedly large profits in my stocks, so I trimmed my stock allocation and moved the sale proceeds to cash."
"My allocation is the same. I have not moved anything, and I haven't bought or sold anything. I did defer my IRA required minimum distribution to 2021. All of my holdings are up pleasantly for 2020."
December AAII Asset Allocation results:
Stocks and Stock Funds: 67.6%, up 4.4 percentage points
Bonds and Bond Funds: 17.0%, down 1.3 percentage points
Cash: 15.4%, down 3.0 percentage points
December AAII Asset Allocation details:
Stocks: 30.2%, up 2.3 percentage points
Stock Funds: 37.4%, up 2.1 percentage points
Bonds: 2.6%, down 0.5 percentage points
Bond Funds: 14.4%, down 0.9 percentage points
Historical Averages:
Stocks/Stock Funds: 61.0%
Bonds/Bond Funds: 16.0%
Cash: 23.0%
The numbers are rounded and may not add up to 100%.
The AAII Asset Allocation Survey has been conducted monthly since November 1987 and asks AAII members what percentage of their portfolios are allocated to stocks, stock funds, bonds, bond funds and cash. The survey and its results are available online at: https://www.aaii.com/investor-surveys.
If you want to become an effective manager of your own assets and achieve your financial goals, consider a risk-free 30-day Trial AAII Membership.
Analyst's Disclosure: I/we have no positions in any stocks mentioned, and no plans to initiate any positions within the next 72 hours.
Seeking Alpha's Disclosure: Past performance is no guarantee of future results. No recommendation or advice is being given as to whether any investment is suitable for a particular investor. Any views or opinions expressed above may not reflect those of Seeking Alpha as a whole. Seeking Alpha is not a licensed securities dealer, broker or US investment adviser or investment bank. Our analysts are third party authors that include both professional investors and individual investors who may not be licensed or certified by any institute or regulatory body.