A curious thing happened today. On an otherwise quiet Monday... a Monday preceding an FOMC meeting... equities managed to surge 1.5% higher. Stocks usually drift in limbo heading into the afternoon of our monetary cabal's announcement, but traders instead went on an impatient buying spree. The S&P 500 now rests about 100 handles above the daily cycle low set in late August and has risen in 11 of the 15 sessions off that low. These gains have enabled the current daily cycle to fulfill its duty of following a right-translated cycle with a higher high.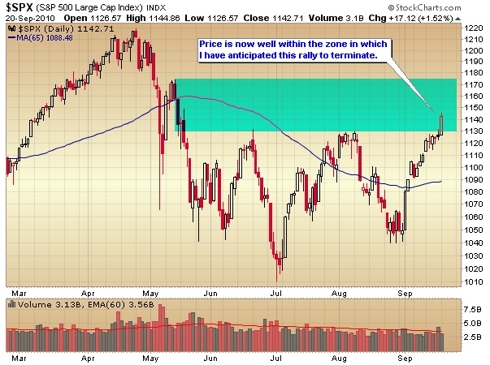 I've previously outlined the reasons I expect stocks to roll over, so I won't go into such detail again in this post. However, I will note that the primary criticism I've taken on this viewpoint pertains to the expectation for stocks to decline even as the dollar sinks into a major low early next year. Well, I have news for you: stocks are far more likely to follow oil than the dollar.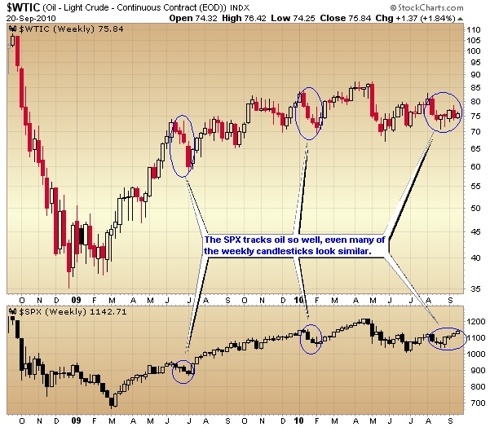 Okay, you say. If the dollar is going to sink into a major low, shouldn't oil's price get inflated, thereby driving stocks up?
Not necessarily. Commodity bulls who expect a falling dollar to juice their energy positions are at grave risk of disappointment.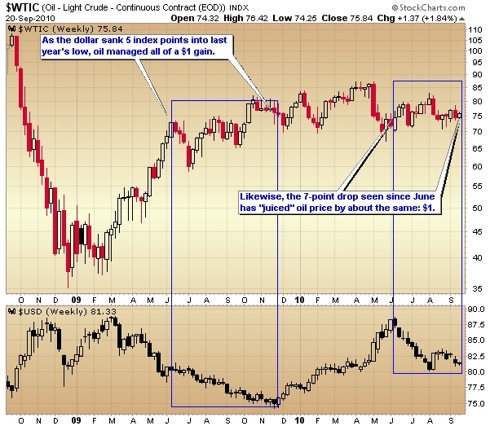 So you can see that oil really couldn't care much less about what is happening with the dollar at this juncture. The last two significant bear legs for the buck barely saw a gain for oil, let alone a surge in price. Speculative demand is being focused on gold and agriculture while oil is mired in an environment of severe oversupply and falling demand. In fact, my cycle analysis... the details of which are, of course, confined to the Member letter... suggests that these imbalances may be on the verge of being expressed by an extended decline in the price of crude. And if the charts above are to be heeded, stocks are far more likely to follow oil down than oil is to be supported by a falling dollar.
Disclosure:
Long gold