Much speculation surrounds yesterday's release of long-awaited PC game StarCraft II. The sheer brand power of the franchise is a fascination among hard core gamers, lapsed PC enthusiasts, and technology analysts alike. It is the sequel to a game that captivated an entire country, where, in South Korea, it is considered a national sport, drafts 50 players to professional teams annually, and features celebrity players earning up to $300,000 a year. Surely, it is going to fly off the shelves around the world, but how big is the upside, really, for video game publisher Activision Blizzard Inc. (NASDAQ:ATVI)?

Let's take a look at some data for other big titles in recent history: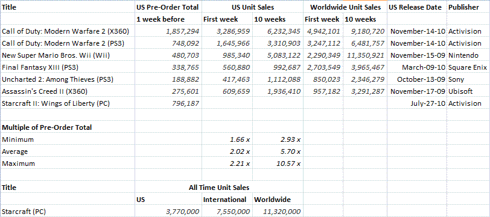 If pre-order totals are reasonable estimates of future sales, the first thing that stands out is the magnitude of the numbers associated with Call of Duty: Modern Warfare 2. Modern Warfare 2 was a huge success for Activision Blizzard. Its combined console sales in its first 10 weeks worldwide were 15.6 million units. Furthermore, its combined U.S. pre-order total was over three times that of StarCraft II. This brings both the legendary success of the original StarCraft – with all time sales of 11.3 million units – and the potential of StarCraft II into perspective. Perhaps the accessibility of console systems as a gaming platform versus PCs somewhat limits the upside potential of StarCraft II.

To arrive at a simple estimate for expected sales, I will again rely on pre-order statistics. Comparing U.S. unit sales to U.S. pre-order totals, I have extracted a set of multiples which can then be applied to StarCraft II's pre-order figure to project StarCraft II U.S. unit sales. Based on this logic, using minimum and average multiples, my forecasts for U.S. unit sales are as follows:
1.3 million to 1.6 million units in the first week of sales.
2.3 million to 4.5 million units in the first 10 weeks of sales (or the end of Q3).

Next, assuming (the original) StarCraft's all time sales distribution is representative of the distribution of buyers of StarCraft II today, we can estimate Worldwide unit sales. The resulting forecasts for Worldwide unit sales are as follows:
3.9 million to 4.8 million units in the first week of sales.
7.0 million to 13.6 million units in the first 10 weeks of sales (or the end of Q3).

StartCraft II retails at $59.99 USD. Its wholesale price can reasonably be estimated at $45-50. Its gross margin percentage over the last year was on average 55%. All in all, this amounts to an incremental gross profit of $200-300 million in Activision Blizzard's PC segment in Q3.

But how spectacularly are these results actually? Compare the incremental gross profit of $200-300 million to Activision Blizzard's last quarter's total gross profit of $411 million and previous "holiday season" quarter's $1.4 billion (based on non-GAAP measures). The truth is that the addition of StarCraft II is only enabling business as usual. At least one big title a year is required to sustain Activision Blizzard's highly cyclical revenue stream. Last year's Modern Warfare 2 drove (non-GAAP) EPS to its highest point in company history at 50 cents. This year, earnings will get a similar boost from StarCraft II, and if the above projections are correct, Q3 EPS will be an impressive 25 to 33 cents – at which point a stock price of $15 may be justified.

In closing, it remains to be seen whether StarCraft II is the catalyst for further growth in Activision Blizzard's revenue stream or whether it is just an isolated success. StarCraft II alone is not enough to justify a higher valuation in the long run, much like the insignificant net-effect of recent blockbuster Modern Warfare 2.


Sources:
Cain, Geoffrey. http://www.globalpost.com/dispatch/south-korea/100621/starcraft-korean-play-II-computer
VGCharz. http://www.vgchartz.com/
Disclosure:
No positions