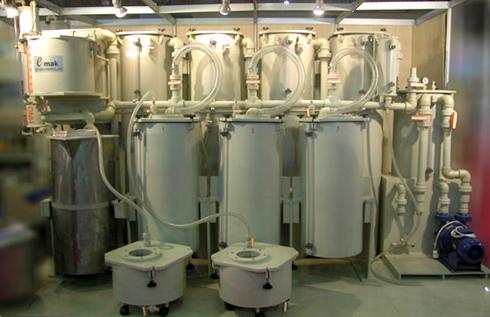 Gold Recycling & Refining Machine Operates in Minimum Area
Gold Recycling & Gold Refining Machine Produces %99,99 Fine   Gold, Silver, Platinum,   Palladium
Turnkey Installation
You Can Recycle All Type Of Scrap and Waste (Polishing Waste) with Gold Recycling & Gold Refining Machine.
Gold Recycling & Refining Machine Refine Waste of Gold, Silver, Platinum, Palladium.
Gold Recycling & Refining Machines Technical Properties
CAPACITY :7 Kg SCrap Refining, 10 Kg Waste Recycling/6 Hours Period
REACTOR CAPACITY : 100 Litres   
REACTOR MATERIAL :Titanium
FILTRATION SYSTEM :Water Pipe Type (It Has 4 Column) It Works Under Vacuum.
Vacuum System :2 x 90 M3/Hhour Vacuum Pump Vacuum(-0,4 BAR). Capacity Is 500 Litres Of NaOH(PH10) + Water. It Has Full Automatic Phmeter
VACUUM PUMP :3 Kw 3 Phase Motor, 2800 T/Minute   
CONVECTİON COOLER :150 Litres Cold Water(+1°c) Capacity
COOLING UNIT :1 Kw Monophase Compressor
TRANSFER OF ACID :Closed Circuit Works By Vacuum
EXHAUSTED GAS :No Smell, No Smoke, PH7, No Nitrogen Oxid   
LIQUID FILTRATION :With Vacuum System, 150 Litres Tank Capacity
MATERIALS USED :Anticorrosive Pph (Poliproplen)
WARRANTY :1 Year
More Information:
Product Page :
Gold Refining Machine
Emak 
Gold Refining
Machines Co. Ltd.
Or Forum about Gold Refining Process:
Gold Refining Forum