Some daytraders prefer to attack the market right from the open, but I have found that it is best to wait for my trade setups. There was a nice setup this morning that carried over from trading on Tuesday. The market made three pushes lower late in the afternoon on Tuesday, which provided a nice long trade into the close when the market broke below channel support.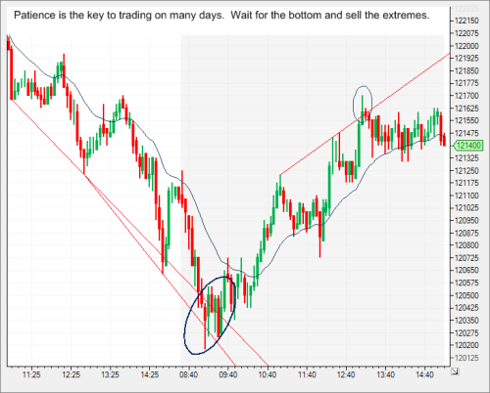 On the open for Wednesday, there was a forth push lower that also broke channel support. These are often very good trade setups that carry over from the previous day. The key is to not jump the gun and try to get in early. Wait for a channel break and then buy on a move above a previous 5-minute bar's high. You can also wait for a retracement after the break, but you risk missing the trade. 
Trades like this often take time to develop and it is enticing to take quick profits. I often fall victim to this, but the smart play is to hold out for a larger move. 
On the short side, you can see the market also broke above channel resistance later in the afternoon. This was the third push higher and the was also divergence on the momentum indicators(not shown). This is a nice sell setup, but it only yielded modest profits. 
These are strategies that work on fading the trend. Basically, you are looking for markets that move to extremes and there is a good likelihood that the markets will reverse. This is initially trading against the trend, but they are often high probability trades if you remain patient and disciplined. Once you get confirmation of a trend reversal, you can ride out the trend knowing that you got an excellent entry.
Chuck Kowalski
www.FuturesBlog.com
Disclosure:
no open positions