If the market rallies on bad news, you can certainly expect it to rally on good news. The ADP report this morning gave the markets all the ammunition they needed to rally today. It was a subtle open this morning, but lower openings coupled with positive economic news equals a rally. We saw that this morning as the first 5 minute bar was the low of the day and it was another trickle higher rally day.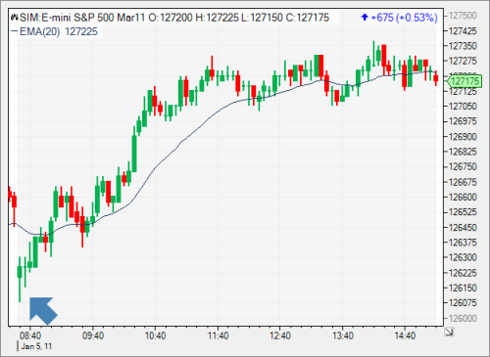 One of the best signs you can get in this market is when it opens on the low of the day and moves higher for the first 30 to 60 minutes. Obviously, you won't know it is the low of the day until the day is over, but more times than not, the market will have an upward bias if the first 5 minute bar posts the low of the day after the first hour or so. The same applies to opening on the high of the day, but this market has a strong upward bias and you want to look for the buying opportunities.
We have seen several of these low volume Trickle higher rallies since the bottom of the market in March 2009. They normally last 2 – 2 ½ months. That could put us into the end of January or mid-February before we see a meaningful correction if history is any indication. It is tough trading in this environment, as the lack of volume and price movement tests the patience of the most disciplined traders. For now, the market is well supported, so look for the reversals higher after a drop in the market.    
Chuck Kowalski
www.FuturesBlog.com