Soybeans had a positive week with support from the outside financial markets. Let's just say it was a positive week and not get too excited about it. Gains on the week have been hard to come by for several months, as soybean prices have dropped nearly 25 percent from the highs. The question is whether the market can build on this strength or is this is just a breather before another leg down?
There are headwinds facing soybeans that might prevent much of a meaningful rally in the near future. Brazil is the major issue. In fact, Brazil continues to be a larger factor in agriculture as the years pass. It is a wonder where prices commodities would be trading if Brazil hadn't expanded agriculture so much in the past 15 years. The issue here is that the weather looks nearly ideal for most of South America and the soybean crops are in very good shape. 
This will likely lead to a large soybean crop this year for Brazil and that means added supply. Demand has also been somewhat weak for soybeans or at least US soybean exports. The USDA could lower export and demand estimates in the December crop report next week. With the US crop already in and prospects for a large Brazilian soybean crop, it will be very difficult for soybeans to rally under conditions like this – especially this time of year. 
The fundamentals point to lower prices ahead. It might take a radical change in the weather outlook in South America to change the picture, but the odds are low of that happening. 
There are a few tailwinds for soybeans, but they are mostly filled with "maybies."  The outside economy could get a lift from recent economic reports, Fed interventions, etc. and that could support soybean prices.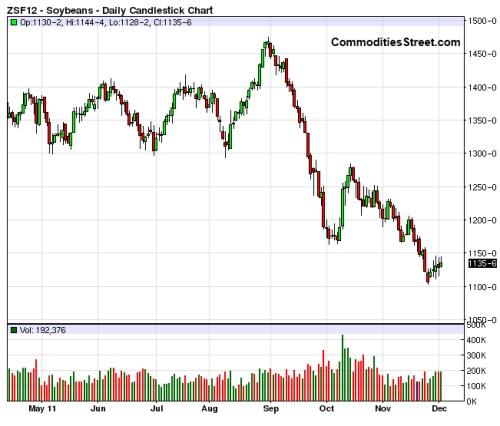 The soybean market is very oversold and due for a strong bounce. There is a large short position in soybeans from speculators and that could lead to short covering rally if the market received some bullish news. That could happen at any time, but I would certainly welcome it. The near term trend Is lower and the fundamentals dictate lower prices, therefore rallies are meant to be sold.
January soybeans closed the week at $11.35 ¾. The first place I would look to sell for a longer term  trade is right around the $12 level. A better place to sell would be near the $12.70 to 12.85 area. That is still a good distance away, but soybeans are no stranger to making $1 to $1.50 moves in a relatively short period of time. 
Chuck Kowalski -
www.CommoditiesStreet.com
Disclosure:
I have no positions in any stocks mentioned, and no plans to initiate any positions within the next 72 hours.