Come on, you didn't really think the market was going down today? There were countless reasons for it to move lower, but when it is an Obama Day, the market always seem to move higher. 
What is an Obama Day? It is a big press day where he tells us how he has just made the country into a better place - and we should all praise him for showing us the way to the promised land. Today was the Healthcare Reform Bill, which was passed by Congress last night. I'm using a little light humor here, but there is a distinctive pattern with the markets and Obama. This would be a good research piece.
The markets opened on the lows and had another typical trend day on a Monday. The first 30-60 minutes of trading on days like this make for some rapid rallies. You can buy a break above the first 5-minute bar and just hold on for the ride.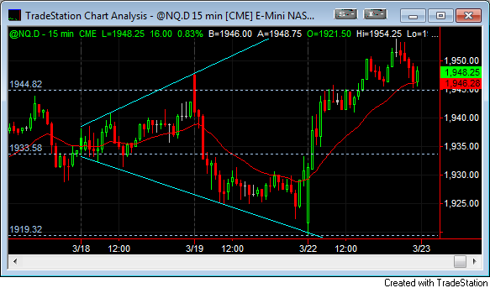 Take a look at the Nasdaq Emini chart. You can see the market has been working in an expanding range the last few days. The bottom trendline was touched on a gap lower opening and it coincided with a pivot point. This made for a good buy setup and the support held. Traders don't need a whole lot of convincing in this market to rally. 
For whatever reason this market continues to rally. Mondays tend to be especially strong and you have to buy on these days. It seems like the markets move about ½ percent higher everyday.   If the stock market is supposed to reflect or anticipate the economy, I doubt we can expect the economy to grow by ½ percent everyday. Eventually, something has to give. 
Disclosure:
no stock positions