The Emini S&P ended the day on a weak tone as a strong rally could not hold and a selloff actually caught traction for the bears.  Its no secret that there are numerous warning signs for a top in this market.  So far, the bears have had no control and the dips are short-lived.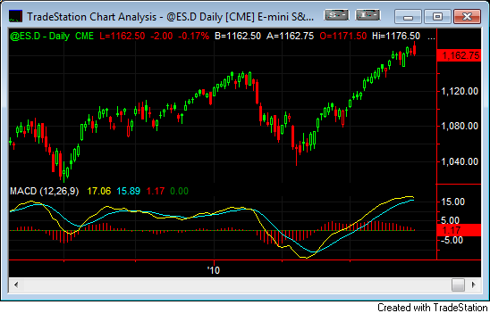 I view this market as when it will head south - not if.   As a short-term trader, I have to focus on the trend and it is still solidly higher.  As I mentioned before, a simple strategy of buying on pullbacks on a 5-minute chart to the 20 period EMA has worked well.  It should be obvious that cannot go on forever and it will everntually change. 
You can feel a trend change when reliable signals are no longer working.  That certainly happened this afternoon, but one day does not make a trend.  We'll see how much follow-through we get on the daily reversal.  A mistake many new traders make is they will keep looking for buy signals after a trend has definitely changed from an uptrend to a solid downtrend.  You have to adapt and adjust with the market to survive. 
A reason that strong trends change has to do with the short-term traders who try to keep buying into overwhelming selling pressure.  This cause them to cover their losses and adds to the selling pressure.  They often follow this pattern and more than wipe-out all their gains from the previous trend.
Disclosure:
no stock positions