December corn futures are in an interesting position right now. This market has been trending lower and looks like it might move even lower. On Friday, the market created an inside day that should setup for a breakout move on Monday. A large bar day on Thursday also adds to the positive setup for a breakout.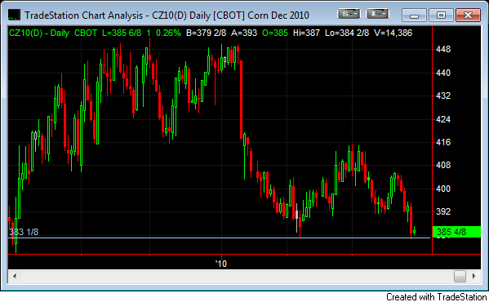 It is usually a good trade to play a breakout of an inside bar after a large bar on the previous day. The direction is tough to call, so you have to be prepared to play it higher or lower. Normally, these setups tend to be reversals, so be prepared for a breakout higher. 
On a bigger picture look at corn futures, you can see the market is trying to make a double bottom. On a break above Friday's high, there could be a potential for a double bottom. 
If we look at the weekly chart, my opinion changes to the negative for corn. The market is in a downward channel that makes me believe we will see lower prices yet.   A touch of the bottom of the channel or a break through it would have me looking for a buying opportunity. That would still be another substantial move lower though before we got there.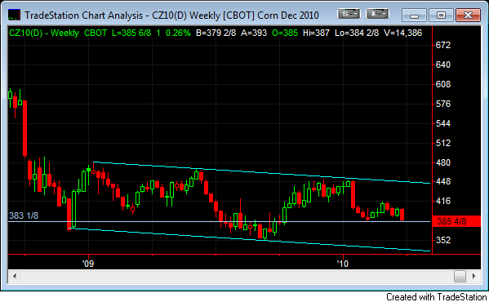 A break above the upper part of the channel could mark a significant change in trend. For right now, you can see that the market is in the middle of the range and usually not a good place to buy or sell. I would just trade this market for shorter term moves until the picture changes decidedly one way or another. 
Disclosure:
no stock positions