It was another slow grind higher today as the market had its sights on Dow 11,000. The Emini S&P stalled at the R1 pivot for most of the day. There were two attempts to break through before 1:00 and then it looked like the market might give up on the pursuit. Well, maybe in a normal market, but this market has a one-track mind.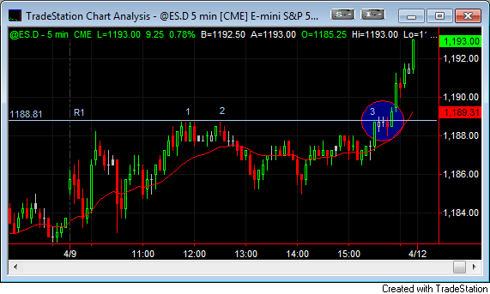 There was a normal 2:00 shakeout that gave the market enough momentum to try for a third time. The traders who went short on the shakeout and those who were stopped that wanted back in provided the fuel. Three tries to push through a pivot or resistance often leads to success. I often look to follow the momentum on these trades. 
You can see how the market just broke poked through and then it looked like it was going to be a failure. However, once the red reversal bar failed to send the market lower, you can see how the move accelerated as traders gained confidence in the move. It was a good bet to expect traders to push the Dow to 11,000 before the weekend if they had a chance. This isn't the most difficult market to move. 
The market is still drastically overbought and it is closing in on some major retracement levels. The S&P and Dow are near their 61.8 percent retracements and Nasdaq is close to the 78.6 percent retracement off the 2007 highs. They should be good levels for reversals considering the overbought levels, but I wonder if this will be just another short pause or a major reversal.  
Chuck Kowalski
FuturesBlog.com
Disclosure:
No positions in stocks