The Nasdaq futures made a run at the highs on Wednesday are were rejected. You can see from the chart that the Nasdaq Emini broke the previous highs by 1 tick and failed. There were some resistance levels there that held and this is a major change from the strong market we have seen in the last few months.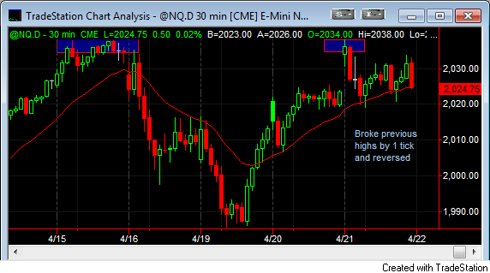 The Nasdaq had plenty of firepower to rally today, but it looks like the market may have run out of gas. I would keep an eye on the low of 1985.75. A break of this level would be a big negative for the market.
Taking buy and sell signals for daytrading purposes is working. The one-sided market has now turned into a more normal market. You can see a "V" type of bottom formation or an inverse head and shoulders pattern on the 30-minute chart, which makes me wonder if the market isn't consolidating before a thrust higher. Time will tell, but there have been a couple of reversals in this market and that shows there are some chinks in the armor.   
Chuck Kowalski
www.FuturesBlog.com