The Dollar Index has consolidated in a triangle formation and that normally leads to a significant breakout. Things have been quieter with the European financial crisis, but the charts say we could expect some more fireworks soon.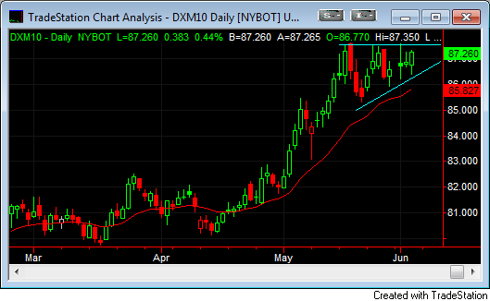 You can see that the dollar index has been consolidating at the mid-87 level. The lows have been getting progressively higher during the consolidation. The volume has also been decreasing, which adds to the validity of a breakout. Aggressive traders might buy on the anticipation of the breakout, while others might wait for an actual breakout or possibly a breakout pullback. 
This is a fairly reliable trading pattern. I prefer to take quick profits on a portion of the trade after a quick pop on a breakout and let the remainder run. It will be interesting to see how this trade ultimately unfolds. The odds say we will get a breakout higher and another leg higher in the Dollar.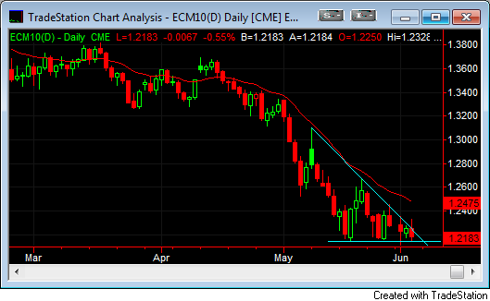 On the flip side, you can see the Euro has the inverse pattern. This would indicate a break lower in the Euro. If this happen, the stock market should also push lower. I am always aware of failures in patterns like these. If the markets make a false breakout and reverses to breakout of the patterns on the opposite end – a strong move in the other direction should occur. 
Chuck Kowalski
www.FuturesBlog.com
Disclosure:
no open positions