Trend days can be the best days for some day traders and the absolute worst days for others.  Tuesday was a classic trend day where the market gapped higher and slowly and methodically pushed higher all day. 
I like to use the 20-period exponential moving average on the 5-minute charts to determine the trend.  You can see the market never closed below it during the day and that should have kept trend followers long at least a portion of their trade for the entire day.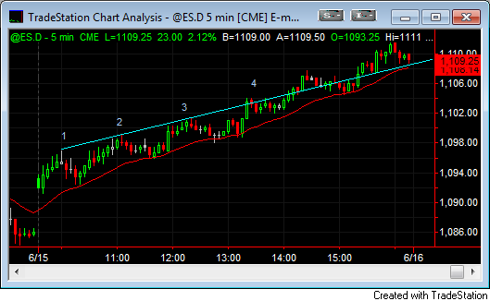 Trend days can also be the most frustrating days for those who range trade.  I've been there and done that.  It feels like you are beating your head against the wall all day and nothing is working.  An experienced and disciplined trader should interpret that feeling as a good sign the market will not reverse in the afternoon. 
Failure to reverse on a good technical setup is also a sign the market will continue trending the whole day.  I like to trade a 3 pushes higher setup.  If the market looks strong I will wait to sell the reversal bar on the 4th push higher.  You can see both reversals failed to have a meaningful move, let alone a trend reversal.  When this happens, it is a very good bet the market will continue moving higher throughout the day – sometimes accelerating.
The absolute worse thing you can do on a trend day is to short the first rally and hope the market will eventually reverse.  That is an amateur mistake that you can get away with sometimes, but it will eventually destroy your account and mental well being as a trader.  You can see how traders kept jamming the market higher into 4:00.  That is because those holdouts eventually covered their shorts into the end of day and other traders piled on as the trend kept chugging along.

Chuck Kowalski,www.futuresblog.com
 
Disclosure:
no open positions