This summer has been riddled with false breakouts and frustration, which is very apparent for trend traders. The question is whether this consolidation trading will continue throughout the summer or will we see a legitimate breakout soon?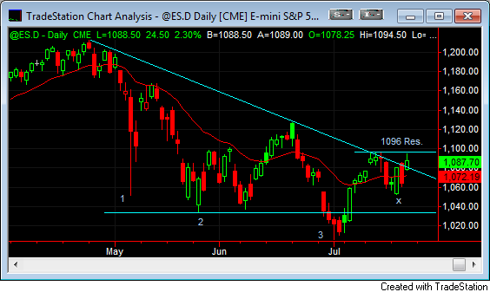 The main point of focus when reading the charts starts with the reversal in early July after breaking major support – indicated with the number "2" on the chart. This sent the market up to challenge the trendline resistance – which held. That was a sell signal and I expected the market to make new lows, but there was little follow-through again. 
Now, the emini S&P is sitting on a double top at 1096 with a close above trendline resistance. I am negative on the market, but this setup sure looks like the market is going higher. A close above 1096 would have me wanting to get long this market. 
I mentioned several weeks ago that we could see several false breakouts before the market decides on a direction. It is churning like this that builds momentum for a solid breakout. The range traders get caught fading the market and the trend followers are afraid to chase the market after being burned a few times. Then, everyone eventually jumps aboard at different stages to catch the rally. 
Watching 1096 is the key point from a technical perspective. If 1096 holds, there will be a double top and a good reason for the market to make new lows. A break above 1096 could lead to a strong move higher. Of course, the markets could continue to consolidate and churn everyone up. However, if you're a trader, these are the setups you have to take. 
Chuck Kowalski
www.FuturesBlog.com
Disclosure:
none