The mini Dow broke out of a triangle formation on Tuesday, but failed to follow-through. This sets up an interesting trading day for Wednesday. Do you buy the market with the expectation that it has broken out and there will be follow-through? Or, do you look for the reversal and sell a break of Tuesday's low?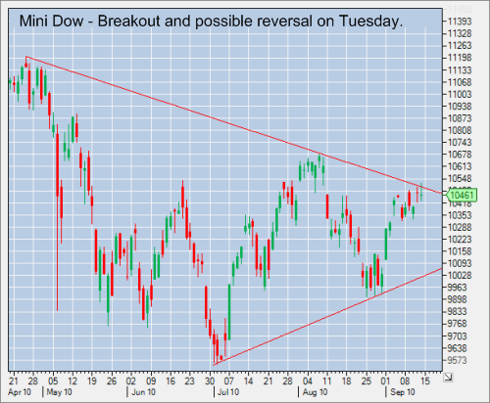 The Dow has been a laggard, as the Nasdaq and S&P have already broken out. Some traders could take it as a negative that all three indexes have not broken out. Regardless, the Dow is the laggard and a likely candidate to sell if you want to play the short side.
A case could be made either way on the direction the market should break out technically. This consolidation could be viewed as a pause in a longer-term uptrend or it could be a pause after the market has already rolled over and lower prices are yet to come. Either way, the market can be traded with a few simple rules.
I would look to short the market on a break of the Tuesday low. This would have to happen in the next day or two. If the market moves back above the trendline in the next day or two, I would look to get long.  
This time of year should lead to more conviction in the market, so I would expect a decent move one way or the other. There is always the chance for false breakouts and a lot of money can be made playing the fades. Try not to over think the trade and just follow the momentum. Sometimes you have to take some small losses before you find the right direction, but a big move should more than make up for some smaller losses. 
Chuck Kowalski,
www.FuturesBlog.com
Disclosure:
no open positions