Investors appear to be in the midst of a serious resurgence in favor of alternative energy stocks. Just take a look at the action in Tesla (NASDAQ:TSLA) over the past few months to get a better picture.
The stock has rallied from $40 in April to nearly $130 in recent trading. That's 225% gain in just 90 days.
And TSLA isn't alone by this measure…
While there are very few electric vehicle stocks in the market, there are plenty of other alternative energy stocks that appear to have rallied similarly in the exact same time frame…
One such stock I can point to is JinkoSolar (NYSE:JKS)…
While TSLA was racking up a 225% gain, JKS was doing a pretty good job for it's shareholders moving from $4 per share to more than $11 a piece.
That's a return of 175% in 90 days.
Now, if you've missed the boat on either of these now high flying stocks- rest assured there are still plenty of other "alternative" energy plays out there.
I've found a clean energy company that's producing real power right now, and it's still just a penny stock!
Enter FuelCell Energy (NASDAQ:FCEL)…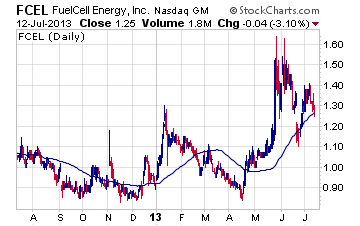 FuelCell power plants generate ultra-clean, efficient, and reliable power at more than 50 locations worldwide. With more than 300 megawatts of power generation capacity installed or in backlog, FCEL is a global leader in providing ultra-clean energy distributed to utilities, industrial operations, universities, and municipal water treatment facilities.
As you can see in the chart above, FCEL shares have rallied in the same time frame as the other alternative energy companies I previously pointed out.
What's important to note is that earnings announced back on June 5 caused what appears to be a bit of profit taking.
FuelCell beat on both revenue and earnings in Q2 bringing in over $42 million, and losing just $0.04 per share.
Given the recent selloff, I see the potential for FCEL to climb once again over the next few months. Here's why…
First, short interest in FCEL is up around 9.2% of the float with 14.4 million shares short. That's a jump of 44.5% from the just 9.9 million shares previously short.
If the stock starts trending back towards it's 52 week high, we could see nervous shorts create a short squeeze driving shares to even higher highs this year.
And that brings me to the my second point…
Even after the recent consolidation, FCEL shares retraced to their 50-day SMA. If shares can remain above this level, there's a great chance we could see the rally fire back up.
Either way, if you decide to invest in FuelCell, remember this… patience is the key with many of these stocks.
Both TSLA and JKS have each had their own catalyst driving shares higher, and the investors that have been patient waiting for their thesis to play out have been rewarded.
FuelCell shares may be next in line for a similar style rally.
Disclosure: I have no positions in any stocks mentioned, and no plans to initiate any positions within the next 72 hours. I wrote this article myself, and it expresses my own opinions. I am not receiving compensation for it. I have no business relationship with any company whose stock is mentioned in this article.