For investors paying attention, 2014 hasn't been the start many have hoped for. We've watched the DJIA fall from 16,500 to just 15,800. That's a loss of 700 points, or roughly 3%.
Obviously, there's nothing much to talk about when looking at a 3% move over the course of January. It takes a 10% pullback to even be called a correction.
But when looking at Plug Power (NASDAQ:PLUG), you're probably curious about what's going on. This alternative energy penny stock has fallen more than 46% from its 52-week high! PLUG rallied to $4.90 on January 9th… just 13 trading days ago.
Now, I don't care who you are, but a 46% collapse is massive. But in 13 trading days… what's going on?
Before I get to that, let's make sure you know a bit about the company and why it's been in the news…
PLUG - Plug Power
Plug Power is an alternative energy technology company that designs, develops, and manufactures fuel cell systems for industrial markets (think forklift and other material handing vehicles).
The company is doing a great job growing their customer base which includes some household names you'll recognize. Here are just a few of PLUG's customers-
Whole Foods
Firestone
FedEx
Mercedes Benz
Lowe's Home Improvement
Walmart
Stihl
P&G
Coca-Cola
Sysco
Ace Hardware
BMW
Kroger
Wegmans
Now, let's take a look at the chart for this extremely volatile penny stock to see what's going on...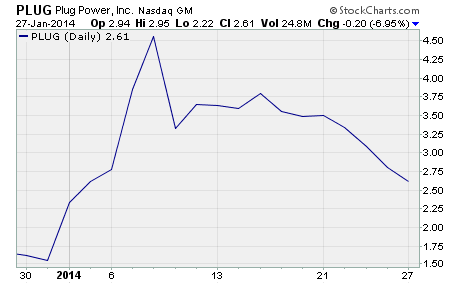 Looking at this chart, you'd think there's been a negative announcement or an earnings miss. But to the contrary, the latest company news is all positive.
In my last article, I informed you that Plug Power reported Q4 sales totaling $32 million. Since then, we've also learned that PLUG completed their recent equity offering taking in $28 million! Here's the excerpt from the filing I'd like you to focus on-
"The shares and the warrants were sold together in a fixed combination, with each combination consisting of one share of common stock and 0.40 of a warrant to purchase one share of common stock, at a price to the public of $3.00 per fixed combination for gross proceeds of $30.0 million. The securities were placed with a single investor."
I'd say that's a fair bit of conviction and a huge position for just one investor!
Since then, there have been plenty of commentary articles attempting to stifle the recent rally in PLUG shares, or help revive it. What's interesting to note is none of these articles contains any hard evidence as to what the upcoming earnings report will tell us about the financial performance of PLUG. (aka- no one has a crystal ball)
It's my belief that most of the selloff is due to short term profit-takers or fearful speculators bailing as the stock reverses. I only say that because the company has yet to release any real financial or product-product related news.
Interestingly, there's a good chance the selling is due to a general slowdown in trading volume. Here's the table of this year's trading in PLUG: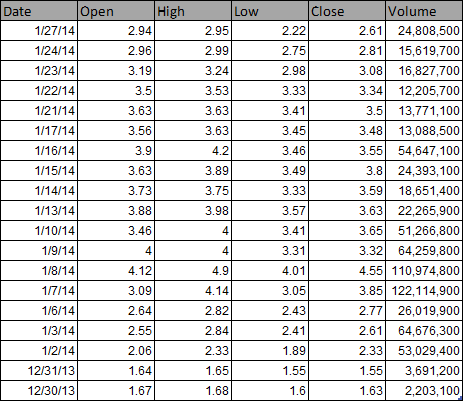 The average volume over this period is just 37.6 million shares a day. As you can see, trading volume has been well below this average. Except for January 16th, every day since the 10th has failed to meet or exceed this daily average.
Now, it's a fairly well accepted belief that low volume tends to cause a stock price to float sideways, or drift minimally in either direction. But in the case of penny stocks, low volume can lead to the type of sell off we've seen- especially one this hotly debated among traders!
Since we're absent company news or a fundamental catalyst, I'd recommend investors sit tight until we get the latest earnings report. That way, you can make an informed decision on how to proceed- long or short.
Keeping you one step ahead,
A.J. Watkinson
Disclosure: I have no positions in any stocks mentioned, and no plans to initiate any positions within the next 72 hours. I wrote this article myself, and it expresses my own opinions. I am not receiving compensation for it. I have no business relationship with any company whose stock is mentioned in this article.