Is it possible to profit from a PDUFA run-up? Is it less risky compared to a long term buy and hold strategy? The answer is a resounding yes, if you look at the past history of Mannkind's two PDUFA's. There is a lot of speculative activity around a PDUFA date of any small biotech company. Just take a look at the run-up for Arena's (NASDAQ:ARNA) Belviq, Vivus's (NASDAQ:VVUS) Qsymia, Orexigen's (NASDAQ:OREX) Contrave prior to PDUFA date.
First, a primer on Mannkind. Mannkind's lead product is called Afrezza. Afrezza is a device/ drug combination product. Afrezza delivers powder insulin from a proprietary inhaler. Afrezza was twice rejected by FDA. FDA has not cited any safety and efficacy issues. The odds are in favor of Mannkind to successfully complete the Phase 3 trials. If everything goes as planned, the FDA submission will be around mid to late 2013.
The table given below captures the dates for the submissions.
| | | | |
| --- | --- | --- | --- |
| Afrezza | Submission-1 | Submission-2 | Submission-3 |
| Submission date | 12-Mar-09 | 29-Jun-10 | Around mid to late 2013 |
| PDUFA date | 16-Jan-10 | 20-Dec-10 | Around late 2013 or early 2014 |
| Decision date | 12-Mar-10 | 19-Jan-11 |   |
I analyzed the past two run-ups prior to the PDUFA date. The X-axis is the "weeks before the decision date". The Y-axis shows the returns assuming that you sell on the decision date.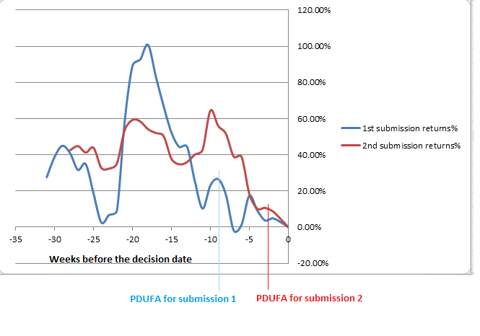 The graph shows that buying shares 15-20 weeks before the PDUFA date yields great returns. The returns start diminishing as one starts buying near the PDUFA date. Of course, the past returns are no guarantee of future returns. But the run-up prior to the PDUFA date is unmistakable. The PDUFA trade avoids the dilution risk and Phase 3 trial issues. By selling near the PDUFA date, one avoids the FDA rejection risk.
The long term buy and hold investor faces dilution risk from convertible debt, warrants & stock issuance and also FDA rejection risk. It is definitely a less risky option (with less upside) to trade around the PDUFA date.
Disclosure: I am long MNKD. I wrote this article myself, and it expresses my own opinions. I am not receiving compensation for it (other than from Seeking Alpha). I have no business relationship with any company whose stock is mentioned in this article.
Additional disclosure: The closing prices of Mannkind stock was downloaded from Yahoo! finance.