The stock price of Simulations Plus (NASDAQ: SLP) looks ready to slip, slip, slip away.
Shares in this Lancaster, California drug software company have recently risen like a gigantic, luminous balloon. But this dirigible has been floating on old hot air,(more hot air today) interesting accounting methods, dropping cash flow, looming payments and insider selling - and is just about to deflate.
TheStreetSweeper presents the top 11 reasons we expect SLP will soon slip its mooring and tumble down, down, down.
*1. Goodwill Hunting
First, let's focus on the accounting surrounding the $7 million acquisition of Cognigen in September 2014.
SLP's initial payment of $5.2 million consisted of $2.08 million in cash and over 491,000 shares ultimately valued at $3.277 million. (SLP will need to pay the remaining $720,000 cash and 170,014 issued shares in July.)
This transaction would normally prompt a pretty big hit in the income statement.
But the company did something that's perfectly legal yet quite surprising.
The company allocated almost $4.8 million of the acquisition cost to "goodwill." So goodwill - the premium SLP paid over Cognigen's book value - accounted for over 90 percent of the initial payment. By allocating it this way, SLP kept the vast majority of the cost off the income statement.

And goodwill appears as an asset:

(Source: Company SEC filings)
Of the total purchase price, then, a whopping 66 percent was placed in goodwill. Somewhere around 30 percent is more common.
If we looked at goodwill in relation to assets, we find SLP recorded $8.4 million in Cognigen assets. Goodwill came in at 57 percent of that … So the ratio of goodwill to assets also comes in much higher than with many firms.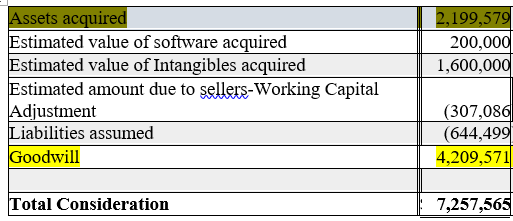 TheStreetSweeper asked SLP's CFO John Kneisel to do a little goodwill hunting with us. Why allocate so much to goodwill?
"I'm going to have to look at the number again but it was just the way the asset allocation went," said Mr. Kneisel.
If a good deal of the purchase price is allocated to goodwill, that amount doesn't have to be amortized. So it doesn't affect the income statement.
A high level of goodwill can lead to "a significant risk of future impairment … particularly during an economic downturn, which may have a significant impact on earnings,"wrote KPMG analysts.
Ultimately, we believe such an excessive goodwill allocation can artificially boost earnings per share.
*2. Capitalized R&D: Another Boost?
At the same time, SLP capitalizes an astonishingly high percentage - almost half - of its research and development costs.
Why should we care?
This could be another artificial earnings booster.
Indeed, capitalizing (delaying the recognition of expenses by recording the expense as a long-term asset) R&D opens up the ugly possibility of companies managing or manipulating earnings, researchers say.
So here's the deal with SLP:
SLP capitalizes nearly half of its R&D ($1.169 million capitalized and $1.328 million expensed), allowing 46.8 percent to go under assets.
So, SLP now just has to place a portion of that cost under operating expenses.

(Source: Company SEC filings)
We get a better idea of just how high that 46 percent really is when we find that competitor Nuance Communications has capitalized R&D at about 1%.
TheStreetSweeper asked Mr. Kneisel why so much of SLP's R&D is capitalized.
"We're constantly working on improving the software," he said. "And so a good portion of those costs, even though they are R&D, they end up capitalized."
Once again, researchers warn heavily capitalized R&D is one way to manage earnings.
"R&D capitalization is possibly used for pushing their earnings … the decision to capitalize and how much to capitalize are strongly associated with benchmark beating...
"This evidence is in line with the notion of firms opportunistically managing earnings via R&D capitalization," wrote the team of Tami Dinh and Wolfgang Schultze.
So ... how does SLP chief financial officer respond to our question about whether earnings per share might have been artificially boosted in this way?
"I don't know that we've had any artificial boosts in anything. I mean it depends on how you look at the business model of the company. We've been following the same process all along.for years and years," Mr. Kneisel said. "I don't think there's an artificial boost."
*3. Up, Up and Away: Receivables
Over the past quarter, an encouraging revenue bump occurred but got tarnished by a huge increase in accounts receivable.

(Sources: Yahoo Finance, SEC filings)
We have to wonder why the company is seeing such an incredible increase here of a stunning 154 percent.
"It seems like we're just a little backloaded on our a.r. for the quarter. Looking back, there might have been one or two larger ones," Mr. Kneisel told TheStreetSweeper.
This points to yet another issue.
The company says it has zero allowance for uncollectible receivables. Zero sounds just a tad optimistic. We asked what the deal is with the attitude toward bad accounts.
"We have no history of bad debts. Just the nature of the kinds of companies we've had ... That doesn't mean we couldn't but we just have no history of it," said Mr. Kneisel.
OK. Well, especially in view of the worldwide economic gloominess and the more common practice of other companies, maybe SLP should plan for bad debts.
*4. No Debt? Hmm, Payments Due
SLP has bragged that it has sufficient cash and no debt. But the recent 10-Q unmasks a shocker: the company faces $3.6 million - $2.6 million in current contracts payable and another $1 million in current payments due.

(Source: Company SEC filing)
These are payments linked to previous acquisitions - a royalty buy-out of TSRL and the 2014 purchase of Cognigen - that the company needs to make. Technically, it may not be debt but it is still a huge hunk of cash that the company will have to pay.
So, rather than an unfettered $7 million cash balance, investors should consider about half of that cash is spoken for.
*5. Cash Flow Plunges
Indeed, net operating cash flow is tumbling … down over 100 percent:

(Source: MarketWatch)
Clearly, the company is suddenly burning cash …


(Source: Company SEC filing)
*6. Unknown Auditor
Meanwhile, investors prefer to see top-tier auditors watching over their companies' financials. But SLP's auditor is a group known to very, very few investors - Rose, Snyder and Jacobs.
Meanwhile, it seems SLP's financials are getting a second look by both the state of California and the IRS:
Our federal income tax returns for fiscal year 2011 thru 2014 are open for audit, and our state tax returns for fiscal year 2010 through 2014 remain open for audit. In addition our California tax return for the fiscal year 2007 and fiscal year 2008 remains open with regard to research and development tax credits as a result of a previous audit for which we received a letter from the California Franchise Tax Board stating that an audit will not be conducted for those years at this time; however it may be subject to future audit. In 2015 the Company was informed that the IRS will be auditing the Company's tax return for 2014. The audit was started in October 2015 and has not been completed. The Company does not believe that this examination by the IRS will result in a significant change to our financial position or results of operations.
Also, Rose, Snyder and Jacobs performs auditing services for small companies such as Capricor Therapeutics (CAPR), a tiny, $-0.76 EPS, $2.25/share biotech, running out of cash, operated by a roundly criticized CEO; and Arrowhead Research Corp. (ARWR), a small, $-1.51 EPS, $3.60/share stock.
*7. Inexperienced Board
The board's general lack of prior experience with public companies is likewise not very thrilling.
Here are the board members:
CEO Walter Woltosz - The chairman of the board founded the company with his wife, Virginia. Rather than concentrating on the business aspects of public companies, his interests and education seem to lie in aerospace engineering.
WALTER S. WOLTOSZ is a co-founder of the Company and has served as its Chief Executive Officer and as Chairman of the Board since its incorporation in July 1996. He also served as President of the Company until Dr. Grasela was appointed to that office on September 2, 2014.
President Thaddeus Grasela - Mr. Grasela's interests and education are in pharmacy and epidemiology. While he did found Cognigen Corp., he has no apparent prior experience with a public company.
THADDEUS GRASELA has been President and a Director of the Company since the Company acquired Cognigen Corporation (Cognigen) also known as the Buffalo Division of the Company, on September 2, 2014. He was the founder, President and Chief Executive Officer of Cognigen for 22 years prior to the acquisition, and continues to serve as its President. Dr. Grasela has had extensive experience in the strategic oversight of scientific consulting projects, promoting new revenue generation, managing profitability, and overseeing the growth of the organization. He is a Fellow of the American Association of Pharmaceutical Scientists and Adjunct Professor in the Department of Pharmaceutical Sciences at the State University of New York at Buffalo. He received his PharmD in 1979 from the Philadelphia College of Pharmacy and Science and his doctorate in Epidemiology from the University at Buffalo in 1999.
Director David D'Argenio - No prior experience with a public company.
DR. DAVID Z. D'ARGENIO has served as a Director of the Company since June 1997. He is currently Professor of Biomedical Engineering at the University of Southern California (USC), and has been on the faculty at USC since 1979. He has also served since 1985 as the Co-director of the Biomedical Simulations Resource Project at USC, a project funded by the National Institutes of Health since 1985.
Director David Ralph - Mr. Ralph apparently has no public company experience. His remarkable background includes his survival of the Singapore airliner crash in 2000 that killed 83 people.
DR. DAVID L. RALPH has served as a Director of the Company since March 2012. He is currently a Professor of Marketing at Pepperdine University, and has been on the faculty since 1968. He is a member of the Pepperdine 2020 Strategic Planning Committee and the Marketing Task Force Dr. Ralph also serves as the Chair of the Fully Employed MBA Program Administrative Committee and is a member of the University Faculty Council at Pepperdine. He has consulted with key executives in a wide range of industries on marketing. He also acted as President and Chief Executive Officer of Antelope Valley Christian School from 1986 to 2005. He has served as the Associate Dean of The Graziadio School of Business and Management at Pepperdine University and currently serves as the Chair of the Department of Economics, Law, and Marketing.
Director John Paglia - No apparent prior experience with a public company.
DR. JOHN K. PAGLIA was appointed as a Director of the Company as of December 3, 2014. Dr. Paglia holds a Ph.D. in finance, an MBA, a B.S. in finance, and is a Certified Public Accountant and Chartered Financial Analyst. In 2007 he joined the faculty of Pepperdine University, and in 2014 became Associate Dean at the Graziadio School of Business and Management at Pepperdine University. Dr. Paglia leads the design and delivery of evening and weekend business degree programs for working professionals, as well as oversees student recruitment for these programs and the school-wide marketing, communications, and public relations functions. He founded the award-winning Pepperdine Private Capital Markets Project. From 2003 to 2009, Dr. Paglia was the managing director of Paglia Consulting Group, LLC, a business valuation, financial consulting and litigation support firm.
*8. Executive Compensation
Imagine having to devote only 60 percent of your time to the job.
That's the situation for the chief executive officer. It seems if someone is getting paid to do a job - and the CEO is getting paid $180,000 plus a $36,000 bonus plus stock options - that person should devote 100 percent of their time to their job.
Menwhile, the top five executives receive a generous $1.18 million in compensation.


(Source: Company SEC filing)
*9. Key Insider Selling
SLP has not seen a single open market purchase of company stock by an insider over the past five years. Here's a snapshot of insider trading activity over the past year:

(Source: Nasdaq)
In fact, since January, CEO/founder Walter Woltosz has sold 90,257 shares of his company's stock and peeled off another 97,000 shares in October as a gift.
Mr. Woltosz's sales over the past month were particularly remarkable because, while the percentage was low, the trading occurred in huge blocks of 32,076 total shares on Jan. 21, 22 and 25; and 58,181 shares on Jan. 29 and Feb. 1.
So Mr. Woltosz suddenly swept about a million bucks worth of stock off the table. We're left wondering what motivated this man who intimately understands the company and its prospects to sell now.
*10. Low Institutional Interest ... And Selling
And the founder isn't the only one selling SLP stock.
SLP has only a tiny institutional ownership of 23 percent, consisting primarily of far-below-top-tier banks. One of the larger shareholders, TFS Capital, has dumped a lot of SLP.
In fact, a total of six institutions have recently sold out completely.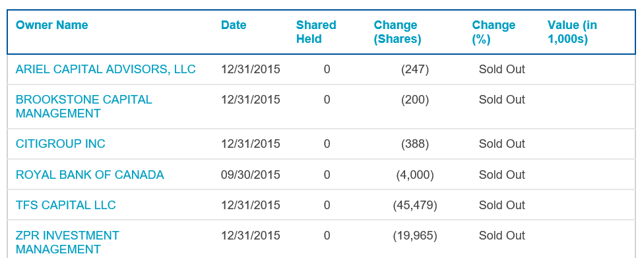 (Source: Nasdaq)
11. On Cue: Another Promotion
We always hate to see a company floating on a lot of hype from newsletters and such.
Unfortunately, trading at a bloated price-to-earnings ratio of 33, SLP has been partially built on promotions. In the past several years the company has been the subject of roughly a dozen paid promotional campaigns costing thousands upon thousands of dollars. Here are a coupe of snippets from earlier campaigns.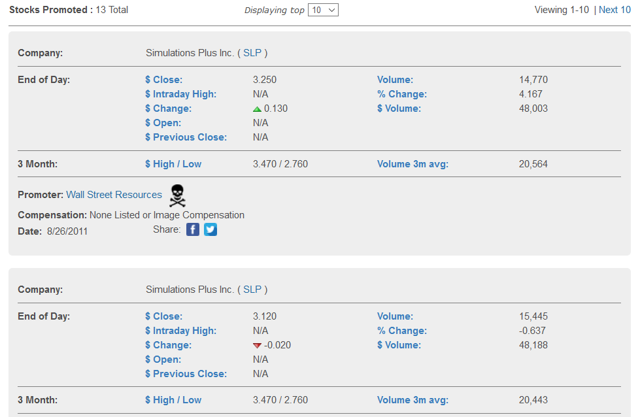 (Source: stockpromoters.com, click for entire list)
As if right on cue, the hype is back today. Using an assumed name, an author wrote a vague, initially somewhat entertaining, yet difficult-to-understand piece for Seeking Alpha that primarily says the author feels the company should live up to its outlandish P/E - which exceeds that of heavyweight companies. We disagree. But more to our point about all the yak-yak, note that the author used Yahoo Finance's message board to promote the coming hype:
And the author updated bulls ...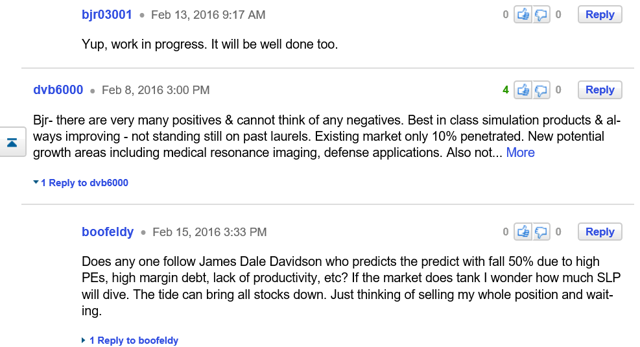 Solid, growing companies don't need this kind of bullish hype.
*Conclusion
Exuberance over SLP's earnings last quarter will be short-lived, in our view.
The company now will be expected to live up to a much, much higher EPS of 6 cents. And this stock is trading at an astounding 9 times revenue or ~38 times this year's earnings! At 6 times revenue and 30 times earnings, even heavy-weight, multi-billion-dollar Google doesn't command multiples like those.
Listen closely and you can hear that pffffttt sound as the air escapes this overvalued blimp, even if we overlook the accounting factors that may have artificially inflated the EPS.
So let's figure SLP shares should cost a generous 20 times currently recorded earnings. That alone suggests we can expect the stock to collapse down to about $5 per share - a very fair valuation.