Celator Pharmaceuticals (NASDAQ: CPXX) has finished cherry-picking and left the ladder against the tree. Now stock promoters have climbed up and begun tossing investors the pits.
The small New Jersey company with negative earnings and no revenue has been focusing on a drug targeting a rare cancer called acute myeloid leukemia.
Investors may find other viewpoints here. Meanwhile, here are the top eight reasons TheStreetSweeper expects Celator stock will quickly wither and die.
*1. Failed Phase II Trial Endpoint
Celator actually failed to meet a key endpoint in its phase II trial of VYXEOS (formerly CPX-351). That's right.
In the May 2014 edition of Blood Journal, researchers wrote that they studied the response rate (complete remission + incomplete remission), plus survival.
The drug overall produced response rates of 66.7% versus 51.2%, as shown here.
So there wasn't a lot of difference between what happened to patients who took the Celator drug compared to those in the control group. But the survival measurement is key. Researchers wrote …
Differences in survival "were not statistically significant."
Data analysis of the entire group showed the dreaded crossed lines: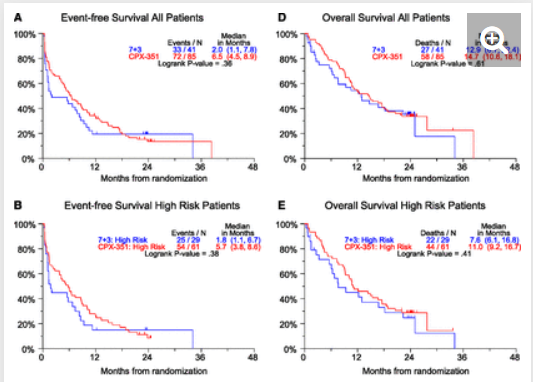 (Source: Study published in Blood Journal)
In the charts above, the red line indicates the Celator drug. The blue line indicates the standard of care, chemo. When those lines cross, results of the two therapies are no different.
As an OncLive author wrote: "The study did not meet its primary endpoint of a statistically significant OS improvement at 1-year posttreatment. However, there was a statistically significant OS benefit with CPX-351 among the protocol-defined EPI poor-risk subset (HR = 0.55; P = .02). A higher response rate (39.3% vs 27.6%), EFS improvement (HR = 0.63; P = .08), and lower 60-day mortality rate (16.1% vs 24.1%) were also observed with CPX-351 in this poor-risk subgroup."
Then something unusual happened. Researchers examined data for a small group within the original group of 126 patients. This cherry-picking produced a special subgroup of patients with secondary acute myeloid leukemia. That subgroup produced better looking results.
Those lines did not cross. Of course, the Food and Drug Administration would have likely preferred a wider distance between the lines, which would indicate the drug was likely working. But at least the lines did not cross:

Indeed, researchers found response rates compared more favorably: 57.6% versus 31.6%. They also found slower cytopenia recovery and more infections but thankfully infection-related deaths didn't increase.
Even in light of the more favorable data in the smaller group, the response rate isn't the measurement that matters most. Oncology doctors consider overall survival the ultimate measurement of cancer drugs. But, as we've said, researchers found Celator failed the overall survival measurement in phase II.
So the company had what it wanted in the smaller sampling.
What's so bad about that? Well, read on …
*2. What's Wrong With Cherry-Picking?
This cherry-picking is contentious enough that both the FDA and EU have weighed in and set up guidelines. The FDA says subgroup "analyses should be interpreted cautiously."
Authors reported the fascinating observation that:
"…no drug has so far been approved or not-approved either in the US or in the EU on the basis of subgroup analysis."
And a study by The University of Chicago nicely sums up the risks of subgroup analysis, including the risk of false positives.
"The more subgroups a drug company examines, the more likely they are to find one that shows improvement on their drug, whether or not their drug actually works," researchers wrote.
"Drug companies have a financial incentive to ignore - and even promote - this risk," researchers wrote. "They have invested millions in lab research and development; they can only recoup this if their drug is approved."
Investors likely didn't known until now about Celator's selective data picking and the inherent risks. Regardless, that's how the company managed to proceed to phase III.
And that sad cross-over shown in the larger group of phase II patients is the primary reason we expect phase III will fail.
*3. More Reasons Complete Response Data Is Not Enough
We need look no further than recent history to see that favorable complete response rates are not enough.
Let's look at a case in which a good complete response rate on acute myeloid leukemia patients couldn't overcome poor results of that key endpoint - overall survival.
The Sunesis Pharmaceuticals Valor trial recorded good complete response rates, much like Celator's:
"The trial also demonstrated a clinically significant benefit in complete remission (NYSE:CR) rate (30.1% vs 16.3%, p=0.0000148), the secondary endpoint. "
But, in a reaction that collapsed Sunesis stock overnight by 60 percent, the FDA demanded more clinical evidence from that company before considering approval of its cancer drug, vosaroxin.
The issue? That drug, "did not significantly improve the overall survival of patients."
*4. Abysmal Growth Expected
Along with the overall survival rate questions, Celator offers unimaginably poor growth prospects, as shown below:

And with just one analyst bothering to cover the stock, even that analyst expects the misery will not let up:

(Sources: Yahoo Finance)
So, offering no revenue, no earnings, and a phase II trial containing a failed key endpoint, Celator has run up to a mind-blowing $82 million market cap.
How did that happen?
Glad you asked ....
*5. Excessive Promotional Efforts
Promotional efforts. That's right. Biotech stocks are a common playground for promoters famous for buying risky stock relatively cheaply, luring unsuspecting investors in to inflate the price and then dumping the stock.
The stock shot up like a bad weed most recently due to a press release. Though investors must have interpreted it as a data announcement, that wasn't really the case. The announcement looks like this:
EWING, N.J., Feb. 16, 2016 /PRNewswire/ -- Celator Pharmaceuticals, Inc. (CPXX) today announced that the Phase 3 clinical trial of VYXEOS™ (cytarabine:daunorubicin) Liposome for Injection (also known as CPX-351) in patients with untreated high-risk (secondary) acute myeloid leukemia (AML) has reached its pre-specified number of events required for the analysis of overall survival. The company expects to announce overall survival results later this quarter.
The randomized, controlled, Phase 3 study (Protocol NCT01696084), conducted at 39 centers in the United States and Canada, compared VYXEOS to the conventional cytarabine and daunorubicin treatment regimen (commonly referred to as 7+3) as first-line therapy.
The key in this "announcement" that caused a rather perplexing stock-boost is "pre-specified number of events required for the analysis of overall survival." Sadly, that means there have been enough deaths to conduct a statistical analysis.
Meanwhile, the company runs many press releases on PR Newswire which appear to be more promotional than informational.
Indeed, earlier promotional efforts occurred through an author's work published on Yahoo Finance. Just since October, that Zacks Small Cap Research author has written four positive articles about Celator... here.
The Feb. 17 headline reads "CPXX: Celator is ready to Commercialize VYXEOS." The article jumps the gun because the drug (VYXEOS is CPX-351) has failed the phase II trial and hasn't even completed phase III, much less approached commercialization.
The two most recent pieces are indicated below:
(Source: Yahoo Finance)
The author used the same wording in both articles:
Also, the author of the Celator pieces has written about some pretty big losers, including NWBO, DMPI, ARWR and ADXS. See the combined chart here.
It's unclear whether the articles are paid promotions but they probably are since Zacks Small Cap Research, or Zacks SCR, runs a disclosure showing that it charges between $10,000 and $50,000 for IR and related services:
"Non-investment banking services include investor relations services and software, financial database analysis, advertising services, brokerage services, advisory services, equity research, investment management, non-deal road shows, and attendance fees for conferences sponsored or co-sponsored by Zacks SCR. The fees for these services vary on a per client basis and are subject to the number of services contracted. Fees typically range between ten thousand and fifty thousand dollars per annum."
One thing is clear. Investors won't see such promotional activities among the world's solid drug companies ... successes speak loud and true. Promotions can turn out to be just fluff drummed up to raise money.
Indeed, Celator has a $20 million at-the-market facility with Cantor (which apparently doesn't believe enough in Celator to even cover the stock), which Celator is probably desperate to tap about now.
*6. Hurting Finances
Meanwhile, finances are only getting worse and worse, faster and faster.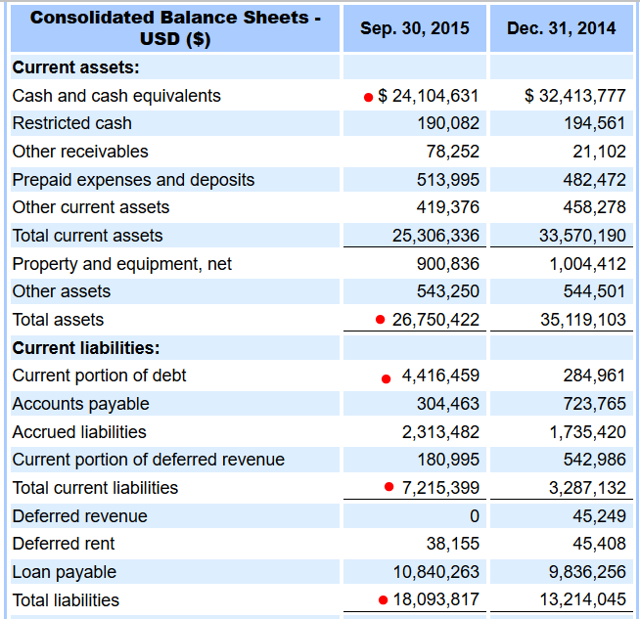 (Source: Company SEC filings)
So, what would have happened by now to a $10,000 investment made in the company's stock? How about a loss of more than 25 percent? See below: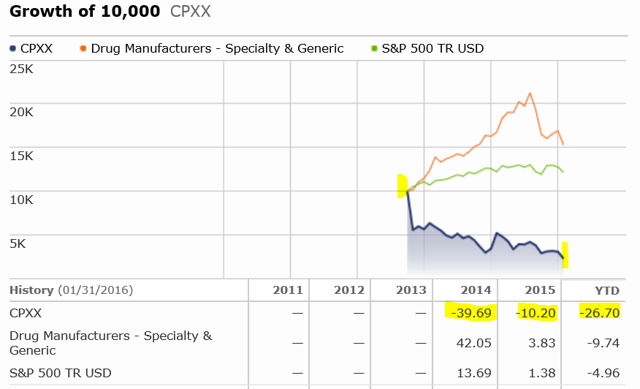 (Source: Morningstar)
*7. Executives Haul It In
No need to worry that executives in this poor company are standing in food pantry lines. The top four guys are hauling in more than $2 million in compensation.

(Source: Morningstar)
*8. Cash Strapped; ATM Tap Looming
When the company had $8 million more cash than its currently reported $24 million, its filings suggested it could operate on cash and a loan from Hercules Technology Growth Capital - a fund that takes on highly risky companies including two we've covered, Amyris (AMRS $4.85 on publication day, $1.52 now) and Amedica (AMDA $3.18 on publication day, $2.49 now).
That little stash would allow Celator to operate into the second half of this year, filings stated.
But we're already almost into the second half of 2016.
And Celator is burning through $4 million a quarter.
So it all comes down to this: Managers desperately need to tap that at-the-market facility, ripe with dilution potential.
*Conclusion
Celator has been in business since 1999 ... Still nothing to show for all that time. Well, nothing beyond a well-intentioned idea, $164 million in accumulated losses, cash-corpulent leadership, cherry-picked data, excessive promotions and wheelbarrows of debt.
Celator can't last much longer on good intentions.
That failed trial suggests there's an excellent chance the phase III data expected in March will not be positive. Negative data, in our view, means the stock will plummet 60 or 70 percent immediately.
We'd put a $1.45 per share valuation on Celator.
Disclosure: I am/we are short CPXX.