By Sonya Colberg, TheStreetSweeper Senior Editor
MGT Capital Investments (MGT) just may be the most self-promoted, worthless, risky stock we've ever observed.
Now, in our opinion, the company is poised to lead retail investors gently to slaughter.
You see, MGT stock is flying on tweets and Facebook page promotions from controversial wild man, John McAfee. The fallen icon will become the company's "proposed Executive Chairman and Chief Executive Officer," the company announced.
And MGT has bought Mr. McAfee's old anti-spy asset, D-vasive. Though the press release doesn't really explain this, D-Vasive is a product of Mr. McAfee's Future Tense Secure Systems,, the company which will now be consulting for MGT. MGT paid $300,000 cash and millions of cheap-o shares for the questionable privilege of taking Mr. McAfee's languishing property and try to breathe commercial life into it.
Now Mr. McAfee is hyping his new company. And unwary stockholders are buying into tweeted comments that we believe are material - and deserving of Securities and Exchange Commission attention.
In a nutshell, it becomes clear of at least one person who stands to benefit from this deal:
*Mr. McAfee gets paid for something he already owns.
*The company pays for D-vasive, Mr. McAfee's anti-spy property that has been virtually ignored.
*Mr. McAfee gets a job.
*Newly issued shares increase value for Mr. McAfee.
*A low-value app gets some fleeting attention.
But this MGT combo is now perfectly priced for a tooth-rattling drop when investors realize the massive risk they're holding onto right now.
*Wild Man Becomes CEO
Does anyone really want to own stock in a company that just named the erratic Mr. McAfee as CEO? He fled his Belize home in 2012 when sought as a person of interest in a neighbor's mysterious murder, earning the Belize prime minister's label of "extremely paranoid, even bonkers." Mr. McAfee was later convinced assassins from Central America were tracking him, according to USA Today.
A jittery Mr. McAfee told ABC News how he disguised himself and denied being paranoid or using bath salts, in this YouTube video, saying "Everybody's on cocaine ... why on earth would I do bath salts?"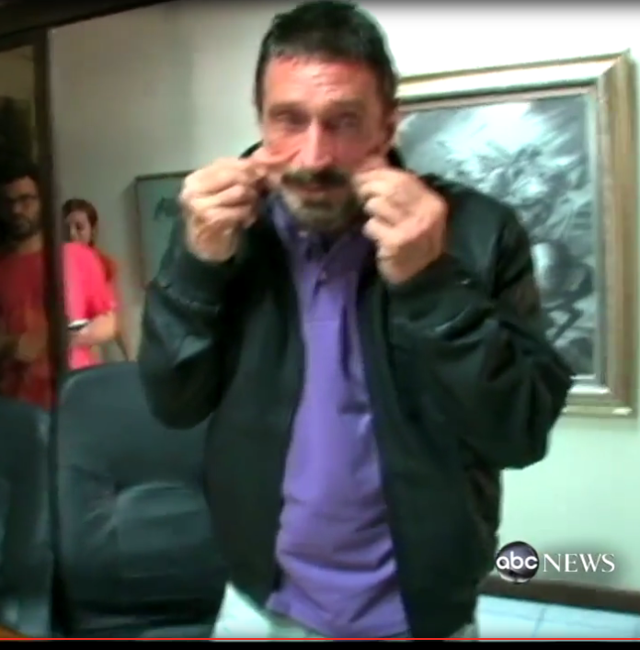 (Source: ABC news)
Entertaining. But when the smoke clears, the man pulling the company's levers will be the once-ruggedly-handsome, off-the-wall, desperately-trying-to-be-relevant Mr. McAfee.
Mr. McAfee first became famous for founding McAfee anti-virus software. In the 1992 "Michelangelo" controversy, he warned that the virus could decimate 50,000 to 5 million computers.
Michelangelo was a dud but Mr. McAfee took his company public in 1993. The raging controversy still flickered and Mr. McAfee resigned in 1994 - many years before McAfee was sold to Intel in 2010 - Despite the untrue statement in the May 9 press release stating Mr. McAfee "sold his anti-virus company to Intel for $7.6 billion."
In 1994, still-steamed critics suggested that he had hyped "Michelangelo" in a quest to scare computer users into buying the company's products.
Later, Mr. McAfee stepped out and called his McAfee software "one of the worst products on the planet." As his $100 million net worth trickled to $4 million, he even created a video on how to uninstall his software - featuring himself as a cocaine user.
Intel finally renamed its subsidiary as Intel Security after enduring years of being dragged through the mud courtesy of Mr. McAfee's antics.
* Hello SEC? Too Promotional?
Now Mr. McAfee wants investors to believe his product, D-vasive, is better than his former product that he so summarily bashed.
Indeed, he has taken to social media to unabashedly promote his little D-vasive asset company.
We think the SEC will take note of Mr. McAfee's promotions. Janice McAfee appears to be the publisher of the first promo, which shows up on Mr. McAfee's Twitter page. This was taken from the second promo, below, in which Mr. McAfee himself posts about "several big announcements over the next couple of weeks. Hold on tight.":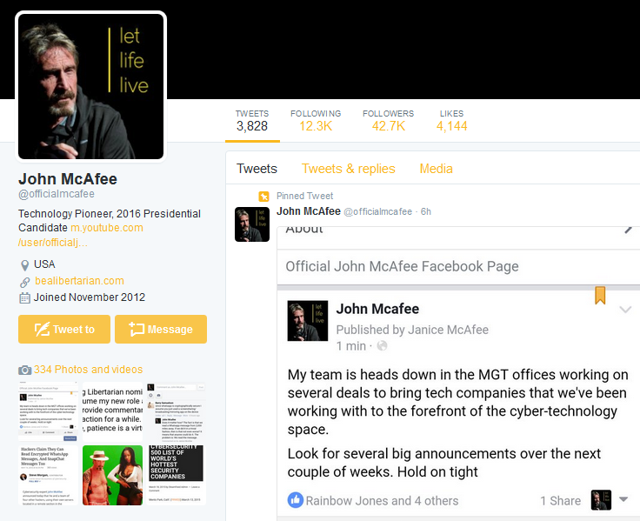 (Source: John McAfee, Twitter)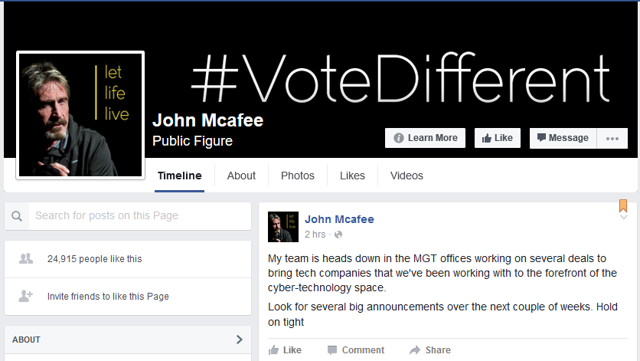 (Source: John McAfee Facebook page)
And this post raises questions about whether Mr. McAfee may have been promoting MGT stock while he campaigned for president.

(Source: McAfee Facebook page)
In our opinion, the social media comments constitute material disclosure. We would expect the SEC would think these disclosures should have been made in an 8-K.
As Bloomberg reports, "Company communications made through social media channels could constitute a violation of the fair disclosure rule known as Regulation FD if investors had not been told in advance where the information would be posted, the SEC said."
*Paid Promoter
And the promotions just don't seem to end. Professional stock promoter StockBeast launched a $125,000 promotional campaign on MGT on May 9.

(Source: HotStocked)
The promoters spout the same story fabricated in MGT's May 9 press release.
The SEC should have plenty to comb through between the promotions and that press release which states McAfee sold his company to Intel ... though he left long before the sale.
Like the various promotions, the company's bad information itself has gone wildly viral and the misunderstanding should be corrected.
*Poor Company
MGT is basically a shell company that traded for $0.49 just last week (the price Mr. McAfee apparently thinks his company is worth since he has been compensated at that level, plus ~19 m restricted shares, and $300k).
And it had $359,000 cash, just $109,000 revenue, a $2.4 million yearly cash burn, $303 million accumulated losses, two employees and an auditor's stated substantial doubt about the company's ability to operate as a going concern.
And the company just filed notice that its 10-Q will be late, yet another blazing red flag.
But this story is just heating up...
*Catalyst: Dilution Ahead?
With the stock up significantly in the last few weeks and minimal cash in the bank, MGT obviously needs to raise capital in some way, likely through a potentially dilutive stock offering.
MGT reports major selling stockholder Melechdavid exercised warrants and sold or transferred 600,000 shares just last night, which is obviously another extremely significant catalyst.
Still another extremely important argument against this stock comes from the key product itself ...
*Product Can't Be Given Away
For all the hoopla, most have missed that the product of this suddenly much-promoted company seems to have so little value that Mr. McAfee was willing to take only $300,000 and around 5 million shares worth about 49 cents apiece at the time of the deal.
More important is D-Vasive downloads. The product isn't even needed for Apple products, eliminating what would have been a good market.
Meanwhile, D-Vasive for other products has been out since 2014 and the downloads are so limited that they're still having to give it away for free, according to App Annie.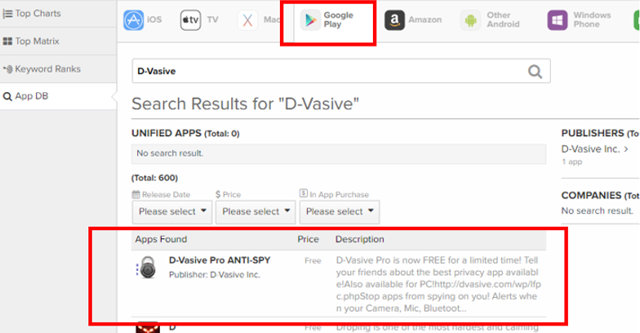 Indeed, Google Play indicates truly depressing news:
D-Vasive has only 10,000- 50,000 downloads ... in the two years it has been available.
So D-Vasive is so unpopular that downloads over two years are less than they should have been over a couple of weeks.
*Conclusion
Mr. McAfee's posts already indicate MGT has named a wild man its leader. And if the re-formed company's reconstituted D-Vasive product is so good, why are there so few downloads and why did Mr. McAfee trade it for restricted shares, 49 cent common stock and a few hundred thousand bucks in the first place?
MGT has been a penny stock for the longest time. And we think the struggling company and its wily chief executive have already indicated they may not stand easily beneath the SEC's discerning glare.
Altogether we've got a cash-poor company - awaiting what we believe will be an imminent dilutive capital raise - along with a wild shoot-from-the-hip CEO and a forgotten, low-value product. It's all capped off with a late night insider transaction. This highflyer is done ... and we expect a 60 percent stock collapse is imminent.