Like a diabolic superhero, Rentech (NYSEMKT:RTK) has tried to leap tall financial issues with a single bound.
But now a ton of kryptonite is headed its way, promising to decimate the company stock in one fell swoop.
Investors may find other viewpoints here and the company website here. Meanwhile, TheStreetSweeper presents the superhuman issues poised to chop this wood fiber company's stock into splinters:
*1. Not So Super, After All: One-Time Gain
Rentech's second quarter turned in a $358.6 million book gain. But an overly excited market rushed to pop up the stock without taking time to understand what's really behind the number.
The figure is just an illusion of profitability caused by a one-time tax gain.
During the Aug. 10 2Q earnings call, chief financial officer Jeff Spain said:
"We recorded a pretax gain on the sale of Rentech Nitrogen of $358.6 million which was booked in discontinued operations. This gain was comprised of cash proceeds of approximately $60 million in common units of CVR Partners valued at $202 million based on CVR's closing price on March 31. These values were compared to Rentech Nitrogen's net book value excluding the capacity in holdings which was a negative $97.6 million."
Completely misunderstanding the book gain, the market sent shares soaring more than 20% in a day and over 50% in seven trading days.
*2. Revenue: Can't Save The Day
Many people failed to understand that Rentech's second quarter revenues actually swooped lower!
That's right.
Revenues dropped 20%:

(Source: Company SEC filing)
The quarterly sales trend continues going down, down, down.

And earnings per share remain negative, dropping 486% in the recent quarter:

(Source: Marketwatch)
This fuel source business faces an uphill battle as it goes up against the massive natural gas industry, which can produce and transport product more efficiently.
3. X-ray Vision: Miserable Margins
The excitable market also completely missed Rentech's $1.7 million gross loss.

(Source: Company SEC filing)
And that type of lack of profit - or very, very limited profit at best - is what investors can continue to expect.
All thanks to negative-to-extremely poor gross margins.
Why is Rentech doomed to trudge along, pulled mercilessly by poor margins? Read on...
*4. Look Up In The Sky! It's A Bird. It's A Plain Ol' Commodity Business ....
Here's a look at the historical gross margins:

(Source: Company SEC filing)
The gross margins are inherently pitiful because the wood business is a commodity and it takes big trucks or railcars to transport all that wood, while natural gas is efficiently moved through pipelines.
Indeed, the company indicates it's outgunned by other rivals:
"We have a number of competitors in the wood fibre processing business in the United States and in other countries. Our wood chipping business's principal competitors include major domestic and foreign biomass supply companies and paper and pulp manufacturers, our industrial wood pellet business's principal competitors include major domestic and foreign biomass supply companies, and we have a number of competitors in our residential and commercial wood pellet business.
"Some competitors have greater total resources, or better name recognition, and are less dependent on earnings from those businesses, which make them less vulnerable to industry downturns and better positioned to pursue new expansion and development opportunities."
And just because it's a commodity business doesn't mean it's easy...
*5. CEO's Wish: Ability To Bend Steel With His Bare Hands
CEO Keith Forman has managed to cut costs since coming on board in December 2014. But the company clearly continues to wade through production issue after production issue, especially with the key plant, Wawa.
"Even with these recent challenges," Mr. Forman said during the first earnings call in May, "we are still learning how to respond to or prevent these causes of production disruption that are typical, a ramp up of new pellet nodes such as sparks, jams, plugging, dust, moisture, content, silica content, truck dump outages, hammer mill clogging, et cetera, et cetera, et cetera."
Listening to the second quarter conference call on Aug.10, investors may have felt issues were improving as management described "replacing the remaining problematic conveyors," and developing methods "to get our hands around problems as to when something is amiss when an alarm goes off or a signal comes to the control room it says hey this is not functioning properly."
But the Ontario, Canada Wawa plant is still only "producing at approximately 40% of capacity during the past several weeks."
"We plan to take the plant down beginning August 15 next Monday for approximately two to four weeks to complete some of these mechanical upgrades to replace the remaining defective conveyors on the dry side of the plant and to conduct general repairs and maintenance," added CEO Forman.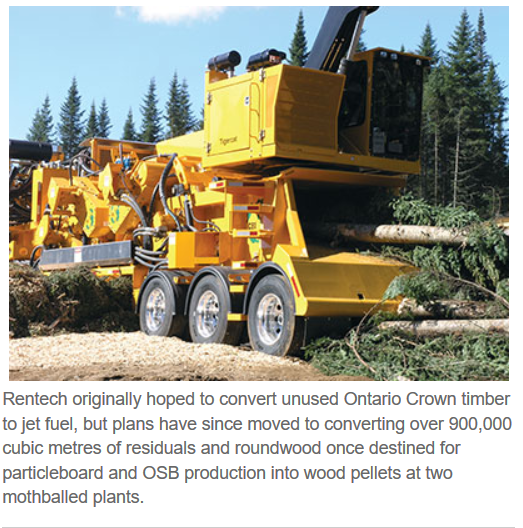 (Source: Canadianbiomassmagazine)
Both Wawa and the Atikokan plants were fiber processing mills that the company is converting into wood pellet plants. Yet after three years ... Wawa is still producing well below capacity at 40%, while Mr. Forman expects somewhere "north of 70%" or more before the plant might become EBITDA positive.
And filings say they're not even sure what capacity is:
"In light of the production challenges the Company has experienced at the Wawa Facility, it is evaluating the production capacity of the plant. The Company is investigating whether there are potential design shortcomings similar to those that surfaced with the plant's conveyance systems that might limit capacity. The Company is also evaluating uptime and operating efficiency rates achievable for full capacity."
Even if they do get the plant near capacity, the gross margins are so terrible that the company will continue having to run in place.
Meanwhile, the Rentech cash-burn machine is running wide open ...
*6. Faster Than A Speeding Bullet: Cash Burn
Rentech has been burning through about $11 million in two quarters. Cash of $47 million might seem enough to hold it for a while.
But the company expects to pay $3.3 million in penalties this year and next for failing to meet its 2015 contract commitment.
Meanwhile, the company expects another $16.5 million in costs remain for plant modifications.
And we see that cash has been an issue, with cash coffers dropping sharply over five years: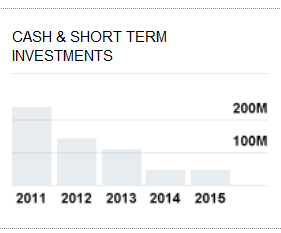 (Source: CNN Money)
Rentech warns it will likely need a capital raise in the future:
"We would require additional capital to pursue acquisitions of wood chipping or wood pellet businesses, to refinance our existing indebtedness and to pursue additional wood pellet projects. Our competitors who have superior access to capital may have a competitive advantage over us in these activities. In addition, since we have never operated at a profit, we may require additional capital to fund our working capital needs after we have exhausted our current cash on hand if we are unable to operate at a profit in the future. Our failure to raise additional capital when needed would have a material adverse effect on our results of operations, liquidity and cash flows and our ability to execute our business plan."
*7. Nitrogen: Value-Freezer
Back in the early 2000's, Rentech's syngas technology created a synthetic diesel in demand by South Africa during the oil embargo. But potential investors were unimpressed, leading the company to dash into the nearest phone booth to change into a new suit ... a nitrogen plant to supply farmers with fertilizer.
But activist investors claimed that Rentech exercised "spendthrift expense management, and imprudent risk taking." They also disliked the agriculture supplier's extravagant former headquarters at 10877 Wilshire Blvd. near Beverly Hills in Los Angeles.
CEO/President/Director J. Hunt Ramsbottom resigned and peeved investors also got the spin-off of the nitrogen business into a tax-advantaged MLP called Rentech Nitrogen or RNF.
Ultimately, CVR Partners merged with RNF. By the time the deal closed in April, Rentech had the cash and backing from Blackstone Group (at LIBOR plus 7%) to fully focus on the wood chip business.
But Rentech's revenue had dropped 37% to $269 million by 2015 ...

(Source: Marketwatch)
And net losses reached $-153 million, 370% worse than the previous year.

(Source: Marketwatch)
Now the company owns 7.2 million shares of CVR Partners (NYSE:UAN), which trades for about $6.50 per share, giving Rentech ~$47 million value for that portion of the business.
But many investors don't realize that nearly one-third of Rentech's value is in nitrogen, a sector that turned frosty last year. Fertilizer prices remain the lowest in seven or eight years.
The chart indicates CVR's under-performance ... further dragging down Rentech: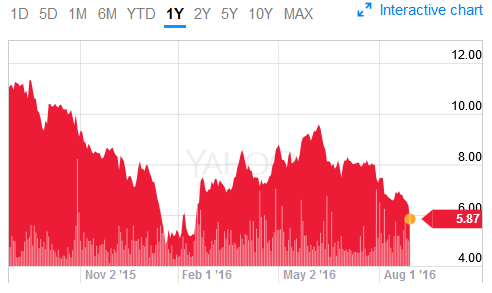 (Source: Yahoo Finance)
And CF Industries Holdings (NYSE:CF) is also heartily underperforming.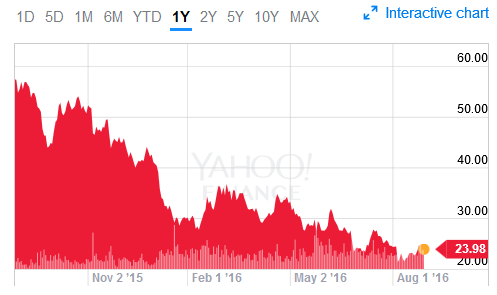 (Source: Yahoo Finance)
*8. Flying High: Executive Compensation
While the company lost $153 million last year - pushing the accumulated deficit to $532 million - its leaders made millions.

(Source: Morningstar)
The top six officers' compensation came in at a whopping $3.9 million.
*Conclusion
Money-losing Rentech still has a $50 million debt owed to Blackstone, out of $143.8 million total obligations, and still struggles with a plant that produces at a fraction of capacity. But even if the company does greatly increase capacity, the kyrptonite-like force of miserable margins will likely forever doom profitability.
Superman probably won't fly in and save the day ... or the quick nose-dive to $2.25 per share.
Disclosure: I am/we are short RTK.