TransEnterix (NYSEMKT:TRXC) thesis key points:
This Morrisville, North Carolina surgical robot company has watched its stock pop back up after getting hammered by an FDA rejection. But a robot reboot will fail to transform TRXC into a sound investment because:
*The stock is heavily promoted by social media and professional promoters' email campaigns.
*The company has struggled with repeated failures, including two product discontinuations.
*After two years and ~$57.6 million in expenses, SurgiBot received an FDA rejection.
*TRXC is now trying to reboot by changing the name of the ALF-X to Senhance and announcing intentions to seek FDA approval. We expect this will fail, too.
*The competition in this field is fierce, nimble and innovative.
*The smart money is selling TRXC. Many big, early investors have dumped millions of shares or sold out altogether.
*The valuation is absurd for a nearly three-decade old company that has accumulated $276 million in losses and sold just one product in two years.
***
Like the evil robotic transformer Starscream,TransEnterix (TRXC) just keeps transforming itself, returning to the battlefield again and again.
Each time the company switches course, it strings investors along for a long, thrilling build-up followed by yet another dramatic failure.
Though the experimental surgical robot company has been so busy rebooting, sales have been razor-thin and completely absent in 2015.
Investors may find other viewpoints here. Meanwhile, catch the top eight reasons TheStreetSweeper expects stock in this Morrisville, North Carolina company will falter.
*1. Promoted Stock
Posters on StockTwits and Twitter have been re-circulating baseless buy-out rumors or "something is cooking" comments: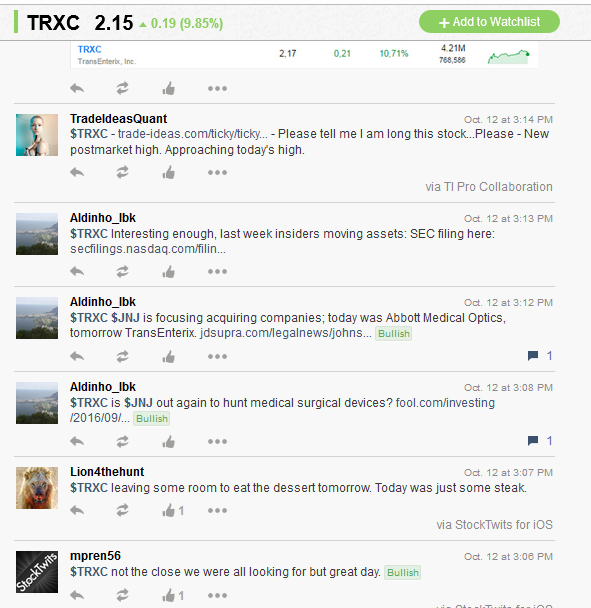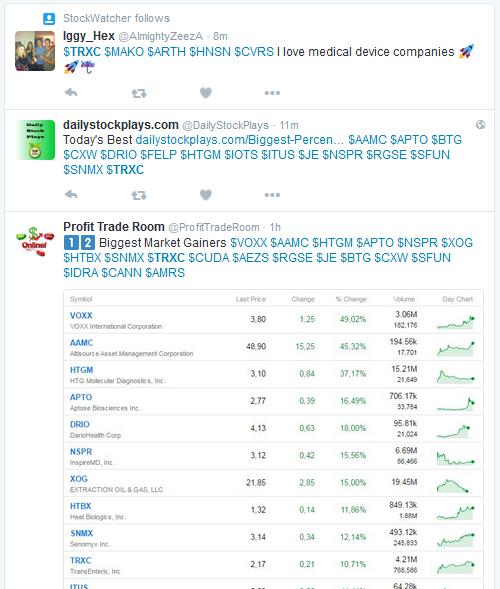 (Source: StockTwits, Twitter)
Retail investors got pulled into the stock early in the year partially because, as one analyst noted, the stock was the subject of a "constant newsletter pump from January to March by Money Map Press (to be clear, TransEnterix was not behind the pump/did not compensate anyone for the newsletter pump)."
And this gag-worthy video may have attracted a few folks: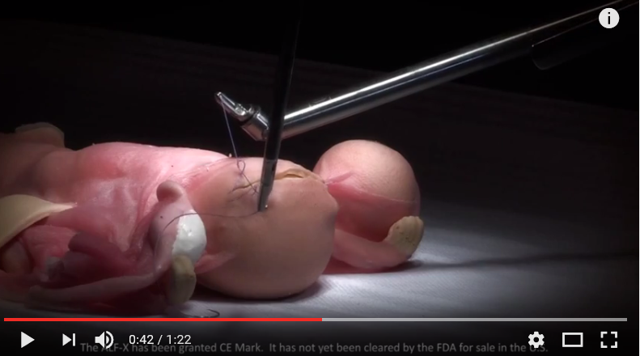 (Source: YouTube)
Earlier this year, Blue Horse Shoe Stocks, Penny Stock News and Biotech Insider Alert all jumped into the promotional pandemonium.
Such promotions, often paid for by mysterious third-parties, are always red flags for investors.
*2. Multiple Missteps
That sort of promotional effort may be necessary to draw in new, unwary retail investors when a company fails again and again and again. Let's consider some historic company missteps:
Misstep Number 1: The company entered the public market via a reverse merger with SafeStitch in September 2013 that cost ... prepare yourself ... $94 million. That stock-and-cash deal went for a company with virtually no sales, property or assets. TransEnterix booked an unbelievable $93.8 million to goodwill.
That's quite the deal, especially considering that TransEnterix actually said in a letter to the Securities and Exchange Commission:
"As previously discussed, the projections for SafeStitch show that a profit is never expected to be attained."
Misstep Number 2: The company's Spider surgical system, a manual laparoscopic system, got cleared in Europe in 2011 ... and cleared by the US Food and Drug Administration in 2009.
But doctors didn't like the Spider and sales were almost nonexistent. Spider was discontinued on Dec. 31, 2014.
Misstep Number 3: SafeStitch had received FDA clearance to market its hernia repair stapler, AMID HFD, in 2010, and also CE Mark approval in Europe. Sales began and stopped in 2010. After again getting FDA clearance in 2012, US sales resumed.
But no royalties were paid, implying no sales, in 2013 or 2014 under TransEnterix' watch. AMID was discontinued by Dec. 31, 2013.
*3. SurgiBot Rejection
The FDA recently rejected the company's application to sell the SurgiBot robot system in the U.S.
TransEnterix hoped its SurgiBot might challenge Intuitive Surgical's (NASDAQ:ISRG) di Vinci system, which has dominated the robotic-assisted surgery industry for 15 years.
But the FDA determined that SurgiBot didn't meet the criteria for "substantial equivalence," meaning the FDA doesn't consider the system as safe and effective as the di Vinci.
Virtually everyone thought it was a done deal and the stock reflected that sentiment. When the company announced the application failed on April 20, 2016, stockholders were not happy, as indicated by the red dots below.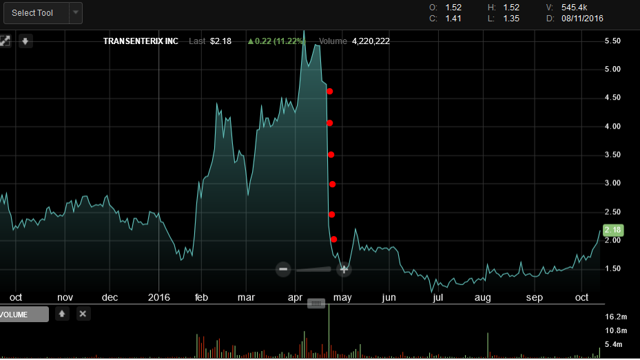 (Source: MarketWatch, TheStreetSweeper)
With sentiment toward the company reaching low levels, professional stock promoters launched an email campaign just eight days after the bad news hit:

(Source: stockpromoters)
It looks as though the campaign may have had an impact. The yellow dots below mark the campaign launch and shortly afterward: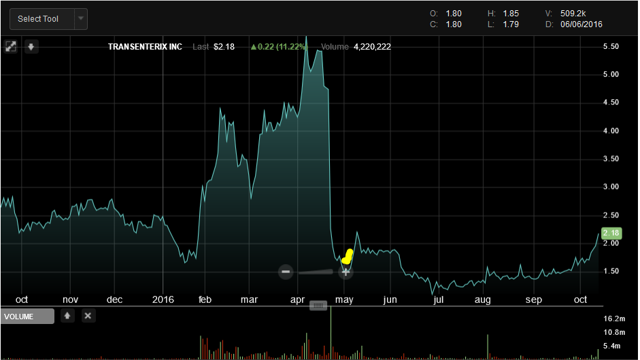 (Source: MarketWatch, TheStreetSweeper)
With SurgiBot dead for now and resubmission on the back burner, TransEnterix has had to dust off a slightly-tattered, almost-forgotten product ...
*4. ALF-X Reboot
So now the company has switched course again and trotted out a different product ... its ALF-X system.
The technology was acquired for ~$93 million in a stock-and-cash deal and granted a CE Mark for use in urology, general surgery, gynecology and thoracic surgery in Europe.
The problem is that ALF-X has been on the market for quite some time. Yet TransEnterix had not recorded a single sale until July 29, 2016, when it sold its first unit for an unspecified price to Humanitas Hospital in Milan, Italy.
After this sale, TransEnterix made yet another reboot. The company suddenly changed the name of the ALF-X in September to "Senhance."
Since the company cannot market Senhance in the United States, it intends to apply to the FDA for a 510(k) approval to sell here.
That's a very long and expensive process. When the company first went public at $4 per share, the investment thesis was based on the expectation that TransEnterix would submit an FDA application for the SurgiBot "by the end of 2014."
But after two years and ~$57.6 million in SurgiBot research and development expenses down the drain ... SurgiBot was rejected.
We believe investors can expect just about the same route for the ALF-X reboot.
*5. Fierce Competition
Along with the well established di Vinci system, many money-and-mind-heavy competitors are eyeing the field targeted by TransEnterix, including:
Intuitive Surgical Inc.
Covidien
Allergan
USGI Medical
Semiled Ltd.
Cousin Biotech
GI Dynamics
Mediflex Surgical Product.
Johnson and Johnson
In fact, a new device is expected to turn robotic surgical devices on their heads. FlexDex Surgical has produced this elegantly simple solution .............
at a fraction of the cost of the TransEnterix product..............................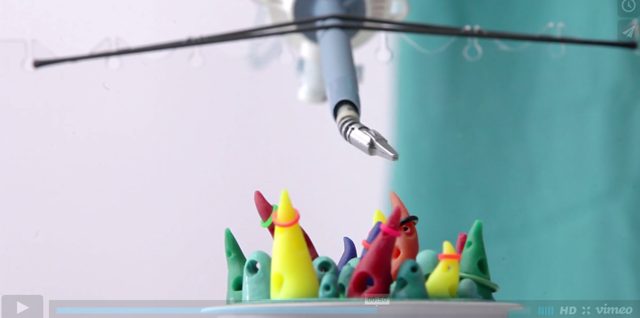 (Source: FlexDex, click for video)
Wonderfulengineering suggests that FlexDex has produced an inexpensive tool offering natural movement rather than robotic type movement that requires extensive training. The publication concluded the product "has the potential to revolutionize the entire industry."
And as opposed to TransEnterix's lackluster review, FlexDex received high praise from MedGadget reviewers, who called FlexDex revolutionary and added:
"As FDA's recent denial of a 510(k) clearance to TransEnterix has shown, surgical robotics still has to meticulously prove itself to the regulators.
"All this means is that the FlexDex is coming to an OR near you and we believe that it may dominate the industry surprisingly fast."
*6. Smart Money Sells
The company has been unable to ever make any significant revenue and it burns through about $14 million in cash each quarter. So its survival has depended on multiple stock offerings and debt financing.
But many of the big original investors crowded in during the March 2016 stock sale to cut back or completely sell out of all their TransEnterix holdings. In fact, 16 major investors sold out.
Look at the chart below. Some of these investors sold 3 million, 4 million, even more than 5 million shares.
(Source: Company SEC filing)
When the smart money sells, it's usually all over.
*7. Absurd Valuation
TheStreetSweeper finds this particular company's valuation of $200 million plus rather offensive. A company doesn't get such a lofty valuation if it has operated nearly three decades, accumulated $276 million in losses and sold just one product since January 2015.
*8. Legal Challenges
Finally, the failed SurgiBot system just keeps on stinging. In June 2016, a class action lawsuit was filed alleging the company, CEO Todd Pope and CFO Joseph Slattery made false and misleading public statements related to SurgiBot and its 510(k) application.
In July 2016, another class action lawsuit was filed alleging Mr. Pope breached his fiduciary duties through false and misleading information to stockholders about SurgiBot and the 510(k) application, as well as failing to see that the company maintained adequate internal controls.
*Conclusion
We strongly suspect that the reboot to another product and another story ... ALF-X-rebrand Senhance ... will end up like FDA-reject SurgiBot. Even if by some miracle Senhance does get approval, we can't forget about the other products that received regulatory approval but still couldn't attract buyers and had to be abandoned.
Meanwhile, TransEnterix is trying to enter a medical device field which is already roaring with well-funded, nimble rivals.
And we can't forget that promoters took to social media and email campaigns a half-year or so ago to suggest they had inside information on a buyout or that something big was right around the corner. Sure enough, the misleading info helped shoot the stock to ~$5.69. But then shares suddenly dropped to $2 and below.
The final blow for TransEnterix is the exit of smart money. Those former investors know this stock doesn't deserve its nearly quarter-billion-dollar market valuation. When the stock starts to falter, the plunge to less than $1 will likely be very painful, very quick and very reasonable.
Disclosure: I am/we are short TRXC.