Zero-revenue Adomani (ADOM) may have lured more investors Thursday with the release of the company's take on a year-old announcement.

Below is the headline, which we consider highly deceptive:
ADOMANI Sees $2.9 Billion in Settlement Funds, from Volkswagen Environmental Mitigation Trust, As Unprecedented Product Funding Opportunity in its Goal to "Help Yellow Go Green!"(TM)
ACCESSWIREAugust 17, 2017

(Source: Adomani press release)
Investors couldn't be blamed for concluding from this headline that Adomani might receive $2.9 billion in settlement funds.
But that would be wrong. Adomani dredged up an old Environmental Protection Agency announcement, in our view, in hopes of buffaloing investors and driving up the stock.
The VW settlement – announced in 2016 – resulted from the car maker using "defeat devices" to cheat emissions tests.
Among other actions, VW agreed at that time to pay $2.7 billion to fund emission-reduction projects across the country.
The maker of drivetrains that convert gasoline vehicles to electric vehicles had already mentioned the settlement in earlier filings. Adomani is not named as a fund recipient. The company should issue a clarification.
In our view, this is the type of misleading information investors have been subjected to since the financially desperate Adomani went public via Regulation A in May and became the nation's first Reg A to list on the NASDAQ in June.
The company has released three arguably promotional, unclear, suggestive press announcements in the past 10 days. This effort, along with those of professional promoters and chatroom folks who didn't know or didn't care about fundamental weaknesses apparently helped promote the stock to an absurd valuation of over $800 million.
TheStreetSweeper is convinced that this stock will never, ever be worth even $18 million much less $800 million.
Check out the company's viewpoint here, then consider our executive bullet points:
Executive bullet points
 *Yesterday's announcement is a highly misleading take on a year-old EPA announcement, in our view … just the most recent example of what we believe are Adomani's continuing efforts to deceive.
 *Adomani's own CFO said he can't justify the valuation.
 *A number of options and warrants loom, including 21 million vested, exercisable stock options at 10 cents. A potential bloodbath may be launched once these shares are unlocked.
  *Untenable pre-IPO materials project the company could turn last year's $11 million loss into a $7 million gain this year.
  *No sales last quarter, in fact no sales for the past two years.
   *Only two bus sales ever.
   *No sales of conversion kits.
   *No plant.
  *Virtual headquarters.
  *Just 10 employees, nine of those working out of their homes.
  *No institutional interest.
  *Net losses, no material revenue since inception in 2012.
  *Price-to-Sales ratio of 13,072
  *$31 million accumulated losses.
Let's look at some details on why we believe the wheels are about to fall off this stock.
*CFO Can't Justify Valuation
In a July telephone interview with TheStreetSweeper, Adomani's own chief financial officer said he couldn't justify the stock's valuation.
At the time of the interview, the valuation had hit $1 billion. Though CFO Michael Menerey and other representatives have not returned numerous calls for additional comments, it should be safe to assume his comments would apply to the valuation of $864 million as easily as the $1 billion valuation. TheStreetSweeper asked how he could justify that valuation. Mr. Menerey said:
"I don't. And I don't control the stock market. We went out at $5, which was around a $350 million valuation. So.
We are in a hot space, a very hot industry, which is obviously working out in our favor but I can't come up with a valuation that supports that as I sit here, right this second."
Mr. Menerey called back later and added:
"I think it helps in our quest to attract more institutional investors - - A lot of pension funds and university endowment funds and things want to be more green in their investing. And not be as invested in coal and oil and things they've done in the past. I really think that's part of the attraction. That's part of why the stock price has gone up so much, because we're a green opportunity."
 More surprises have popped up in the last week ...
*Up Despite Further Deterioration
The stock continued its flight following Monday's second quarter report showing losses had zoomed up by 400%. Just one quarter's worth of losses approached the year 2016 losses.

(Sources: Company SEC filings, here, here, here, TheStreetSweeper)
  Let's look more closely at the red flags surrounding Adomani…
*9-Cent-Per-Share Sellers Cash In At IPO
In its June 9, 2017 Regulation A "mini-IPO," the company sold 2.85 million shares to net $9.2 million.
However, generous Reg A rules allow early shareholders to dump some of their cheap stock.
The sellers sold 342,273 shares that cost them an average of 9 cents per share. Both the company and selling stockholders sold shares for $5 apiece, filings state.
The sellers altogether invested under $31,000 in the stock … and pocketed $1.71 million.
And you won't believe what's next …
*Waiting To Hit The Market: 10 Cent Stock  
Adomani offers a big payday for pre-IPO investors and dilution for everyone else.
For example, the company granted options as of June 30 for holders to buy 30.38 million shares of stock.
Most - 21 million shares - are vested and exercisable at $0.10 per share.
Yes, you read that right … 10 cents per share…21 million shares.
"As of June 30, 2017, we had granted options to purchase 30,375,000 shares of Common Stock. 21,218,612 shares of Common Stock are issuable upon the exercise of options vested as of June 30, 2017, at an exercise price of $0.10 per share, and 367,883 shares of Common Stock are issuable upon the exercise of options vested as of June 30, 2017, at an exercise price of $10.49 per share. If all vested options to purchase Common Stock were exercised, we would receive proceeds of $5,980,956 and we would be required to issue 21,586,495 shares of Common Stock. There can be no assurance, however, that any such options will be exercised. See Note 6 to the unaudited consolidated financial statements contained in this report"
When these investors are allowed to deposit their certificates for resale, they could launch an unimaginable bloodbath.
TheStreetSweeper asked CFO Menerey about looming options and warrants. After all, if the stock price held up to current levels, early investors in an unproven company that IPOd just three months ago could walk away with more than $250 million.
"If they hadn't all signed lockup agreements, I'm sure they'd be exercising left and right," said Mr. Menerey.
"There were a few people released from their lockups. But we still have, I believe it's in excess of 95, 96 percent of the entire pre-IPO group of shareholders that are locked up for a minimum of six months and more likely for closer to a year. And all of us that are officers are locked up for a year. Period, end of story," he said.
Well, the Securities and Exchange Commission has warned that these Reg A filers can be especially risky for investors. They weren't kidding…
*From Zero Buses to 1,000?
Adomani filed pre-IPO projections that revenue would jump from virtually zero to $70 million this year.
Yes, Adomani wants you to believe it can turn an $11 million loss into a $7 million gain almost overnight.
The greatest revenue Adomani has ever made was one bus conversion sold in 2015 that generated $68,000… and lost $10.7 million in the process.
To hit its projections, then, Adomani would have to convert and sell not 10 buses … not 100 buses … but 1,026 buses.
Adomani better get cracking.  The company has sold nothing so far and there are just four months left in the year.
Adomani apparently hoped to entice potential investors with this supposed prospective 102,000% jump in revenue:

(Source: Company's Form 1-A/A, Testing the Waters, filed April 7, 2017)
We've contacted the SEC to ask for a probe into Adomani's business and reckless, promotional language.
Apparently upper-tier underwriters haven't bought into Adomani's silliness, either…
*Underwriter Questions
So Adomani had to settle for a couple of lower-tier underwriters to take the company public. They are Network 1 Financial Securities and Boustead Securities LLC, formerly Monarch Bay Securities.
Boustead has lost money eight out of the last nine years.
Network 1 Financial Securities brokers have had brushes with FINRA, the Financial Industry Regulatory Agency.
Allegations against Network 1 brokers – including one resulting in a $6 million settlement -  range from unauthorized trades to unauthorized short trading, (here) to misuse of inside information, fraud, market manipulation and RICO violations, (here) to false advertising, breach of fiduciary duties, forging customers' signatures and deceptive marketing  (here).
Whether it's the outrageous projections or unrecognizable underwriters or something else, the big banks aren't buying...
*Institutional Disinterest
In anticipation of eager selling after lockups expire, Mr. Menerey said the company has been trying to line up institutional investors.
But institutional ownership in Adomani continues to be virtually non-existent:

(Source: NASDAQ)
*Employees Work From Home
You'd think an $800 million company would be headquartered in a nice building with security guards, secretaries, researchers and a bank of offices filled with busy executives talking on their phones and studying their laptops.
Not Adomani. The company operates out of Suite 1100, 620 Newport Center Drive, Newport, California.
Newport Center advertises itself as a virtual office …

(Source: Davincivirtual.com)
Chief financial officer Menerey told TheStreetSweeper that it's a real office where he stops by for meetings and where CEO James Reynolds works almost daily.
"Most of the rest of us are working from home," he said, referring to himself and eight other employees.
That arrangement seems more than sufficient for Adomani considering that the key drivers of electric vehicle popularity – incentives – are rapidly disappearing.
*Without Credits, "Market Is Likely To Crash"
Adomani says its business – unless production costs decrease dramatically - would depend on buyers getting government subsidies.
But support for federal tax credits and state incentives are falling apart. Edmunds writes:
          "Without these credits, this market is likely to crash."
President Trump has raised fears about federal credits vanishing with his request to have the EPA re-evaluate the Obama administration's fuel rulebook.
Even China is backing away from electric vehicle subsidies, along with a previous government mandate for more EVs, the China Association of Automobile Manufacturers suggests to oilpro.com. Yearly sales of new-energy vehicles fell to 5,682 units or 74%.
Here at home, state tax credits are vanishing …
* State Incentives Under Attack
Some states are repealing tax credits for battery-powered vehicles, letting them expire, and introducing bills that slap new fees on EV owners.
The New York Times highlighted the issues in a recent article titled, "The State-By-State Assault on Electric Cars."
Tax credits have already gone by the wayside in Utah and Georgia, while Colorado is considering repealing its credits.
States offering financial support for electric vehicle buyers have dropped from nearly 25 to about 16.
*Oil Demand Up, Price Down: EV Interest Down
At the same time, cheap oil is cutting into electric and hybrid vehicles' potential.
The U.S. has been awash in inexpensive oil since 2015.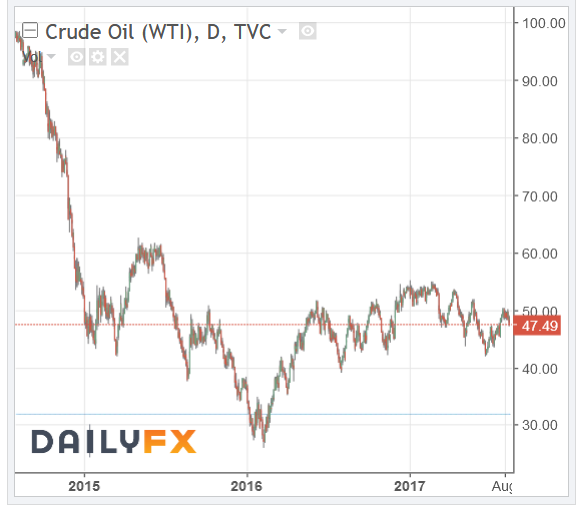 The massive oil glut could push already cheap oil down even below $40 a barrel "soon," according to Goldman Sachs.
And Forbes contributor Robert Rapier revealed a funny thing about oil. Pundits have opined for years that electric vehicles will kill the demand for oil. But the engineer-investor noted global oil consumption in 2016 hit a new all-time high.
He found oil demand has grown by about a million barrels per day for over 30 years.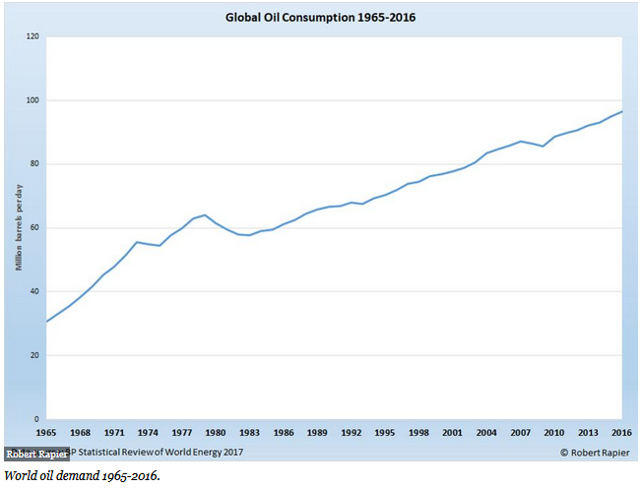 (Source: Forbes; Robert Rapier)
Kelley Blue Book's executive market analyst Jack Nerad told Fox Business in March:
"I think what's going on with fuel prices has made it very difficult for car companies to sell highly fuel-efficient vehicles. So no matter what they do with vehicle development, it's like leading a horse to water. [Electric cars] are not what's popular now."
*Competitive Crunch-Up
Meanwhile, a good shade-tree mechanic could match Adomani's efforts to replace gasoline-powered drivetrains with electric ones by simply choosing a unit offered by Efficient Drivetrains' here, Bosch Mobility Solutions' here, or Parker Motion's here.
Indeed, Adomani eventually faces a target market is full of wealthy, name-brand companies with far greater resources, manufacturing and operating histories. They include Odyne Systems (builds plug-hybrid trucks), ZeroTruck and Electric Vehicles International (both build all-electric trucks), Proterra (builds new electric transit buses), TransPower and Motive (both convert school buses).
*Industry Says Any Potential A Decade Away
Unfortunately, electric school buses are still a long, long way from being competitive with low-emission diesel buses, according to alternative fuel engine providers Cummins and Power Solutions International.
"Electric school buses will begin to make more fiscal and operational sense for school districts 10 years from now," wrote School Transportation News on May 5, 2017.
Meanwhile, safety is another major concern for battery-powered buses …
*Explosive Issue
It's debatable whether parents will want to send their children packing on school buses powered by lithium batteries.
Overheated lithium-ion batteries have been suspected triggers in everything from exploding phones and laptops to e-cigarette flare-ups to hoverboard flameouts andTesla crashes to airliners' emergency landings.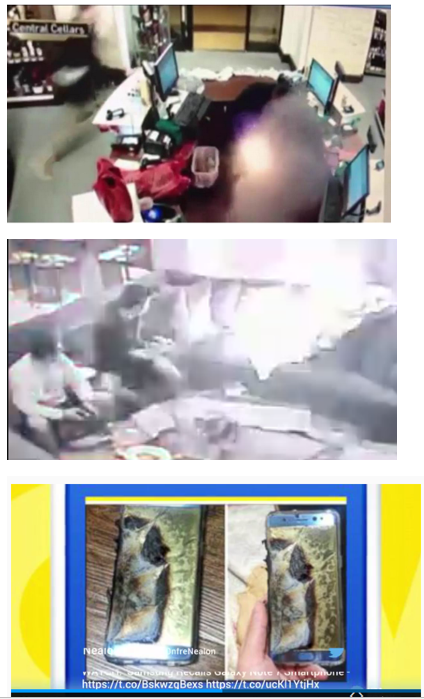 (Sources: Today (apparent e-cigarette explosion, ABC,(multiple laptop explosions), USA Today, phone lithium batteries explode)
Lithium batteries have been blamed in several Tesla crashes. After a recent deadly crash, AutoPacific analyst Dave Sullivan told reporters that Tesla's "energy source can be explosive when it gets into a serious enough accident."
He added, "I don't know if there's an answer to the explosive nature of lithium-ion when those batteries are disturbed."
The Federal Aviation Administration reports that, on average, one lithium-ion battery fire occurs every 10 days on planes.
Four years ago, a fire that destroyed a UPS plane in 2010 was traced to the cargo of lithium batteries.
*OTC Partner And China?
Meanwhile, high hopes and unclear press releases are pushing aside the wrenches and lithium batteries rattling around in Adomani's tool kit.
Monday, the day the company released financial results, Adomani's Yahoo news feed included an item about an electric bus demonstration by GreenPower (GPRF), a zero-revenue, multimillion-dollar-losing company with 33-cent shares traded over-the-counter.

If there's a contract for 11 school buses equipped with Adomani's drivetrain, this information should have been included in the company's SEC filings. But Adomani knows that would be pushing it. Besides, it isn't even close to being prepared to go into production, since it has no plant, only a handful of employees and maybe $4.5 million in cash.
And since the company's most lucrative bus sale generated $68,000 amid $10 million in losses, 11 buses would still mean less than $1 million in sales and untold losses. So this may be nothing more than another promotion to be viewed with skepticism.
Also, Adomani posted an unclear press release on Aug. 7, devoid of detail which suggested the company had met with a Chinese delegation to discuss setting up a factory in Nantong. Just a few weeks earlier, Mr. Menerey told TheStreetSweeper "We are not at the moment looking for manufacturing facilities."
Regardless, it's difficult to believe that a company that took four years to get out two money-losing products will get anything established in China anytime soon. But if everyone shook hands and said, "Let's go," how would the company pay the likely 100's of millions of dollars to build a plant and find new battery sources to replace Adomani's lost sources plus hire and pay numerous workers? The company's cash is low and the cash burn rate is around $1.6 million per month … even when Adomani is not converting or selling a single vehicle.
*Conclusion
Adomani is insulting investors' intelligence and inviting SEC scrutiny as a non-revenue company that files unbelievable projections as it enriches insiders and prepares to dilute others.
We'll plan to publish our full interview with Adomani early next week. We'll also continue to dig further into this story if the stock doesn't drop too quickly because it's one of the most dangerous stocks we've ever encountered. But we believe the company is virtually worthless and the stock will plummet to the $5 IPO level, then implode to under $1 per share.
* Important Disclosure: The owners of TheStreetSweeper hold a short position in ADOM and stand to profit on any future declines in the stock price.
* Editor's Note: As a matter of policy, TheStreetSweeper prohibits members of its editorial team from taking financial positions in the companies that they cover. To contact Sonya Colberg, the author of this story, please send an email to streetsweepereditor@yahoo.com.
Disclosure: I am/we are short ADOM.