MGT Capital Investments (MGTI) stock is flying while the company tries to decide whether to focus on social casinos, fantasy sports, cybersecurity, mobile gaming or something else.

Right now, the Durham, North Carolina company is into mining, ostensibly bitcoins, but more likely  investors' wallets.
This idea has attracted enough attention that the Over-The-Counter stock now faces the risk of a price reversal.
TheStreetSweeper presents the top eight reasons we think MGT is worth only about two bits.
*1. CEO Sells Company Stock
The person who knows the company best, CEO/President Robert Ladd, just dumped 100,000 shares, grabbing a $270,000 windfall: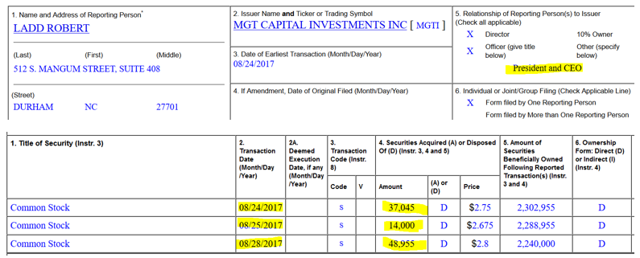 (Source: Company SEC filing)
Time to get out of MGT at these high prices?  Well, the leader at the top sure seems to be sending a strong signal…
*2. Leadership Turmoil
President Ladd reassumed his role as CEO just two weeks ago, thus displacing iconic oddball John McAfee, who resigned as CEO and Chairman for personal reasons.
Under the reorganization, Mr. McAfee is - we are not making this up - the Chief Cybersecurity Visionary.
Naturally, controversy moved in with the anti-virus software developer when he stepped in as CEO back in May 2016.
MGT voted to change the company name to John McAfee Global Technologies four months later … sending the stock flying 85% to 66 cents. But he and Intel got into a tussle over the use of Mr. McAfee's name. In June 2017, they settled and MGT got the use of his name within specifications. However, the company agreed not to use the name in trademarks, logos or business names.

That dispute was nothing for 71-year-old McAfee. He has been a 2016 presidential candidate, an SEC subpoena subject, an outrageous online celebrity,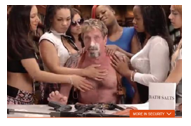 (Source: YouTube)

and fleeing on-again, off-again suspect in a bizarre murder case in Belize.

Regardless… one might assume MGT is in cybersecurity since Mr. McAfee is now the Chief Cybersecurity Visionary, right?

*3. Indecisive, Uncertain Business

Well, assume nothing with MGT or Mr. McAfee.

The company can't seem to decide what business it wants to be in.

One month the company is into  fantasy sports. Later it's social casinos. Then it's mobile gaming and bitcoin mining the next moment.

MGT's indecisiveness dates way back. Here's the SEC list of former company names:

(Source: Company SEC filing)
Here's what MGT's annual report claims as the focus mere months ago, prior to the recent bitcoin hype:
Strategy
MGT and its subsidiaries are principally engaged in the business of acquiring, developing and monetizing assets in the online and mobile gaming space, as well as the casino industry. The Company's acquisition strategy is designed to obtain control of assets with a focus on risk mitigation coupled with large potential upside. We plan to build our portfolio by seeking out large social and real money gaming opportunities via extensive research and analysis. Next, we will attempt to secure controlling interests for modest cash and/or stock outlays. MGT then budgets and funds operating costs to develop business operations and tries to motivate sellers with equity upside. While the ultimate objective is to operate businesses for free cash flow, there may be opportunities where we sell or otherwise monetize certain assets.
Has MGT finally decided what business it wants to enter?
*4. Terrible Financials
On Aug. 25, the company announced a purchase order for 1,000 mining computers that are supposed to generate a million bucks a month.
It would be impossible for MGT to take on this purchase order because it reports just $323,000 in cash as of June 30, as it burns through $2.15 million in two quarters. Six-month losses hit $-10 million or -31 cents per share.
Here is a snapshot of this highly unprofitable company: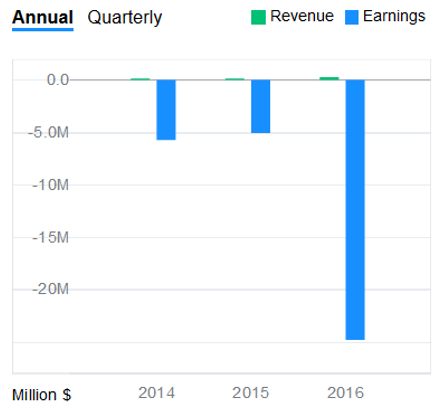 (Source: YAHOO)
*5. Going Concern Warning
MGT's required warning statement discloses that it has "incurred significant operating losses since inception and continues to generate losses from operations…"
Accumulated loses have risen to $338,593.
"These matters raise substantial doubt about the Company's ability to continue as a going concern."
*6. Struggling Investor
So it's no surprise that MGT had to take on a risky financial arrangement to fund the purchase order.
This is a $2.4 million financing deal, with 10% convertible note at $1.05 per share, plus 862,000 warrants with an exercise price of $1.05.
This is a dangerous deal for today's investors who may well face dilution when the note converts and warrants are exercised.
And it's dangerous for the investor, UAHC Ventures … which trades Over-The-Counter for pennies.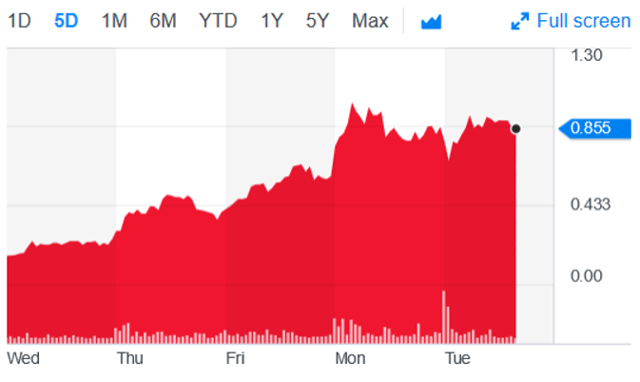 (Source: YAHOO)
The company is not really much better than MGT. Liabilities of $19.4 million are more than double the assets and the loss per share over 12 months hit -12 cents.  
*7. Institutions: No Thanks
The finances, warnings and lack of business prospects don't seem to impress the institutions. No endowment funds, mutual funds or commercial banks own stock in MGT:

(Source: NASDAQ)
*8. Crazy Ratios
Yet, while the current S&P 500 P/S ratio is 2.09, this is a company with a preposterous price-to-sales ratio of 132.
Other out-of-whack metrics also point to MGT's messed up valuation.

(Source: Yahoo, Investopedia, TheStreetSweeper)
Any Price-to-Book (P/B) value of 1.0 and sometimes up to 3.0 is considered good, indicating a potentially undervalued stock … so a good investment. A P/B of 860 is massively high.
The Return on Equity (ROE) measures a company's profitability. It shows how much profit a company generates with money invested by stockholders. A negative is terrible and a minus 1,251 is outrageous.
*Conclusion
TheStreetSweeper believes the stock price for struggling MGT will soon drop into the hole the company can't stop digging.
We've followed this story for some time and will continue providing updates, including information on litigation and potentially an interview with Mr. McAfee.
Meanwhile, we're expecting a speedy reversal to 55 cents per share for MGT, which would still be awfully generous.
Disclosure: I am/we are short MGTI.
Additional disclosure: As a matter of policy, TheStreetSweeper prohibits members of its editorial team from taking financial positions in the companies that they cover. To contact Sonya Colberg, the author of this story, please send an email to streetsweepereditor@yahoo.com.