TheStreetSweeper issues a downside alert on United Health Products Inc. (OTCPK:UEEC)!
The stock has risen to extremely dangerous levels and we believe looming risks will contribute to an 80% drop.
United Health is focused on a body fluid-absorbing gauze called HemoStyp that is a commercial flop. The company has no recent revenue, little cash, a weak product, no real business, interesting lawsuit accusations, apparently been in trouble with the Federal Trade Commission … and is located in …. Well, you've got to see the location for yourself.
*Executive Offices: In A Mailbox
The company is operated out of a mailbox.
That's right.
Company filings show the executive office is located at 10624 S. Eastern Ave., Ste. A209, Henderson, Nevada.
That is the address of a Nevada-based UPS mailbox service.


The UPS Store website shows an example of how someone can rent a mailbox in Henderson, Nevada and fool the rest of the world into thinking the entity has a "real" street address: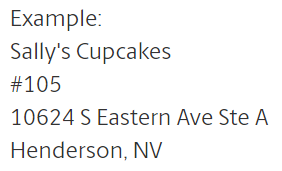 (Source: theupsstore.com)
United Health's location is outrageous … and hilarious.
Somebody tell us how can a company … with a stock market valuation of around $275 million … run a business out of a mailbox??
Well, the situation would be hilarious … except that the stock is pulling in unwary average guy investors. If those folks buy United Health stock at these levels, we think they'll get slaughtered.
How does our theory come together?
Follow the pieces as we continue to pull them out, below ….
*History? Oh, Yeh! Unfortunately
Here's the second piece of the puzzle leading to why TheStreetSweeper believes United Health Products Inc. is an unhealthy investment.
The Federal Trade Commission got a huge judgment in 1993 against an outfit called United Health Products Inc.
United Health Products was a telemarketing company, doing business as K&M Marketing. The company and various entities allegedly promised vacation cruises and other expensive prizes if consumers would buy the company's $999 vitamins, cosmetics and other pricey products. The FTC alleges people went on a ride certainly, but they didn't go on any cruises.
As we've shown, the current United Health Products is "headquartered" in a Henderson, Nevada mailbox.
The FTC-named United Health Products was based in Nevada and run by several Nevada residents. Also, the same-named company's owner, David Lionel Wetherill, plus another executive named in the FTC action lived in Henderson, Nevada.
***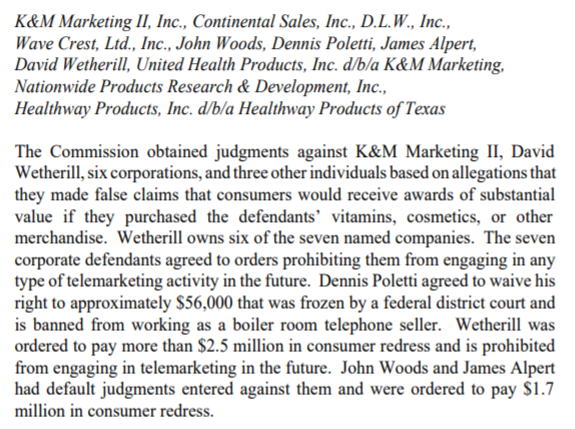 ***
Source: FTC annual reports, 1993 https://www.casewatch.net/ftc/annual_reports/1993.pdf
The Seattle Times ran a story in September 1992 on three of the Nevada residents who allegedly conned $30 million from about 30,000 victims. These men, ultimately named in the FTC judgment, faced felony swindling charges after a grand jury investigation into a nationwide telephone sales scam.
From the news story, "Three Indicted In Nationwide Phone-Sales Scam" by David Shaffer: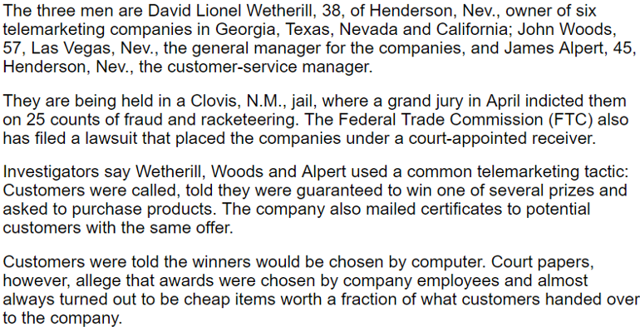 Source: Three Indicted In Nationwide Phone-Sales Scam
***
TheStreetSweeper has requested comment from United Health Products. Along with other questions, we asked about any connections between today's company and the United Health Products named in the legal actions.
We can only hope that the original principals have nothing to do with the current company.
Meanwhile, one former employee's lawsuit alleges some interesting conduct by the current administration …
*Lawsuit: Questionable Conduct?
Another piece of the puzzle may be found in the Safran lawsuit against United Health Products and CEO Douglas Beplate.
The company hired Steven Safran in 2014 as marketing vice president, the lawsuit states. Mr. Safran claims the company paid him only about $8,000 of his total $200,000 salary over two years.
But today's stockholders may be more interested in the lawsuit's claims that:
The CEO asked Safran to loan the company $50,000 for 30 days. In return, United Health would give Safran more stock and repay the loan in full.
Safran alleges Beplate asked him to make the check out to Beplate's wife. Safran did so and claims he still hadn't gotten the money or stock three years later. The lawsuit also alleges Safran was never repaid for a 2011 loan of $30,000.
The CEO "strongly urged" Safran to sell 1 million shares of company stock for $0.45 per share. Safran's allegedly promised $45,000 payment would arrive by December 2015. Also, the lawsuit claims Beplate promised Safran 250,000 additional shares if Beplate could hold Safran's unsold 500,000 shares three months, or by March 1, 2016.
Safran claims his requests for full payment fell on deaf ears. "… Beplate did not follow through on his false promises."
The payments eventually trickled in via installments, with the final installment arriving in 2017. The extra stock never has materialized, according to the lawsuit. Breach of contract, fraud and misrepresentation are among the lawsuit claims. Safran requests a jury trial.
The company denies the allegations and has asked the court to dismiss the lawsuit.
Investors may come to their own conclusions about the lawsuit.
The allegations, if true, suggest at least questionable judgment, in TheStreetSweeper's view, as well as financial desperation.
Let's take a look at that red ink drenching this company …
*Cash Desperation
The company reports $801,500 cash as of the end of May. But the company burned around $220,000 last quarter and normally spends twice that in an average quarter.
So the company may just squeeze by on available cash through November.
No revenue is coming in because the current product, which is commercially available for some uses, has not found a place in the market.
No one knows yet whether the company's HemoStyp will successfully navigate clinical trials and go on to get the FDA nod for surgical use and successfully enter that market. But win or lose, we all know it will take hundreds of millions more cash – and untold time.
Besides, the gauze failed to get FDA approval in 2010, after the agency deemed the application "insufficient" to make the determination.
Meanwhile, United Health hasn't been able to lure retirement funds, big banks and other institutional investors who might dish out big bucks on the company stock. And allegedly strong-arming executives to loan the company money isn't working out too well, either.
Auditors have slapped United Health with "going concern" issues related to consistent losses already surpassing $22.7 million. So, the company is clearly hanging on for dear financial life.
What's it all mean? …
*Conclusion
The company is cash starved. So, investors better hold on to their hats – and wallets - because the company must soon do something like attract a rich partner (highly unlikely), issue shares or sell stock … and potentially water down shares owned by other stockholders.
Meanwhile, United Health Products offers a whole lot of uncertainty to anyone who tries to chase this stock around these record-breaking levels. Any good news that could possibly come out of the company now is already baked into the price at today's outrageously high valuation.
But there is plenty of downside. We think this stock will succumb to the risks and fall to about 30 cents a share.
We are continuing to dig into developments that may lead to more StreetSweeper reports on the United Health Products risks.
* Important Disclosure: The owners of TheStreetSweeper hold a short position in UEEC and stand to profit on any future declines in the stock price.* Editor's Note: As a matter of policy, TheStreetSweeper prohibits members of its editorial team from taking financial positions in the companies that they cover. To contact Sonya Colberg, the author of this story, please send an email to streetsweepereditor@yahoo.com.
Disclosure: I am/we are short UEEC.