Are you searching for a last minute gift idea? Are you also looking to get someone interested in investing? I suggest taking a look at comic books. They are a viable alternative investment to trading debt or equities and let's face it, it's much funner to receive a comic book than a piece of paper saying you own some stock. Let's start by looking at what to invest in (basically high grade "holy grail" superhero books).
I've been collecting comics for quite awhile, about 30 years. It's generally viewed that comic books published prior to 1964 have less supply and tend to maintain healthy demand (especially high grade books), which equal an investment to consider. As you will see, certain comic books have continually outperformed the stock market (NYSEARCA:DIA). For this analysis I will be comparing 26 high profile comic books (see list at bottom of article) from the Golden Age (1938-1950) and the Silver Age (1955-1970) in their "top grade" (currently NM- or 9.2). These two eras (specifically superhero books) have been the "sweet spot" over the years for comic book investing. These 26 books (see charts at bottom of article for specific pricing data) from my list aren't necessarily all of the best performing books over time, but are well known, mainly superhero books - what would be referred to as "mega-keys" or "holy grail" books. I used historical data from Overstreet Price Guide (OSPG), which has been the main source of comic book pricing every year since it debuted in 1970 (over 40 years of data). I will discuss current real time pricing a little later in the article. Many have heard of high profile sales, most recently in November 2011 a copy of Action Comics #1 sold for nearly $2.2M. This same book sold for $82,500 in 1992 and $150,000 in 1997 (to actor Nicolas Cage). Great return, right?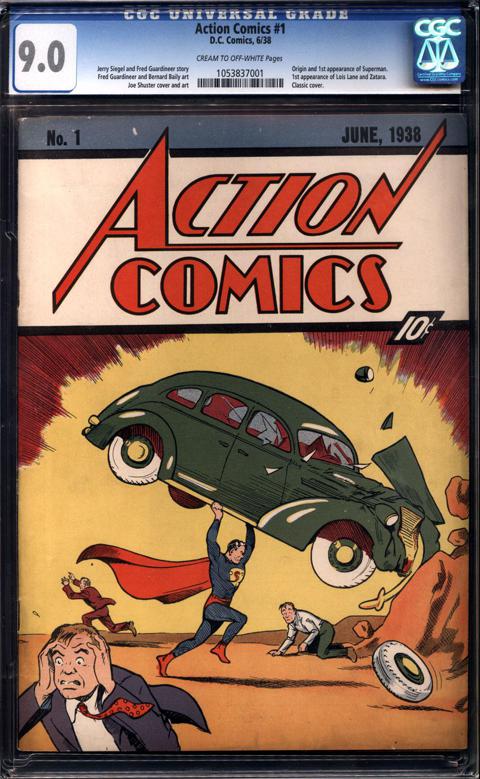 Some may think it's only this one book that continues to perform so well as it is a pop culture icon and the first appearance of Superman. However, that is not the case.
For comparison purposes, I have chosen to ignore comic book values between 1970-1979 and began analyzing data beginning in 1980. The reason I did this was because comic values increased at an incredible rate year over year during this time. Starting in 1980 comic prices began to settle down and finally return a reasonable rate of return. So, that fact alone goes to show these comparisons are on the conversative side. 1980-2012 is still over 30 years of data we can look at. Additionally, instead of just looking at Dow Jones Industrial Average (DJIA) pricing, I looked at pricing plus dividends being continually reinvested (using this handy calculator). We will be looking at a few main data elements: individual comic books, Golden Age books, Silver Age books, and the DJIA.
The chart below summarizes how these books have performed on a percentage basis:
As we can see from the chart, if you were to invest $10,000 in a portfolio of the listed Golden Age books in 1980, a decade later you would have $37,900. Or if you were to invest $10,000 in a portfolio of the listed Silver Age books in 1990, a decade later you have $67,900.
Sounds pretty good, but how do those numbers compare to investing in the DJIA during the same time? Remember, my numbers include reinvesting dividends, not just looking at index pricing alone.
$10,000 invested in DJIA:
1980-1989 would equal $51,100 (market outperformed comic books during this decade)
1990-1999 would equal $53,200
2000-2009 would equal $11,400 (you can see from chart above that comic books were a far superior investment during this decade)
2010-2012 would equal $13,600
1980-2012 would equal $419,600
This period was a great time for stocks, but an even better time for comic books. Turning $10,000 in 1980 into $419,600 at the end of 2012 investing in the DJIA is a great rate of return, but let's compare that to this portfolio of comic books.
If you invested $10,000 in 1980 in these Golden Age books, you would have $1,275,200 at the end of 2012 and that same $10,000 would be $1,312,300 if invested in the Silver Age books. Both more than 3X as well as the stock market.
One can easily see that Action Comics #1 isn't the top performer. While it has performed extremely well (from a $9,200 book in 1980 to a $2M book in 2012) the very top performer (in this portfolio) from 1980 through 2012 was All-American Comics #16, the first appearance of the Green Lantern. This book was valued at $1200 in 1980, $550,000 in the 2013 OSPG. If we look at what $10,000 invested in 1980 in this book, that would be worth $4,583,333 today. Compare that to Action Comics #1 at $2,065,200 and $419,600 if invested in the DJIA.
The lowest performing comic book in this portfolio from 1980 through 2012 was Walt Disney's Comics and Stories #1 which would have turned $10,000 into $180,000 - still better than what the DJIA return was without reinvesting dividends (838.74 to 13,104.14, so $10,000 would be $156,236). This goes to show diversification should be a consideration if investing in comic books or at least pick a single book that you feel has the best shot of continued appreciation into the future.
And let's not forget about "fundamental analysis." What about actual events that affect pricing. What about when a new tv series or movie comes out? Or what if political climates shift and people change their shift from superheros to horror comics? These are actual events that could affect pricing. Right now it's "cool" to be a "nerd." More and more kids are attending comic book conventions. The Walking Dead (based on a comic book) is one of the hottest shows on tv. What about if there are major shifts here? Will it affect pricing? I don't think comic book investing is in it's infancy (like it appeared to be in the 1970s), but it still appears to have plenty of growth ahead of it.
The analysis revealed that comic books performed well in both bear and bull markets. My best guess of why this happens is because during a bear market, investors are looking for alternative places to put their money. During bull markets, investors tend to have more money to put to work. While this bubble is yet to burst, there is always the risk that eventually supply will far exceed demand, causing pricing to come down. Remember the days when people would say that real estate would never go down?
Does this mean you should cash out your 401k and buy an Action Comics #1? No, I don't feel that would be advisable. Investing in the stock market has some benefits that investing in comic books do not have. What about modern comics? While there have been some recent successes (a Walking Dead #1 went from a $3 book to about a $2000 book in only a few years), the vast majority of modern books have little value. They might be fun to read, but I wouldn't consider them a good investment. The comic book hobby does go through "booming" periods - just look at the early 1990s. Everyone thought any comic book was a great investment and people swooped up hundreds of copies of current books as an investment that are essentially worthless by today's standards. So while it may be fun to pick up some new books for your kids to get into a hobby, I wouldn't expect those books to be worth much (if anything) when your kids are grown. Plus you should really have knowledge in comics (or a good advisor) before deciding to put substantial money on the table. For example, you wouldn't want to pay the same amount for a NM restored book, as you would for an unrestored book. Professional grading company CGC has really leveled the playing field as they will grade and encapsulate a book, taking the guess work out of how to grade a book (and they complete a restoration check as well). Another consideration is storage and insurance. If you own a substantial comic book(s) it may benefit you to store them in a safe deposit box and/or insure them from a company like Collectibles Insurance Services. Just imagine having a $100,000+ comic book stolen (it happened to Nicolas Cage, lucky he had insurance) or lost in a fire.
Lots to consider when investing in comic books, but I certainly feel it is a viable alternative investment and shouldn't be dismissed as a fad or kid's stuff. Even if you don't have millions to invest, you can buy lower grade copies of certain books (found this outperformance generally only works with high grade books) or "less expensive" books. Look at books like Amazing Fantasy #15 (1st appearance of Spider-Man). This book continues to do well year after year, but it is not cheap by most people's standards.
So where you do find real time accurate pricing and where do you buy these books? Generally you can't just walk into your local comic book shop and pick up many of these books. You would normally look at reputable dealers or auction houses, such as ComicConnect, ComicLink, or Heritage (there are others as well). To a certain extent eBay can be used, but you need to be careful when making large purchases from eBay sellers. And where do you find real time accurate pricing by individual grades? If you are buying books graded by CGC, the best resource is a subscription to GPAnalysis (what is referred to as GPA data). GPA keeps track of actual sales of CGC graded books and reports them by grade. So if you want to know how much a 5.0 Amazing Fantasy #15 is currently selling for, you can take a look at GPA and see that information. You wouldn't want to pay $20,000 for a $15,000 book, would you? GPA is kind of like market pricing if you go to check pricing on a specific stock symbol.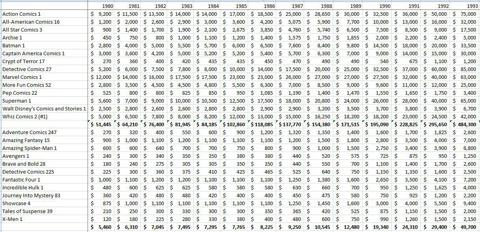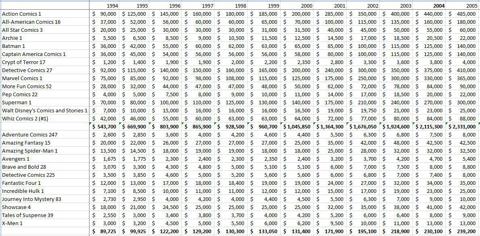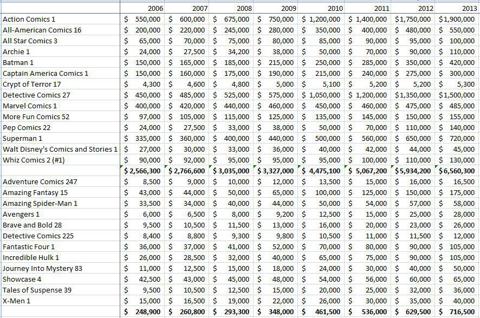 Golden Age Books
Action Comics #1
All-American Comics #16
All Star Comics #3
Archie #1
Batman #1
Captain America Comics #1
Crypt of Terror #17
Detective Comics #27
Marvel Comics #1
More Fun Comics #52
Pep Comics #22
Superman #1
Walt Disney's Comics and Stories #1
Whiz Comics #2 (#1)
Silver Age Books
Adventure Comics #247
Amazing Fantasy #15
Amazing Spider-Man #1
Avengers #1
Brave and the Bold #28
Detective Comics #225
Fantastic Four #1
Incredible Hulk #1
Journey Into Mystery #83
Showcase #4
Tales of Suspense #39
X-Men #1
Disclosure: I have no positions in any stocks mentioned, and no plans to initiate any positions within the next 72 hours. I wrote this article myself, and it expresses my own opinions. I am not receiving compensation for it. I have no business relationship with any company whose stock is mentioned in this article.