On a stock-by-stock basis, last week was pretty interesting with option expiration on friday.  However, on a broader level, not much happened.  Thursday and Friday was a little pullback, but that in itself doesn't give us much to work with.  What was surprising, and says a lot about the rally, is that 1150 came and went without so much as the usual euphoria.  As of Friday evening, we're sitting pretty right below 1160.  I could see Monday and/or Tuesday bringing us to 1150 to retest support there.  After that, well, we'll see...

AA - Alcoa
On a fundamental level, China's trying to cool down their economy which will put pressure on all commodities.  With the S&P pulling back a bit, I would only fear a news release that indicates rising inflation in the U.S. or higher than expected growth prospects.  AA looks like a 3% move, maybe more when China really decides to put the brakes on inflation.  It's also a H&S pattern, not that I give that much credence.  This is one of those trades I spread out.  I may take some off the table after it moves 3-5%, but I'll let the rest ride to see if I can get 10+%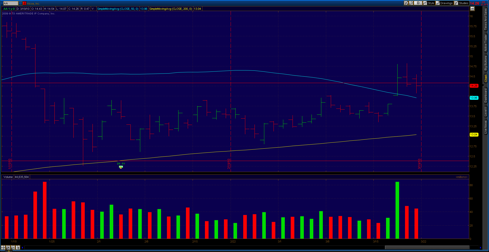 .

AGO - Assured
Purely a technical play.  I'll see how it feels on Monday to see if the trendline holds, otherwise I'll wait and get in at the horizontal support @ 20.  There's some interest option work going on, but it looks mostly like hedging plays.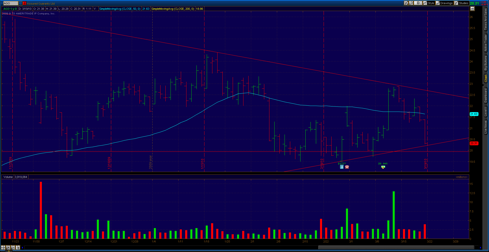 AMED - Amedisys
It bucked the market on Friday to come out positive.  On the one hand, we're looking at a multiple top, but the stock has such a high short float that a little buying could lead to A LOT of buying.  Keep your eye on this one, a move either way could be big.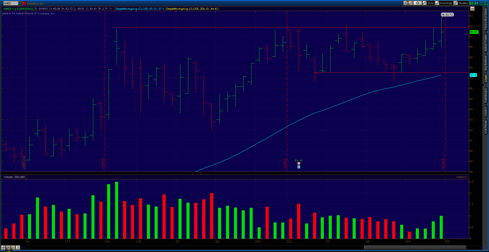 APOL - Apollo Education
Another good technical short.  Also, with a recent news article refuting the benefits of for-profit eduction, demand here could be lacking.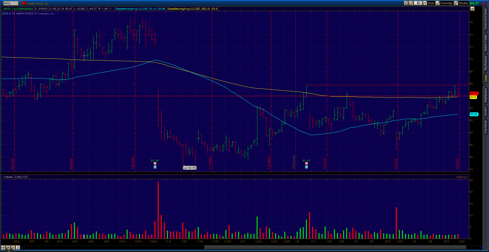 Disclosure: May be long/short at any period in time.