ENERGIES | METALS
Gasoline demand continues to wane - the levels last seen in the 1990s.
Obviously the Great Recession plays a huge role. Fuel efficient cars. Move away from Exurbs toward more population dense areas. Exports to Europe. Yup. But.........

Big picture is one thing......little picture is another. Gasoline is threatening to break out again and if it does the commodity deflation that has helped offset tax increases will quickly disappear. The old rule of thumb is each penny move higher or lower on retail gasoline equates to +/- $1.2 Billion in discretionary spending (US).
The Dollar index made slightly higher highs this morning, which has pressured the Metals, but the Energies are NOT responding.
Deflation is great for consumers, but it depends on where we see it.
From a trading standpoint old highs in the June RBOB contract =
Sept 14, 2012: 297.50 (FOMC announces QE3 and a number of risk markets make tops)
Jan 10, 2013: 292.94
April 9, 2013: 294.58
Today: 292.76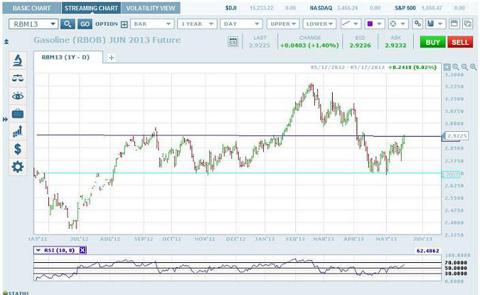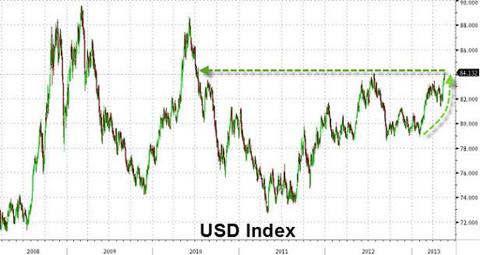 Equity Index options expire today.
Great week thus far for Palladium.
Now standard awesome week for the Nikkei.
The US Dollar, Equities, and Energies performing well.
Rough week for Gold and Silver and every Currency other than the Greenback.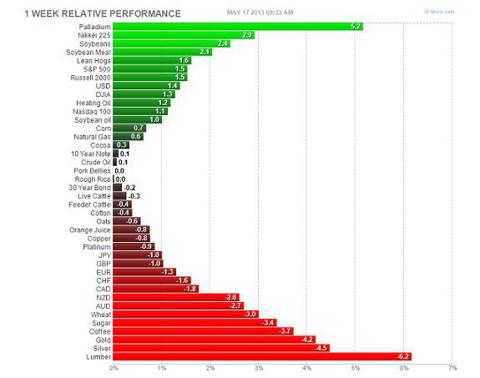 Disclosure: I have no positions in any stocks mentioned, and no plans to initiate any positions within the next 72 hours.