Many traders have been looking for a bottom in GE's stock since it peaked at $31.18 in mid-July 2016.  They have so far been disappointed.
The stock reached a new 20-month low of $13.70 today (as of this writing), down 56% since the peak.  GE remains in a downtrend and the search for a bottom continues.
Yet, a couple of key indicators - RSI and MACD - suggest that the stock is significantly oversold and is long overdue to begin building a base from which it can rebound in the months ahead.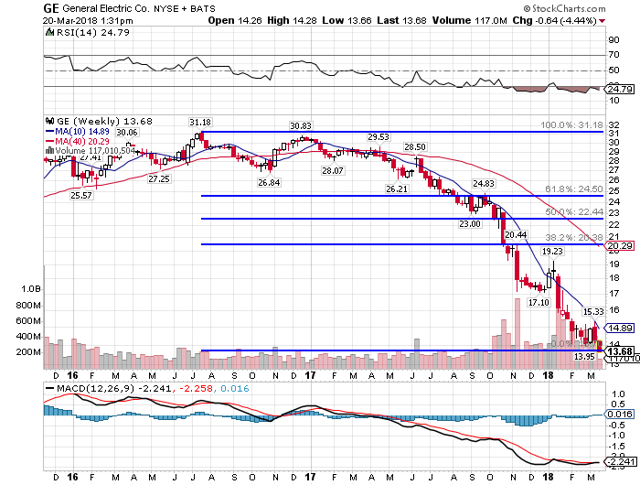 On the weekly chart, GE's relative strength index was recorded at 24.79 (in the top bar of the above chart, courtesy of StockCharts.com), well below the 30 level that traditional marks the oversold level.  As can be readily seen from the chart, GE's RSI has been below 30 for nearly six months now, during which time it has continued to push lower, so it is possible that the stock can remain oversold and continue to push lower in the weeks ahead.
Still, GE's moving average convergence-divergence (MACD) indicator, a measure of price momentum (shown in the bottom panel of the chart), has stabilized over the past three-and-a-half months, even though the stock has continued to push lower.  Thus, the momentum of the price decline, though strong, has not increased since December, and has actually decreased a smidge.  This is considered a positive divergence and a sign that a bottom is likely approaching.
Fibonacci retracement analysis, shown in the blue lines in the chart above, is plotted from the July 2016 intra-day peak of $31.18 and today's intra-day low of $13.70.  It shows that a correction of the downtrend could take the stock back to the $20-$24 level.  If that correction were to begin today, I believe that it would be expected to take place in about half the time of the downtrend, or over the next 10 months or so.
Technical analysis serves mostly to improve the odds of spotting a turning point.  It does not offer any guarantees.  Even so, I can't imaging that the stock would continue to push meaningfully lower from this level without some new bad news about the company's performance outlook.  Although GE still faces considerable challenges going forward, it is now nearly a quarter of the way through its reset year.  In my mind, the probabilities favor that the news will not be nearly as negative going forward (as long as the global economy remains in an uptrend) and should turn positive as the year progresses.  If that happens, the selling pressure on GE's stock should ease, allowing it to recover a significant portion of what it has lost.
If you have been looking to buy GE's stock (or add to your position), this seems to me a very good entry point.