Today's pick is TATACOMM (TCL) . After an initial uptrend that lasted until February, the stock collapsed towards Rs. 200 levels. Testing it a couple of times through July, the stock tried moving up but met with resistance around 260 levels and has been trading between Rs. 220 to Rs. 260 range since. In the last three months, the stock is down -7% against 8% rise of the Nifty's.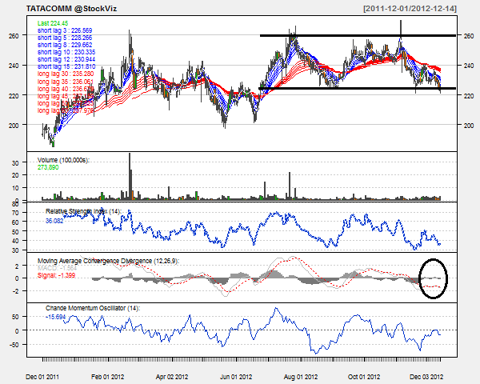 Oscillators RSI and CMO are nearing towards the over-sold territory. But they still have to cover some distance before they give any bullish sign.
The MACD line and the signal line are moving very close to each other, making it very unclear as to what might be in store for the stock for the short term.
The long-term GMMA and the short-term GMMA lines are also unable to give any directional suggestion as they are not well dispersed. Also, the 9x18 technical gave a near term bearish sign for the scrip just last week.

TATACOMM's average correlation of -0.13 with the Nifty is negative. The stock will not be replicating the movements of Nifty given a negative correlation co-efficient.

TATACOMM has a historical volatility in the range of 0.4 to 1.2. However in the last few years it has been in the 0.4 - 0.8 range. The scrip's volatility currently is in the lower range.
Analysts have given an underperform rating to the scrip based on its expected earnings of the next 3 months.
Given these technicals and analysts outlook, the stock is a short-term SELL. A break out of the range-bound movement in any direction would suggest the longer-term direction for the scrip.
The article first appeared on Your Money@StockViz.biz
Disclosure: I have no positions in any stocks mentioned, and no plans to initiate any positions within the next 72 hours.