Today's pick is ICICIBANK (NYSE:IBN). The stock started the year with an uptrend to see Rs. 1,000 levels in February, but lost its mojo to find support at Rs. 800 levels by June. Since then the stock again started its up-move and saw its 52 weeks high of Rs. 1,200 a couple of weeks ago. In the last three months, the stock has moved +12% vs. +7% of the Nifty's.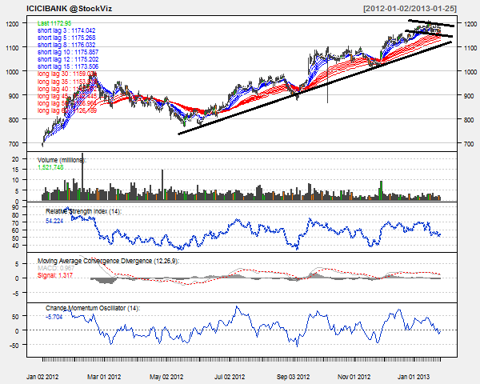 Oscillators RSI and CMO are hovering in no man's land and hence are not suggesting any direction. The stock is trading in the middle of its Bollinger band. Short-term technical just saw 18x4 and 18x9 bearish cross-over.
The MACD line and signal line are moving away from each other and unable to suggest any short-term direction. Long-term GMMA lines are moving away from each other and hence are giving a bullish bias for the stock.

ICICIBANK's average correlation with the Nifty is 0.82 which is positive and very strong. The scrip will be closely replicating movement of Nifty.

ICICIBANK has a historical volatility in the range of 0.3 to 0.8. The scrip's volatility is currently in the lower end of the range.
It appears that only one bulge-bracket analyst (Credit Suisse) is covering this stock and has an "out-perform" on it.
Given these technicals, we suggest a short-term Watch. A longer term call could be taken based on the directional break-out of the flag under formation.
This article first appeared on Your Money@StockViz.biz.
Disclosure: I have no positions in any stocks mentioned, and no plans to initiate any positions within the next 72 hours.