Today's pick is TATAMOTORS (NYSE:TTM). The stock started the year by reaching the Rs. 320 levels, followed by a drop to Rs. 220 levels by the end of June. It underwent head-and-shoulder bottom formation by reaching to Rs. 200 levels, and then started its up-move. The stock saw its 52 weeks high of Rs. 337 in January and since has been on a fall. In the last three months, the stock moved +3% Vs. -4% of the Nifty's.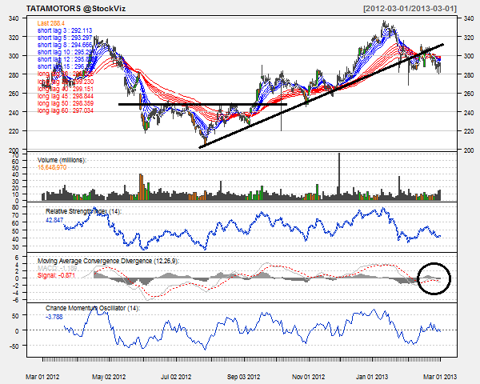 Oscillator RSI and CMO are in no man's land. The stock is currently trading close to the lower edge of Bollinger bands. Short-term technicals saw 18x9 bearish signal on Friday.
The MACD line and signal line are moving parallel to each other without giving any directional bias. Also, the Long-term and short-term GMMA lines are contracting and hence are unable to give any direction for the stock.

TATAMOTORS's average correlation with the Nifty is 0.64 which is positive and strong. The scrip will be replicating movement of Nifty.

TATAMOTORS has a historical volatility in the range of 1 to 5. The scrip's volatility is currently in the lower end of the range.
Here's what analysts have to say about the stock.
Given these technicals, we suggest a short-term Sell. A long-term call could be taken depending on stocks price action near the support level of Rs. 280 levels.
This article first appeared on Your Money@StockViz.biz.
Disclosure: I have no positions in any stocks mentioned, and no plans to initiate any positions within the next 72 hours.