Harding Loevner Global Equity may be the answer for your portfolio
By
Brett Schneider
| April 19th, 2010
If you are searching for a successful manager over the past decade that invests in global equity, look no further than Central New Jersey. This is the home of Harding Loevner, a firm established in 1989, and a hidden gem in
global
investing
. The Harding Loevner Global Equity Advisor fund
(HLMGX
,
HLMVX
) has beaten the
MSCI
World Index by 2.8% net of fees on an annualized basis over the trailing ten years ending December 31, 2009. This quality growth manager has had consistent outperformance, with less risk than its benchmark, despite value leading growth in eight of the last ten years. Yet the fund has less than $130 million in assets, as investors continue to invest in more recognized names.
Harding Loevner's research intensive approach invests in growing, financially-sound, well-managed companies. They identify companies that have sustainable competitive advantages, and evaluate the long-term durability of their growth. The same philosophy and process is used for all six of its global and international portfolios.

Potential reasons for being overlooked:
The firm has its roots grounded in its global equity portfolios, while most managers gain their reputation in the more popular international or domestic only asset classes. U.S. investors only recently have had increased interest in the broader mandated global equity investing.
Harding Loevner does not have the brand recognition of the major players in the asset management industry. In a recently released study by evestment alliance of the top 200 largest managers by firm assets, Harding Loevner's $6.7 billion in assets was not ranked. Meanwhile, well known firms like BlackRock, Franklin Templeton and Dodge & Cox ranked 1st, 12th and 41st respectfully. Maybe the firm should change its name to HardRock, or is that already taken?
When you think of hotbeds for global investing, Somerville, NJ is not the first place that comes to mind. Does the firm need to move their office down the turnpike to the Jersey Shore and film a reality TV show to get noticed?

Additional reasons to invest:
Succession plan in place: The recent sale of majority ownership to Affiliated Managers Group, Inc. ("AMG") took place in August 2009. This will make it easier to retain senior management through equity ownership and will make succession planning for the next generation of managers more attainable.
Available on multiple investment platforms: Harding Loevner Global Equity is available as both a mutual fund and separate/managed

account

. In fact, both their global equity and international equity separate account portfolios are also available as ADR only. This is rare for a boutique firm to have such a vast product offering.
Complementary to value oriented managers: Global/international investing has a much larger supply of well known value oriented managers that Harding Loevner could make for a great pair with (see the aforementioned Franklin Templeton and Dodge & Cox).
This hidden gem has not gone completely unnoticed, as the firm has received recognition from different financial outlets, such as Lipper and Morningstar. Simon Hallett, CIO and International Equity Strategy Lead Portfolio Manager, has been quoted and appeared on the occasional financial media channel. Still, assets levels continue to lag peers, despite their continued success.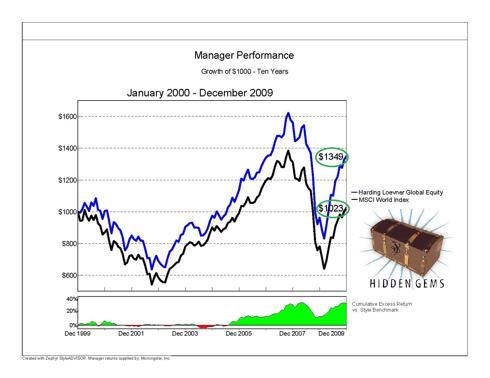 Disclosure:
No positions at time of posting.