Another week, another big draw in Primary Oil stocks...down 6.2M bbls last week despite a pretty big decrease in exports.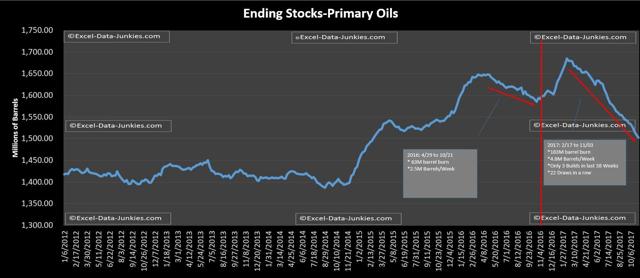 After peaking at an all time high of nearly 1.7B bbls in February, US inventories of Primary Oil (Crude+Gasoline+Distillate+Jet Fuel) have declined in 35 of the last 38 weeks for a total decline of 183M bbls. That's good for a weekly draw of 4.8M bbls a week, though over the last 4 weeks that decline rate is averaging 7.7M bbls/week. 
Inventories are now at just 1.502B bbls and of the ~250M bbl glut we can see that over 70% of it has now been cleared out of US inventories....despite a new record in US production and Primary Oil consumption(Gasoline+Distillate+Jet Fuel) edging up just 1.5% in the last 52 weeks.
The change, as we have discussed is in Exports... While we still import a lot of crude from around the world, and our refineries are turning it into product...and exporting it back out to the global market. Just comparing 2016 to 2017, product exports are up 221M bbls (through 44 weeks) and crude exports are up 131M bbls. 
OPEC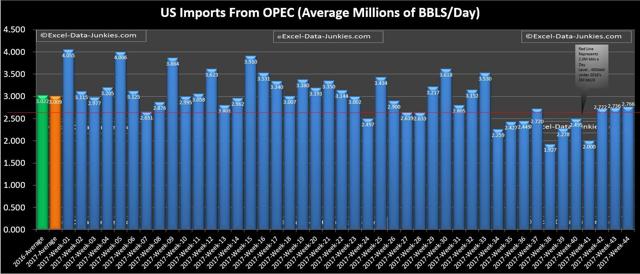 Opec is still behaving, though they have stabilized at around 2.7M bbls/d.....no dips to 2.0Mbbl/d, or spikes to 4.0Mbbl/d. It's still edging up a bit, but if they can hold it steady here I'll keep believing them...for now.
Gut Feeling
As I write this, WTI is steady  ~$57...seemingly not impressed...or depressed :) with the report. My thesis since the beginning of this major draw down has been that we could see $60 oil around the end of the year if the draws continue. Well...they have continued, and at a much steeper pace than I would have guessed. Without a doubt, we will see $60 oil in 2017 if the draw downs continue at the latest pace...or even at half of the latest pace....and that's even without any more drama out of Venezuela or the Middle East.
That said...I still have a few big unanswered questions....this 351M bbls of extra crude and products we exported this year(over 2016)...where is it now? If it went to new markets and was promptly consumed...that's bullish no doubt, but if it just went to less visible non-US storage tanks,  and this huge US storage draw down is just a mirage, get ready for a few more years of pain once the gamers rush to cash back out.
The second big question has to do with US shale....they've been running on fumes...or at least no profit for years now, yet here we are with US production at a record high....built up with wells drilled for sub $50 oil. Will $60+ bring a new flood, or are they getting close to being tapped out? Regardless of the price of oil, you always drill your best locations first....and for years now...what tens of thousands of the best locations have been drilled, fracked, and are now in steep and terminal declines.  At some point, the very real technological gains will hit a wall and US production will start to fall...will that be at 10M bbl/d....15M bbl/d or somewhere in between? When and where?
Finally...just looking at the numbers for the week...exports of crude and products were down about 13M bbls last week....the lowest since the hurricanes. Maybe it's just a one off....we'll have a better idea next week, but if exports are not sustainable at this pace, then neither are the inventory draws we have been seeing.
**My updated Excel Dashboard  with a few decades of historical data can be downloaded for free here or at Excel-Data-Junkies.com if you would like to follow along at home. Enjoy!