In a previous Apple update of mine back in April 2014, I mentioned that I was going to have a nice steak dinner for me and the wife based on the 8% increase in Apples dividend at the time. However based on Apple's performance over the last couple of months, it was filet mignon dinners for my Mom and her husband as well during her recent visit from out of town.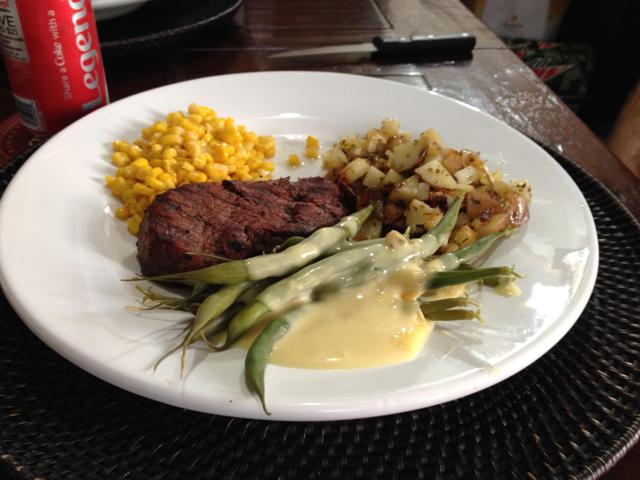 It was nice spending a little time with her catching up as it has been a couple of years since I've seen her last. It is amazing how time flies as you get older. And the older I get, the more I realize that I cannot keep saying that I will get to that "next year". Ok, getting a little off-track so let's get back to some AAPL discussions. But before we do, let me say thank you Apple, thank you.
This 6 month daily candlestick chart shows where I think AAPL is currently at in a potential Motive Wave Pattern. It looks to be working on an Ending Diagonal Wave Pattern in a Wave 5. I show the potential Ending Diagonal Wave Pattern with the red trendlines.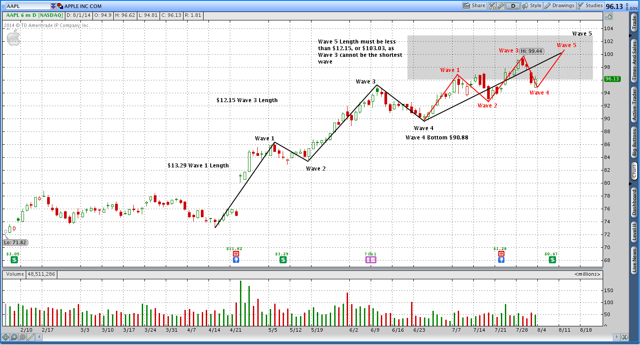 An Ending Diagonal Wave Pattern also seems to fit within my target selling area that I established several weeks back. While I have not sold any of my AAPL position, do expect that to change this week. Most know that I have been looking to sell my shares for at least $100, let's see if AAPL can help make that happen this week. It may be time to take my dividend and then sell for the short-term. I will keep you posted as always.
As seen on this next 3 year weekly candlestick chart, AAPL met its projected price I had from a previous article with its breakout from the Cup With Handle Chart Pattern.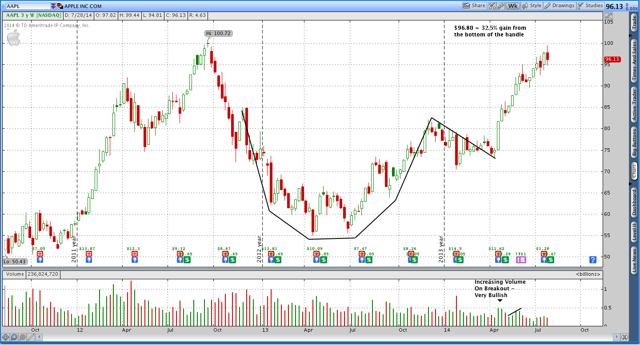 Now it is time to start looking at the bigger Cup With Handle Chart Pattern that is developing and that I talked about over 6 months ago.....some consolidation is going to be needed to form another handle......
I will discuss areas of support that I see in order to be prepared if AAPL does pullback in the short-term. Until then, good luck :mrgreen:
Disclosure: As of the time of this writing, I am currently long shares of AAPL with a cost basis of $78.42 that represents approximately 27% of my total portfolio. I may be looking to sell from 25% up to 75% of my current position for the short-term and look to repurchase those shares during an anticipated pullback.
Disclosure: The author is long AAPL.