The GBP received a significant boost as it posted its biggest one day gain against a basket of currencies in 3 months after the surprise rise in UK Q3 GDP to 0.8% in addition to a ratings upgrade from Standard and Poors to a "stable" outlook bringing them into line with their agency peers, Fitch and Moody.

An Overview Of UK GDP Figures: U.K. GDP came in stronger than expected, up 0.8% q/q and 2.8% y/y in Q3, compared to the consensus forecasts for 0.4% and 2.4% respectively. This was the highest annual growth rate since Q3 of 2007. Service sector growth came in surprisingly strong, up 0.6% q/q, same as in Q2, while industrial production growth was 0.6%, after 1.0% in Q2. Construction sector output rose 4.0% q/q, after rising 9.5% in Q2, when it rebounded after weather related weakness in Q1 of 2010.

Meanwhile according to analysts at BNP Paribas, the sterling remains a sell despite the better UK Q3 GDP.  We base our projection on weak money supply and credit indications, the sharp decline of savings seen over the past three quarters and weakening cyclical conditions coming on the back of fading global demand.
GBP-USD Outlook:
GBPUSD rebound on stronger GDP data expected to be short lived providing a renewed buying opportunity. Although The UK GDP has come in much stronger than expected with growth the strength has been driven purely by the construction sector which rose 4.0% q/q in Q3, up 11.0% y/y, the highest reading since Q1 1998. According to BNP Paribas analysts, sterling gains following the UK GDP data are likely to be short lived providing renewed a medium term selling opportunity. GBPUSD is now approaching the 1.5875 high seen last week. A break above here could see sterling recovery back towards the 1.60/1.61 peaks seen over the past couple of months.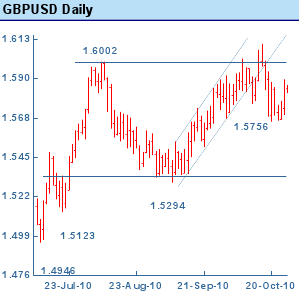 Britain Economic Overview:
  PM David Cameron is to strongly oppose demands from Brussels for significant increases in Britain's contribution to the EU budget and instead call for spending cuts when EU leaders meet in Brussels tomorrow. While the summit is expected to be dominated by Germany's demands for treaty changes to discipline states UK has made it clear he will not accept that the EU's budget should increase by 6 per cent at a time when national governments are paring back spending. Meanwhile leading indicators in the UK economy, along with the housing market have turned sharply lower suggesting that quantitative easing is still likely to be on the agenda, but likely to be delayed until the beginning of 2011.
Disclosure:
No Positions