The heightened risk in Eastern Asia amid the Korean uncertainty is driving a surge in U.S. Treasuries as a safe haven for investors. Most investors in search of safety and putting geopolitical risk alongside Europe's debt crisis are playing it safe to the year-end. As the dollar continued to appreciate on its safe-haven appeal, the euro has continued its fall, as it breached below 1.30 yesterday to a fresh 10-week low at 1.2968 as peripheral bond yields push higher amid strong speculation of other possible bailouts for Portugal and Spain. Adding to the European woes, ratings agency S&P has put Portugal's credit rating under review overnight for a possible downgrade.

ECB Meeting: For the euro to stabilize, these credit yields need to stabilize which is dependent on the actions from the ECB. The ECB's meeting on Thursday will be crucial in adding stability to the euro as investors will be looking for comments on how the bank could help address growing hysteria in the credit markets.

Meanwhile the Eurozone's Unemployment rate come in expectedly and unchanged at 10.1% for October while U.S. Consumer Confidence for November improved to 54.1 (exp. 52.6, prev. 50.2, rev. 49.9) helped the US dollar has continued its recent renaissance. The other major currencies however fell in line with the euro as the pound fell to a fresh 10-week low at 1.5486 while the riskier AUD also eased to a 2-month low at 0.9545. Meanwhile, the CAD also fell to a 1-month low at 1.0286 while the yen recuperated from yesterday's 2-month lows of 84.40 back to the 83.50's.

Trends: According to analysts at Societe Generale, Cross Asset Research group, the net short USD positioning of speculators may still have some way to go before it is exhausted, but as solid data dominates, investors should switch back into being keener to extend net longs in the high yield FX rather than continue to chase USD positioning into net long territory.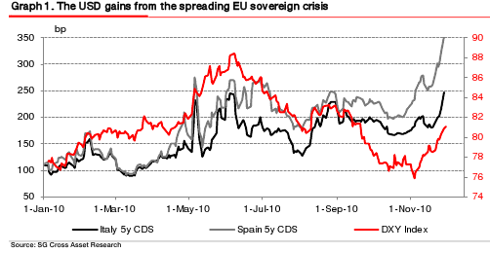 ETF Investment Options for the U.S. dollar include:

PowerShares DB USD Index (NYSEARCA:UDN): The index is a rules-based index composed solely of short USDX futures contracts. The USDX futures contract is designed to replicate the performance of being short the U.S. dollar against the following currencies: Euro, Japanese Yen, British Pound, Canadian Dollar, Swedish Krona and Swiss Franc.

Expense Ratio: 0.40%

PowerShares DB USD Index Bullish (NYSEARCA:UUP): The index is a rules-based index composed solely of long USDX futures contracts. The USDX futures contract is designed to replicate the performance of being long the U.S. dollar against the following currencies: Euro, Japanese Yen, British Pound, Canadian Dollar, Swedish Krona and Swiss Franc.

Expense Ratio: 0.50%



Disclosure: No Positions