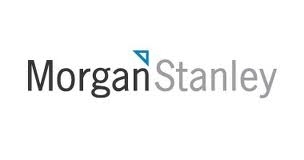 Morgan Stanley needs no introduction and is a famous investment bank and financial service organization across the globe but with its ever increasing lawsuits, litigations and regulatory fines, the organization might just become more infamous for its litigations and fines rather than for its core investment business. Just weeks after Financial Industry Regulatory Authority (FINRA) fined investment bank Morgan Stanley (NYSE:
MS
) $800,000 for failing to adequately disclose material conflicts of interest to investors breaching FINRA's rules governing research analyst conflicts of interest, the US Bank has run into major trouble again with Taiwan's China Development Industrial Bank (CDIB) suing Morgan Stanley in a US court to recover millions of dollars in losses it suffered from its investment in a residential mortgage product.

The suit accuses Morgan Stanley of creating "what it knew to be a toxic, unsafe investment," adding that the securities firm "falsely portrayed that investment as safe, and passed it off to CDIB." Also named, as a defendant is the deal's manager, TCW Asset Management, a unit of French bank Société Générale SA. The Taiwanese bank claims Morgan Stanley made an investment linked to U.S. subprime mortgage bonds in mid-2006 and, after learning of problems with it, "dumped those losses" on CDIB in April 2007. The complaint, filed in New York State Supreme Court on July 15, was made public yesterday by CDIB's lawyers.

According to a Bloomberg report CDIB sources said in its lawsuit that it has lost $228 million on the transaction and it has refused to pay Morgan Stanley's most recent margin call of $12 million. It asked for compensatory and punitive damages to be determined, and for Morgan Stanley to be prevented from declaring it to be in default for the latest payment.


Morgan Stanley, A Serial Offender: Fines are nothing new for Morgan Stanley. In 2006, FINRA's predecessor, the NASD, alleged that Morgan Stanley failed to make analyst disclosures to investors in 22,000 reports. Morgan Stanley was only fined $200,000 for that infraction. Just over a month back, a group of investors including a couple of Catholic nunneries had filed a lawsuit in London against Morgan Stanley (MS), alleging the firm inappropriately managed a complex structured bond it sold them called a "constant maturity swap", causing an estimated $6.5 million loss.

Since the numbers of lawsuits clearly appear to be increasing, it brings the regulatory fines mechanism under a bit of a cloud. Surely watchdog agencies like Securities and Exchange Commission (SEC) and FINRA need to find better ways to bring real biting powers for unless the watchdog is strong enough to prevent further frauds individual investors will remain extremely vulnerable.


Morgan Stanley Cuts DigitalGlobe Stake: Meanwhile the private-equity arm of Morgan Stanley plans to sell nearly half its 31% stake in DigitalGlobe Inc. (DGI) as shares of the provider of imaging services to the defense community have jumped one-third this year. The move by Morgan Stanley will result in the investment bank losing the right to name two of DigitalGlobe's nine directors while the sale of at least six million DigitalGlobe shares will cut its stake to as little as 18%.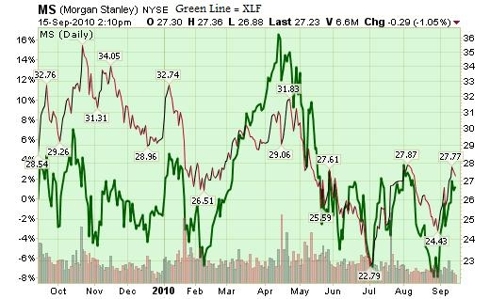 The Green Line is XLF Financialsector SPDR ETF
World Market Pulse Technical Analysis: Morgan Stanley (MS) has been in the decline since 14th September and on a short term it's likely to keep moving on the correction path. MS is currently at 27.14 levels and has support at about 26.00 and then next support at about 25.47 and 24.00 respectively. Upside on an intermediate term for the stock can go to 32 levels if it manages to break out 28.00. Although the stock shows strength technically and may still have room to advance in the intermediate term but for now the short-term correction appears imminent.
Disclosure:
No Position