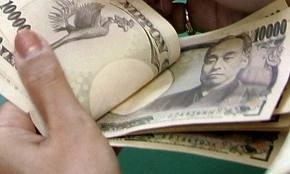 The Japanese yen depreciated to below the 85 levels against the US dollar post the intervention by the Japanese monetary authorities for the first time in six years, selling yen to help the country's fragile economy. The move comes just a day after the head of Hitachi Ltd, Japan's biggest electronics conglomerate, has expressed concern over the rapid rise in the yen fearing it would weigh on the company in the short term and had
urged the Japanese government to manage such moves.
With the yen around 15-year highs to the dollar and strong against the euro, many of Japan's blue-chip exporters were calling for government action to prevent further damage to the country's export-led economy.

Japanese Finance minister Yoshihiko Noda confirmed the intervention, saying Tokyo was also communicating with authorities overseas but indicating that Japan acted alone. Last time Japan intervened in the foreign exchange market, it embarked on a 15-month, 35 trillion yen ($421.7 billion) ($421.7 billion) selling spree aimed at preventing a strong yen from snuffing out an economic recovery.

Does Intervention Work: Fractured Verdict
The Japanese intervention has lead to mixed reactions, while Japan based exporters have largely supported the move, analysts at the pan-European banking organization, UniCredit SpA (BIT: UCG, FWB: CRI), feel that the Bank of Japan's unilateral intervention to weaken the yen "cannot reverse the trend" of the currency's appreciation.
Back in 2003-2004 the Ministry of Finance and the Bank of Japan spent around 35 trillion yen with only limited success and analysts are not entirely convinced that intervention will inevitably lead to the reversal of the yen's medium-term strengthening trend.

Although there have been official suggestions that the intervention will not be sterilized unlike the 03-04 intervention which is perceived to have a lower probability of success than unsterilized market intervention.
 
Yen Intervention And Asian Currencies:

Asian currencies meanwhile dropped on concern regional central banks will intervene to stem currency gains after Japan sold the yen for the first time since 2004. According to Bloomberg data, Malaysia's ringgit declined 0.2 percent to 3.1160 per dollar as of 4:43 p.m. in Kuala Lumpur, reversing earlier gains of as much as 0.4 percent. The Philippine peso slid 0.1 percent to 44.26 and the Thai baht fell 0.2 percent to 30.87

South Korea's won pared gains and government bonds declined after Japanese intervention to weaken the yen fanned speculation the Bank of Korea will check the local currency's appreciation. The won closed little changed at 1,161.15 per dollar in Seoul, after earlier touching a one-month high of 1,157.25, according to data compiled by Bloomberg.


Yen Intervention And Japanese Stock Markets:

The Japanese currency's rise has brought it closer and closer to its record peak of 79.75 per dollar set in 1995 and has weighed on the Tokyo stock market's Nikkei average, which climbed 1.8% on the day as news of the intervention spread. Meanwhile, Tokyo stocks rebounded sharply Wednesday, with the Nikkei Stock Average closing the day at 9,516.56, up 217.25 points, or 2.34%, from Tuesday. The benchmark index topped the 9,500 line for the first time since Aug. 10.


Yen Intervention On Global Markets:

While Japan stocks climbed sharply today after the Bank of Japan's intervention to push down the yen, other markets are little changed. Japan's Nikkei 225 index rose 2.3 per cent as major players such as Toyota Motor Corp. notched up hefty gains. But Hong Kong's Hang Seng index, London's FTSE 100, Germany's DAX and the Paris CAC-40 were flat. Dow Jones industrial average and S&P 500 futures were also flat.

Asian stock markets ended mostly higher Wednesday, with Tokyo stocks surging to a one-month high after Japan conducted its first foreign exchange intervention in six and a half years to weaken the yen with shares in Korea recovered from earlier losses as investors weighed concerns about weaker price competitiveness versus Japanese products in overseas markets.

Taiwan's Taiex rose 0.4%, Singapore's Straits Times Index was up 0.7%, and Malaysia's KLCI was off 0.1%. Philippine shares rose 0.1%, shares in Thailand were flat, while Indonesian stocks gained 3.9% and New Zealand's NZX-50 slipped 0.1%.

Australia: The Australian share market set a fresh four-month high on Wednesday after Japan's Ministry of Finance intervened to buy Japanese yen. The intervention fueled speculation of renewed investment in risk assets, including Australian equities. The benchmark S&P/ASX 200 closed up 35 points, or 0.8%, at 4661.5 after hitting a high of 4670.1. Trading volume was fairly heavy, at more than A$6 billion. 
Disclosure:
No Positions